Oct 11, 2018
Celebrate the amazing women of Irish & Celtic music with me this week with music from Liz Carroll, Warbelow Range, The Selkie Girls, Shannon Heaton, Gone Molly, Melanie Gruben, Sarah Marie Mullen, Noirin Ni Riain, Moya Brenna, Ciana, Claire Roche, Christine Weir, Catriona McKay, Janette Geri, Chrissy Crowley, The Ennis Sisters, Childsplay.
http://celticmusicpodcast.com/
Do me a favor share this podcast. Subscribe to the Celtic Music Magazine. This is our free newsletter and your guide to the latest Celtic music and podcast news. Download 34 Celtic MP3s for Free.
I believe in the power of our Celtic community. And I believe in the women who share their music with us. If you appreciate these artists then Remember to support the women who support this podcast: buy their albums, shirts, and songbooks, follow them on Spotify, see their shows, and drop them an email to let them know you heard them on the Irish and Celtic Music Podcast.
VOTE IN THE CELTIC TOP 20
It's easier than ever to do. Just list the show number, and the name of one or two bands. That's it. You can vote once for each episode help me create next year's Best Celtic music of 2018 episode. http://bestcelticmusic.net/vote/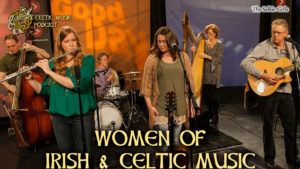 THIS WEEK IN CELTIC MUSIC
0:05 "Sevens, Michael Kennedy's, The Cup of Tea" by Liz Carroll from Lost in the Loop
5:33 "Luca at the Beehive / The Moving Clouds / Splendid Isolation / Dinny O'Brien's" by Warbelow Range from Warbelow Range
10:57 "Castle of Dromore" by The Selkie Girls from Winter Lore: Songs of Celtic Christmas
14:25 "44 Mill Street" by Shannon Heaton from The Blue Dress
18:22 "Follow" by Gone Molly from Gone Molly
23:32 CELTIC FEEDBACK
26:49 "Lilly and I" by Melanie Gruben from A Faery Song
30:09 "September Road, The (Tynker's Hornpipe/The Road To Rahway/September Reel)" by Sarah Marie Mullen from Harper's Bizarre
33:46 "Himo Hokio" by Nóirín Ní Riain, Moya Brennan & size2shoes from Sanctuary
35:44 "Far Away-La Marche Des Élèves-Old Maids of Galway" by Ciana from Rubicon
41:06 "If You Stood Before Me Now" by Claire Roche from From Then To The Here And Now
48:24 CELTIC PODCAST NEWS
49:47 "Skye Boat" by Christine Weir from Weir Celts
53:27 "Greenman" by Catriona McKay from Starfish
57:12 "Siuile A Ruin" by Janette Geri from Among the Flowers
1:02:08 "Castlebay Scrap" by Chrissy Crowley from Last Night's Fun
1:05:20 "Daughters of Newfoundland" by The Ennis Sisters from Keeping Time
1:10:10 "Lara's Jig / The Burning Snowball / Farewell To London" by Childsplay from The Bloom of Youth
The Irish & Celtic Music Podcast was produced by Marc Gunn, The Celtfather. To subscribe, go to Apple Podcasts or to our website where you can become a Patron of the Podcast for as little as $1 per episode. Promote Celtic culture through music at http://celticmusicpodcast.com/.
CELTIC PODCAST NEWS
* Helping you celebrate Celtic culture through music. My name is Marc Gunn. I am a Celtic and Geek musician and podcaster. This show is dedicated to the indie Celtic musicians. I want to ask you to support these artists. Share the show with your friends. And find more episodes at celticmusicpodcast.com. You can also support this podcast on Patreon.
I planned a feature on the women of Irish & Celtic Music before the end of the month. Then I saw Shannon Heaton released a new episode of Irish Music Stories where she ponders gender equality in traditional music. It's a brilliant thought-provoking episode. I highly recommend. It also got me thinking I should sync our shows together.
Women don't get enough attention in Celtic music. Yet, there are a lot of incredible lasses keeping the tradition alive. We're gonna celebrate these women today.
I have a new podcast. It's called In the 'Verse, Song Crafting for the Firefly Universe. The first episode is now online. Follow the link to subscribe in Apple Podcasts.
My 2x2x2 special offer is almost over. You'll get the 2018 shirt, plus, the super popular 2017 shirt. Plus two compilations, Plus two more CDs from my archive for one low price. And stickers to boot. Follow the link in the shownotes for details. This offer is good until October 15, 2018. So order soon!
Incidentally, you can save and additional 20% off the price if you're a patron of the podcast. And October 15 is also the deadline to get two hours of Celtic flute and whistle music.
TRAVEL WITH CELTIC INVASION VACATIONS
Every year, I take a small group of Celtic music fans on the relaxing adventure of a lifetime. We don't see everything. Instead, we stay in one area. We get to know the region through it's culture, history, and legends. You can join us with an auditory and visual adventure through podcasts and videos.
2019 is the Celtic Invasion of Star Wars. 2020 is the Origins of Celtic Invasions. You can find out more about these two exciting trips. Join the invasion at http://celticinvasion.com/
THANK YOU PATRONS OF THE PODCAST!
The Irish & Celtic Music Podcast is supported by listeners like you. Your generous pledge helps pay for the production and promotion of the podcast and its artists, as well as my time in producing it. Patrons get episodes before regular listeners, discounts on merch, and when we hit a milestone, you get a two-hour special. Our next milestone will bring 2-hours of Celtic flute and whistle music to your ears. October 15th deadline on the milestone.
You can become a generous Patron of the Podcast at http://patreon.com/celticpodcast
I WANT YOUR FEEDBACK
What are you doing today while listening to the podcast? You can send a written comment along with a picture of what you're doing while listening. Email a voicemail message to celticpodcast@gmail.com
Abe Deshotel emailed: "Hey Marc! First of all, I love the show. It's an incredible experience as a listener. I love the diversity and my kids always request it at bedtime as they fall asleep. As a musician (not really Celtic, but kinda folk-pop-ish with lots of love for Celtic music), I think it's a wonderful thing for indie musicians. So thank you! I'm also a podcaster (Abe's Ukulele Podcast) focused on playing and teaching ukulele and have taken little bits of style and composition from the way you put together your episodes. I don't really have music often on my show. Just hearing how you talk about things and structure the show with news, reading emails, and everything else has been a good inspiration for me in putting together my episodes. So that's the main thing: I just wanted to say thanks for everything you're doing from a listener, musician, and podcaster. I was also wondering if you've heard of the Radio Public paid listens program? It's something I found as a podcaster looking for more support. I noticed the show is on there, but that there's no ad before the show. They pay you a small amount based on your downloads and bookend the episodes with ads. It may be something worth looking in to. Anyway! Keep up the great work!"
Murphy emailed a photo: " Hello Marc! Well, I'm heading back on my flight from out of country. Since it's a long flight, I decided to download a couple of your shows. One of my favourites being Instrumental Celtic Music Study Aid #347. It's soothing listening to the great compilations of music you've made once again. Thank you so much for taking the time in your life to do all of this and that little bit more!"
Mark Haynes of the Navajo Nation emailed: "Hey Mark! Listening while working at the home office. Great tunes today! To be honest, I've got to listen more regularly. This is great today! Take care and have a great day!!"