Jul 4, 2019
Join Lady Susan of Thunder on the Plains, Nebraska's only Celtic music radio show as she highlights a small sampling of the Women of Celtic Music.
Screaming Orphans, Colleen Raney, Hanneke Cassel, Ashley Davis, Cady Finlayson, Jennifer Licko, Eilis Crean, Sarah Copus, Sharon Shannon, Linda Relph, The Gothard Sisters, Joseph Carmichael
I hope you enjoyed this week's show. If you did, please share the show with ONE friend.
The Irish & Celtic Music Podcast is dedicated to growing our community and helping the incredible artists who so generously share their music. If you find music you love, buy their albums, shirts, and songbooks, follow them on Spotify, see their shows, and drop them an email to let them know you heard them on the Irish and Celtic Music Podcast.
Remember also to Subscribe to the Celtic Music Magazine. Every week, I'll send you a few cool bits of Celtic music news. It's a quick and easy way to plug yourself into more great Celtic culture. Plus, you'll get 34 Celtic MP3s for Free, just for signing up today. Thank you again for being a Celt of Kindness.
VOTE IN THE CELTIC TOP 20
With the new year comes a new votes in the Celtic Top 20. This is our way of finding the best songs and artists each year. Just list the show number, and the name of as many bands in the episode as you like. Your vote helps me create next year's Best Celtic music of 2019 episode. Vote Now!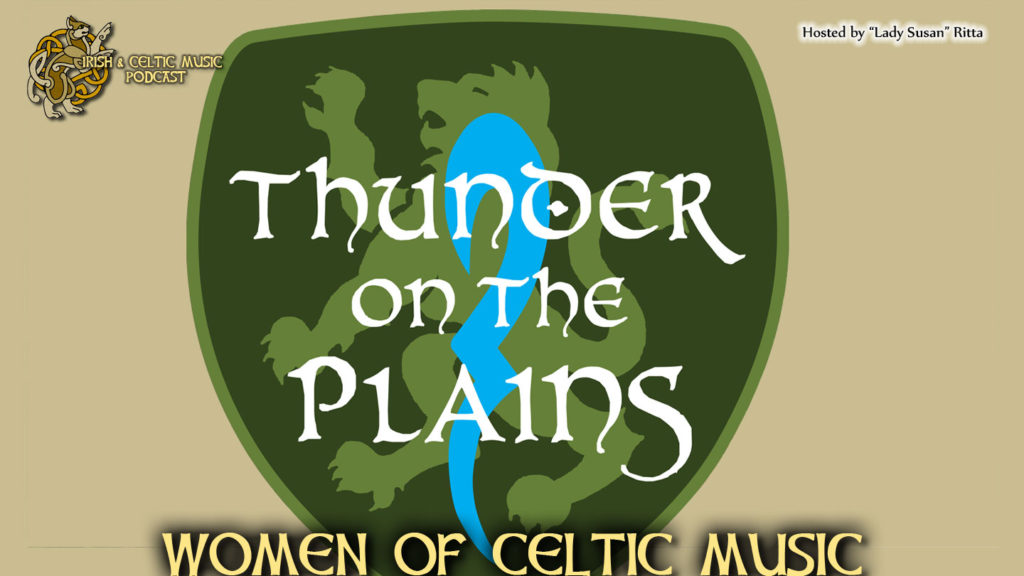 THIS WEEK IN CELTIC MUSIC
0:12 "Winnie's Tunes" by Screaming Orphans from Ballads Rule OK
4:22 "Sorrowlessfield" by Colleen Raney from Standing in Doorways
8:01 "The Goblin and the Mouse/The Fiddling Twin" by Hanneke Cassel from Trip to Walden Pond
13:25 INTRODUCTION
14:52 "Leanim Thu (I Follow You)" by Ashley Davis from Night Travels
18:33 "A Midwinter Waltz" by Cady Finlayson from Irish Coffee
22:00 "Fill Iu O" by Jennifer Licko from Sing
25:36 "The Old High Reel/The Lane to the Glen/The Trip to Durrow" by Eilis Crean from Searbh Siucra (Bitter Sweet)
30:58 "She Moved Through the Fair" by Sarah Copus from Moorland Winds
35:11 FAIRPLE INTERLUDE
38:03 "Frenchie's Reel" by Sharon Shannon from Sacred Earth
40:40 "Woman - Man - Long" by Linda Relph from Fiddlinda: There & Then, Here & Now
44:56 "Grace O'Malley" by The Gothard Sisters from Mountain Rose
48:30 FAREWELL
50:48 "Lady Susan" by Joseph Carmichael, official theme song of Thunder on the Plains
The Irish & Celtic Music Podcast was produced by Marc Gunn, The Celtfather. To subscribe, go to Apple Podcasts or to our website where you can become a Patron of the Podcast for as little as $1 per episode. Promote Celtic culture through music at http://celticmusicpodcast.com/.
CELTIC PODCAST NEWS
* Helping you celebrate Celtic culture through music. My name is Marc Gunn. I am a Celtic musician and podcaster. This show is dedicated to the indie Celtic musicians. I want to ask you to support these artists. Share the show with your friends. And find more episodes at celticmusicpodcast.com. You can also support this podcast on Patreon.
You can find out more about Thunder on the Plains through the KZUM website. There's a two week archive where you can enjoy back episodes. Find out more about "Lady Susan" J. E. Ritta on her Instagram page.
FairPlé aims to achieve gender balance in the production, performance, promotion, and development of Irish traditional and folk music. They advocate for equal opportunity and balanced representation for all. Visit their website for more details about this great organization.
TRAVEL WITH CELTIC INVASION VACATIONS
Every year, I take a small group of Celtic music fans on the relaxing adventure of a lifetime. We don't see everything. Instead, we stay in one area. We get to know the region through it's culture, history, and legends. You can join us with an auditory and visual adventure through podcasts and videos. Join the invasion at http://celticinvasion.com/
THANK YOU PATRONS OF THE PODCAST!
There are many ways to support the Irish & Celtic Music Podcast. You can make a donation through our website. You can buy a bumper sticker to show your support. You can buy an Irish & Celtic Music Podcast t-shirt or get the Sainted Song Henger Collection to tell the world you support Celtic culture through music. The best way is to become a Patron of the Podcast.
This show exists because of the kind patronage of people like you. You can make a pledge of a dollar or more per episode and cap how much you want to spend each month. Your generosity funds the creation, promotion and production of the show. It allows us to attract new listeners and to help our community grow. And you also get episodes before regular listeners.
You can become a generous Patron of the Podcast at http://patreon.com/celticpodcast.
I want to thank our newest patrons:
I WANT YOUR FEEDBACK
What are you doing today while listening to the podcast? You can send a written comment along with a picture of what you're doing while listening. Email a voicemail message to celticpodcast@gmail.com