Feb 24, 2022
Rock out with the incredible women of Irish & Celtic music on the Irish & Celtic Music Podcast.
Wolf & Clover, Lissa Schneckenburger, Jenna Moynihan, Heather Dale, One Street Over, Rambling Sailors, Empty Hats, Dublin Abbey, Bonnie Rideout, Brigid's Crossing, Beth Patterson, The Ennis Sisters, Secret Sky, Liesel Wilson
I hope you enjoyed this week's show. If you Heard a song, tune or artist that you loved, I'd like you to share this episode and tag the artist on social either on your page or in a Celtic group you're a part of. Include the show time so they can quickly listen and enjoy.
The Irish & Celtic Music Podcast is here to build our diverse Celtic community and help the incredible artists who so generously share their music with you.
Musicians rely on your support so they can keep creating new music. If music in this show inspired you, you can buy their CDs, digital downloads, shirts, pins, and other merch. You can follow them on streaming and see their shows. More and more Celtic musicians are on Patreon, just like this podcast. And of course, I always appreciate it when you drop artists an email to let them know you heard them on the Irish and Celtic Music Podcast.
How would you like Celtic music news in your inbox? The Irish & Celtic Music Magazine is a quick and easy way to plug yourself into more great Celtic culture. Subscribe and get 34 Celtic MP3s for Free.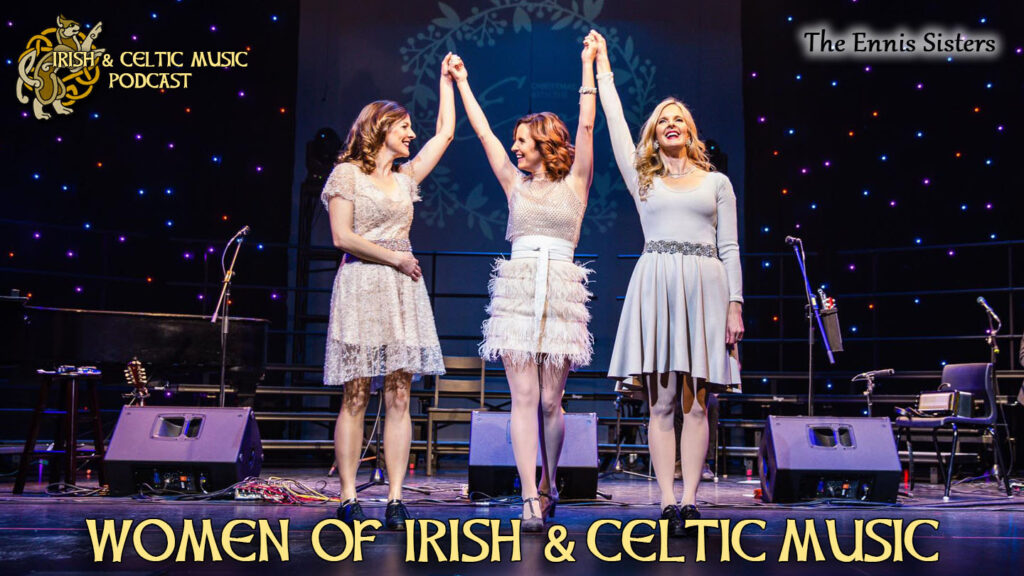 THIS WEEK IN CELTIC MUSIC
0:06 - Wolf & Clover "The Columbus Set" from twelvemonth and a day
Feat. Jessica French (fiddle, viola, cello, guitar, piano, mandolin, voice)
Shellie Murphy DeBruyn (vocals)
Caroline Richards (accordion)
4:17 - WELCOME
6:14 - Lissa Schneckenburger "Fisher's Hornpipe" from Dance
8:49 - The Kelly Girls "Reeds On The River" from May You Always
Feat. Aisling Keating (tin whistle, flute, bodhran, ukelele)
Melinda Kerwin (fiddle)
Christine Hatch (banjo, guitar, vocals)
Nancy Beaudette (guitar, mandolin, bouzouki)
12:54 - Jenna Moynihan "The Eagle's Whistle - Major Campbell Graham" from Woven
18:02 - Heather Dale "Lark and Dove" from Sphere
21:59 - FEEDBACK
25:27 - One Street Over "The Maids of Mitchelstown" from Beyond the Gate
Feat. Katie Enders (Cello, Fiddle)
31:02 - Rambling Sailors "Hi Ho Come Roll Me Over" from Kenway's Favorites
Feat. Susan Csikos (voice, guitar)
32:42 - Empty Hats "Merrily Kiss the Quaker/ Morrison's Jig" from Greatest Hats
Feat. Lynda Kavy (Bodhran)
36:17 - Dublin Abbey "Eilean Mor" from Dublin Abbey
Feat. Emma Elder (vocals, flute, tin whistle, mandolin, harmonica)
39:03 - Bonnie Rideout "Bert Gonnella's Jig/Lizzie Duncan's Fancy/Ron Gone" from Scottish Inheritance
42:36 - THANKS
45:38 - Brigid's Crossing "Weeping Willow" from The Fall
Feat. Jill Foley (fiddle)
49:06 - Beth Patterson "Spin" from Take Some Fire
52:08 - The Ennis Sisters "Own Sweet Time" from Keeping Time
Feat. Maureen, Karen and Teresa. New album out in June
56:18 - Secret Sky "Black Is The Colour" from Secret Sky
Feat. Caroline Lavelle (cello & vocals)
1:02:55 - CLOSING
1:05:09 - Liesel Wilson "Inverness Gathering / Bog an Lochan / The Nine Pint Coggie / Lexie MacAskill" from The Path
The Irish & Celtic Music Podcast was edited by Mitchell Petersen with Graphics by Miranda Nelson Designs. The show was produced by Marc Gunn, The Celtfather. Subscribe through your favorite podcatcher or on our website where you can become a Patron of the Podcast for as little as $1 per episode. Promote Celtic culture through music at http://celticmusicpodcast.com/.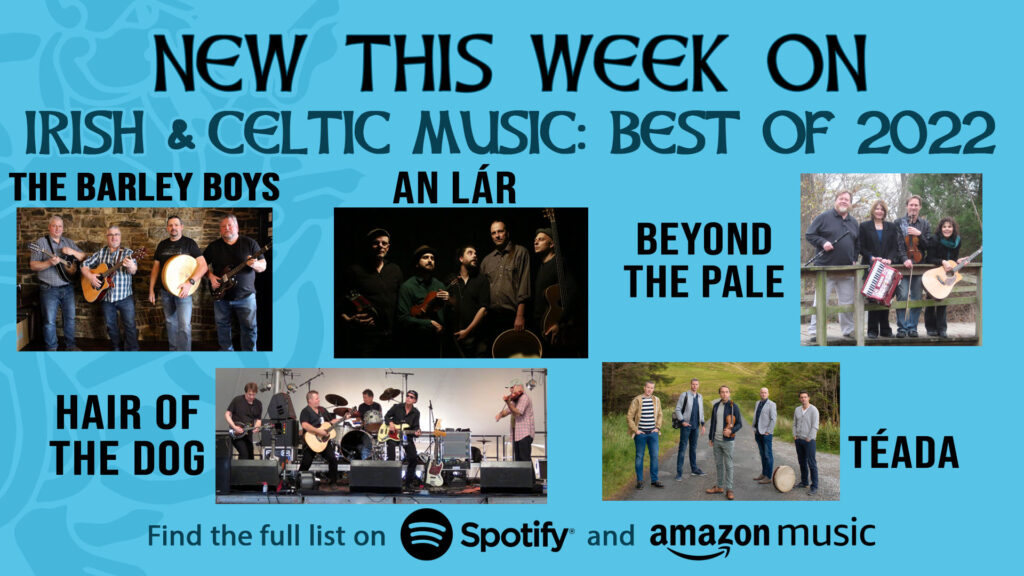 WELCOME TO CELTIC MUSIC
* Helping you celebrate Celtic culture through music. I am Marc Gunn. I'm a musician and podcaster. I share my love of Irish and Celtic music from around the globe with you. I want to introduce you to some amazing Celtic bands and musicians.
The artists in this show need your support which you can do by buying their music or telling a friend about the band you found. You can find a link to all of the artists, along with show times and chapters for each song when you visit our website at celticmusicpodcast.com. You can also support this podcast on Patreon.
St Patrick's Day is just a month away. I've thinking about ways to reach new podcast listeners. Interviews were one thought. I thought I'd reach out to you. Is there a podcast that you listen to that might need someone to talk about Celtic music and St Patrick's Day? Drop me an email.
VOTE IN THE CELTIC TOP 20 FOR 2022
This is our way of finding the best songs and artists each year. You can vote for as many songs and tunes that inspire you in each episode. Your vote helps me create next year's Best Celtic music of 2022 episode. Vote Now!
WHAT'S NEW IN IRISH & CELTIC MUSIC: BEST OF 2022
Two weeks after the episode is launched, I compile the latest Celtic Top 20 votes to update a playlist on Spotify and Amazon Music. These are the results of your voting. You can help these artists out by following the playlists and adding tracks you love to your playlists.
The newest bands added to the playlist: The Barley Boys, Hair of the Dog, Teada, Beyond the Pale, An Lar
Listen on Spotify and Amazon Music.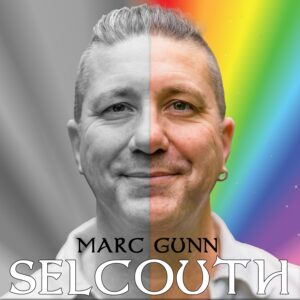 BUY SELCOUTH BY MARC GUNN
My latest CD features Sci F'Irish music. That means it is original songs fusing pop culture themes with Irish drinking songs. There are some traditional music on the album. But mostly, it features songwriting by Marc Gunn with guests including: Screeched Inn, The Muckers, Jamie Haeuser, Sam Gillogly, Nathan Deese, and Mikey Mason.
Selcouth means, "when everything is strange and different, yet you find it marvelous anyway."
The album is not completely Celtic and it's not just science fiction and fantasy. It's a fusion of the two. It's heartfelt and a lot of fun.
It's now on sale in my Bandcamp store. Check out Selcouth now.
ARE YOU A MUSICIAN WITH A STORY TO SHARE?
I'm looking for some good stories to share on our companion podcast. Pub Songs & Stories is a Virtual Public House for musicians to share the stories and inspiration behind their music. If you have a story that you'd like to share about a song, from a gig, or maybe even just a piece of Celtic history that you love. Drop me an email. Put "Pub Story" in the show subject. Tell me about your story. Maybe I'll ask you to record your story for the show.
THANK YOU PATRONS OF THE PODCAST!
Because of Your kind and generous support, this show comes out at least four times a month. Your generosity funds the creation, promotion and production of the show. It allows us to attract new listeners and to help our community grow.
As a patron, you hear episodes before regular listeners. You can pledge a dollar or more per episode and cap how much you want to spend each month over on Patreon. You can also get music - only episodes and free MP3s when you become a Song Henger.
A super special thanks to our news Patrons of the Podcast: Ben Doran, Karen, Mark H, Carl F
You can become a generous Patron of the Podcast on Patreon at SongHenge.com.
TRAVEL WITH CELTIC INVASION VACATIONS
Every year, I take a small group of Celtic music fans on the relaxing adventure of a lifetime. We don't see everything. Instead, we stay in one area. We get to know the region through its culture, history, and legends. You can join us with an auditory and visual adventure through podcasts and videos. Learn more about the invasion at http://celticinvasion.com/
WANT TO START YOUR OWN PODCAST?
I have a great recommendation. It is Libsyn. They have reliably shared my podcast episodes for nearly 17 years without ever having a problem. And yes, they host ALL of my podcasts. That can't be said about all podcast hosts. Try them out. I'm confident you will love them just as much as I have.
#celticmusic #irishmusic #celticmusicpodcast
I WANT YOUR FEEDBACK
What are you doing today while listening to the podcast? You can send a written comment along with a picture of what you're doing while listening. What are you doing with your local celtic community?
Email a voicemail message to celticpodcast@gmail.com
Eric Guarin messaged some photos on Facebook: "Mark, you said you were looking for more feedback so here goes. First of all, it's amazing you are now forty - two episodes PAST 500! Wow. So many thanks.
Second, you ask what are we doing while listening to the podcast. Well the other day I was running south of Huntington Beach pier, and oddly for such a lovely day, as you can see by the attached picture nobody was there! The podcast made some lovely accompaniment as I ran with or sometimes carrying a small Aussiedoodle puppy. On a different occasion I put your podcast playing from my phone as I climbed Angel's Landing in Zion National Park. It was a great day as well and perfect lively music to motivate me up the trail to the glorious view at the top. Thanks Mark! Cheers,"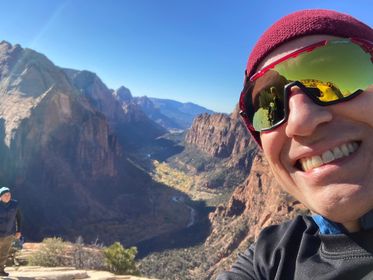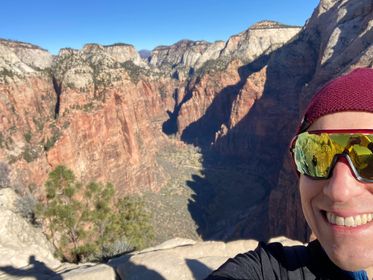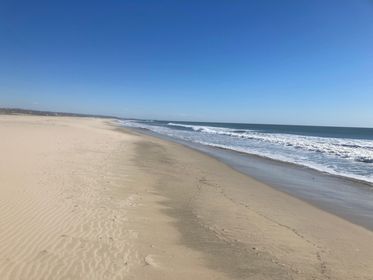 Alina Larson wrote on Facebook: "I love The Fire! I've gotta get back into listening to podcasts - I've really enjoyed the selection of music you play & have found out about a bunch of great bands through this podcast🙂"
Thom Danger Speck sent a message on Facebook: "Listening to Night Fall #531 while doing a pre - winter clean of my property. Cheers to you Marc. Thanks for helping me to keep warm."