Aug 8, 2019
We're going on a long drive with Celtic music blaring.
Muireann Nic Amhlaoibh, Alasdair Fraser & Tony McManus, Claire Roche, Molly's Revenge, Moch Pryderi, Brian Conway, The Rogues, The Wee Heavies, Whalebone, Seamus Kennedy, The Rowan Tree, Brothers 3, The Killdares, Jiggy, Amelia Hogan
I hope you enjoyed this week's show. If you did, please share the show with ONE friend.
The Irish & Celtic Music Podcast is dedicated to growing our community and helping the incredible artists who so generously share their music. If you find music you love, buy their albums, shirts, and songbooks, follow them on Spotify, see their shows, and drop them an email to let them know you heard them on the Irish and Celtic Music Podcast.
Remember also to Subscribe to the Celtic Music Magazine. Every week, I'll send you a few cool bits of Celtic music news. It's a quick and easy way to plug yourself into more great Celtic culture. Plus, you'll get 34 Celtic MP3s for Free, just for signing up today. Thank you again for being a Celt of Kindness.
VOTE IN THE CELTIC TOP 20
With the new year comes a new votes in the Celtic Top 20. This is our way of finding the best songs and artists each year. Just list the show number, and the name of as many bands in the episode as you like. Your vote helps me create next year's Best Celtic music of 2019 episode. Vote Now!
#celticmusic #irishmusic #longdrive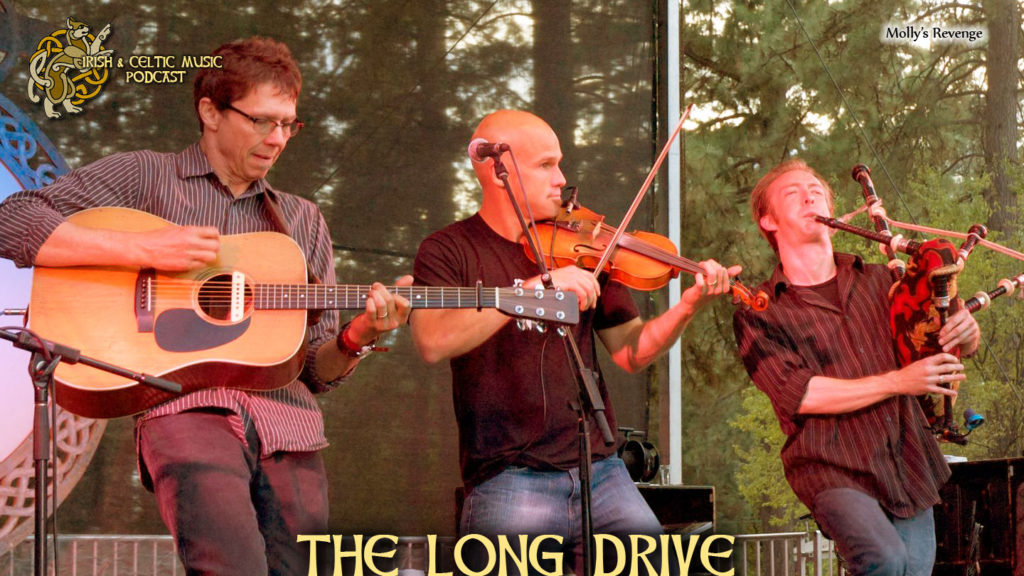 THIS WEEK IN CELTIC MUSIC
0:04 "Ríleanna / Reels: Ormond Sound, The Torn Jacket" by Muireann Nic Amhlaoibh from Foxglove & Fuschia
3:27 "The Marquis of Huntly / The Ewie Wi' the Crooked Horn / John Cheap the Chapman / Peerie Weerie / West Mabou Reel" by Alasdair Fraser & Tony McManus from Return to Kintail
8:39 "The Pond of Chesterfield" by Claire Roche from From Then Until the Here and Now
12:42 "The Long Drive" by Molly's Revenge with Moira Smiley from The Western Shore
17:26 "Dau Rosyn Coch" by Moch Pryderi from Jig Moch
22:40 CELTIC FEEDBACK
25:06 "The Lowlands Low" by Brian Conway from Irish Pirate Ballads and Other Songs of the Sea
29:13 "Steam Train" by The Rogues from 25...and Live!
32:57 "Birnie Bouzle" by The Wee Heavies from The Wee Heavies
34:36 "Wenlock Hare" by Whalebone from Three Fires
38:09 "Emigrant Eyes" by Seamus Kennedy from Let the Music Take You Home
42:50 CELTIC PODCAST NEWS
44:52 "Tresor" by The Rowan Tree from The Rowan Tree
48:36 "Buttermilk Mary" by Brothers 3 from The Journey That Lies Before
53:22 "Fragile" by The Killdares from Any Given Element
57:09 "Head Rush" by Jiggy from Translate
1:03:27 "The Praties They Grow Small" by Amelia Hogan from Transplants: From the Old to the New
The Irish & Celtic Music Podcast was produced by Marc Gunn, The Celtfather. To subscribe, go to Apple Podcasts or to our website where you can become a Patron of the Podcast for as little as $1 per episode. Promote Celtic culture through music at http://celticmusicpodcast.com/.
CELTIC PODCAST NEWS
* Helping you celebrate Celtic culture through music. My name is Marc Gunn. I am a Celtic musician and podcaster. This show is dedicated to the indie Celtic musicians. I want to ask you to support these artists. Share the show with your friends. And find more episodes at celticmusicpodcast.com. You can also support this podcast on Patreon.
School is back in session
Coffee with The Celtfather returns on Wednesdays at 10 am EST
FairPlé aims to achieve gender balance in the production, performance, promotion, and development of Irish traditional and folk music. They advocate for equal opportunity and balanced representation for all. Visit their website for more details about this great organization.
TRAVEL WITH CELTIC INVASION VACATIONS
Every year, I take a small group of Celtic music fans on the relaxing adventure of a lifetime. We don't see everything. Instead, we stay in one area. We get to know the region through it's culture, history, and legends. You can join us with an auditory and visual adventure through podcasts and videos. Join the invasion at http://celticinvasion.com/
THANK YOU PATRONS OF THE PODCAST!
We hit our 14th year anniversary at the end of July. Your kind and generous support of this show each and every week are the reason it still exists after 14 years.
There are many ways to support the Irish & Celtic Music Podcast, throughs donation, buying bumper sticker, pint glasses or t-shirts. But the best way of all is to become a Patron of the Podcast.
You can make a pledge of a dollar or more per episode and cap how much you want to spend each month. Your generosity funds the creation, promotion and production of the show. It allows us to attract new listeners and to help our community grow. And you also get episodes before regular listeners.
And when we hit a milestone, you get an extra-long episode. We are super close to getting a two-hour instrumental special.
You can become a generous Patron of the Podcast at http://patreon.com/celticpodcast.
I want to thank our Celtic Legends: Annie Lorkowski, Bryan Brake, Carol Baril, Hank Woodward, Kevin Long, Lynda MacNeil, Marianne Ludwig, Miranda Nelson, Nancie Barnett, Robert Michael Kane, Scott Benson, Shawn Cali, Tiffany Knight
I WANT YOUR FEEDBACK
What are you doing today while listening to the podcast? You can send a written comment along with a picture of what you're doing while listening. Email a voicemail message to celticpodcast@gmail.com
Amber B emailed a photo: "Hi Marc! I'm a long time listener and have always found a way to hear the podcast over many platforms. Anyways, thank you so much for the work you put into one of my favorite podcasts. I usually listen while working but tonight I am listening at home while crocheting an entry for the upcoming county fair. This will eventually be a farm themed toy mat. I'll have to send pictures of the finished stuff when that happens!"
Ryan MacNeil emailed: "Hey Mark, Just wanted to thank you for including my music in your podcasts. I don't get to listen all the time but I enjoy your shows. Hope you are having a great summer!"
Carol Baril commented on Patreon: "Love these podcasts! The music is so much fun to listen to while I'm at work banging on my keyboard! I think I'm falling for those tunes with bagpipes!!! Especially bagpipes and drums!!! Thanks for all your hard work Marc getting these out for us fans!"
James Spradlin emailed: "I was sad to hear that some do not support the heritage of the strong celtic woman. Our women have kept us alive for centuries. And it can truly be said that without them there would be no Celts. It makes me fighting mad to think that Anyone would disrespect OUR women. Keep up the good fight, Mark. We support you and your support of the women of Celtic music."