Mar 29, 2018
Happy Easter on show #352 with inspiring Celtic music from The Flying Toads, Jonathan Milton, Finbar Furey, Kellswater Bridge, The Beer Mats, Marc Gunn & The Dubliners Tabby Cats, Dun Aengus, Mithril, The Boston Harbor Bhoys, The Makem & Spain Brothers, Marys Lane, Hair of the Dog, The Logues, The Merry Wives of Windsor. http://celticmusicpodcast.com/
Listen and share this podcast. Download 34 Celtic MP3s for Free. Subscribe to the Celtic Music Magazine. This is our free newsletter and your guide to the latest Celtic music and podcast news. Remember to support the artists who support this podcast: buy their CDs, download their MP3s, see their shows, and drop them an email to let them know you heard them on the Irish and Celtic Music Podcast.
TODAY'S SHOW IS BROUGHT TO YOU
BY CELTIC INVASION VACATIONS
Don't just see the world. Go on a relaxing adventure with a small group of Celtic music fans, just like you. We won't see everything. Instead, we will stay in one area. We will get to know the region through it's culture, history, and legends. You can help me decide where we should go into 2019. Subscribe to the mailing list to join the invasion at http://celticinvasion.com/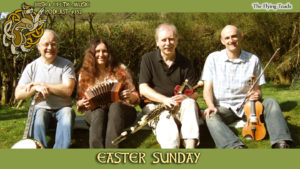 THIS WEEK IN CELTIC MUSIC
0:04 "Palm Sunday" by The Flying Toads from Warts 'n All
5:35 "Sunday Brunch Set" by Jonathan Milton from Just One More...
9:46 "After Sunday Mass" by Finbar Furey from Colours
12:35 "Easter Moon" by Kellswater Bridge from As The Story Goes
16:27 "May We All Some Day Meet Again" by The Beer Mats from Easter Lily
19:32 CELTIC PODCAST NEWS
20:44 "Lord of the Pounce" by Marc Gunn & The Dubliners Tabby Cats from Irish Drinking Songs for Cat Lovers
25:02 "Down By The Glenside" by Dun Aengus from Down By The Glenside
27:48 "The Trip To Skye/Brenda Stubbert's/The Hunter's Purse/Tommy Peoples" by Mithril from The Return Home
34:37 "The Rocky Road to Dublin" by The Boston Harbor Bhoys from In Your Living Room
37:13 "Three Nights and a Sunday" by The Makem & Spain Brothers from Up the Stairs
40:44 CELTIC FEEDBACK
43:37 "Road Less Traveled/Harvest Home" by Marys Lane from Wild Unknown
46:39 "One Sunday Morning" by Hair of the Dog from Let It Flow
49:13 "Poitin Valley" by The Logues from Tough at the Bottom
"Mad Jenny" by The Merry Wives of Windsor from Tales From Windsor's Tavern
The Irish & Celtic Music Podcast was produced by Marc Gunn, The Celtfather. To subscribe, go to Apple Podcasts or to our website where you can become a Patron of the Podcast for as little as $1 per episode. Promote Celtic culture through music at http://celticmusicpodcast.com/.
THANK YOU PATRONS OF THE PODCAST!
The Irish & Celtic Music Podcast is supported by listeners like you. Over 200 kind and generous people pledge $1 or more per episode to celebrate Celtic culture through music, each and every week. Your generosity helps pay for the production of the podcast as well as my time in producing it. As the world's largest Celtic podcast, you give these independent bands a fighting chance to be heard by thousands of Celtic music lovers around the world.
Patrons get episodes before regular listeners, discounts on merch, and when we hit a milestone, everyone gets an extra-long episode. And I just posted a new milestone goal. I'll tell you more about it in a bit. I want to send out a huge thanks to our newest Patrons of the Podcast: Joanna Fedewa, Corpus Christi Irish Sessions, Brannan Barber. Join our fine patrons http://patreon.com/celticpodcast
CELTIC PODCAST NEWS
* Helping you celebrate Celtic culture through music. My name is Marc Gunn. I am a Celtic and Geek musician and podcaster. This show is dedicated to the indie Celtic musicians. I want to ask you to support these artists. Share the show with your friends. And find more episodes at celticmusicpodcast.com. You can also support this podcast on Patreon.
I just released a Kickstarter for my third album of Irish Drinking Songs for Cat Lovers. This one is Sea Shanties for Cat Lovers. You'll find a link to it in the shownotes.
VOTE IN THE CELTIC TOP 20
It's easier than ever to do. Just list the show number, and the name of one or two bands. That's it. You can vote once for each episode help me create next year's Best Celtic music of 2018 episode. http://bestcelticmusic.net/vote/
I WANT YOUR FEEDBACK
What are you doing today while listening to the podcast? You can send a written comment along with a picture of what you're doing while listening. Email a voicemail message to celticpodcast@gmail.com
Kerrydan tweeted a picture: "Hi Marc! Really loved listening to this instrumental show on my brisk lunchtime walk along the Red River in Winnipeg, Canada. In between tracks, you'd swear you could hear the ghosts of Scottish and Métis fiddles joining in."
Nash from the UK emailed: "Hey Marc, Tried to confirm my subscription and although I am taken to the "thanks for subscribing" page, I still have not had the sign up email / zip for the albums. Waited a few hours, put your address in the contacts, but no joy yet. Maybe there are some leprechauns at work....?
Nice podcast – just a suggestion. Could you put the tracklist / artist in the show notes? It's great that you play a few songs back to back to not interrupt them, but by the time you then announce the artist / track name, I sometimes struggle to match them up."
Hey Nash, thanks so much for writing. If you signed up to the email list and did NOT get an email back, I'd suggest you check your spam folder or trash. I don't know what those leprechauns are up to, but they can be troublesome with email.
One more suggestion for everyone who is subscribed, reply to one of the magazine emails. That will hopefully insure that future emails go straight to your inbox and not to your gmail promotions or anything like that.
As for the podcast suggestion, Nash, everything you mentioned is there. If you look at your podcatcher, you should be able to find all of the tracks and time listings for the artists in the show. If you can't find them there, please let me know. But you can also find them on our website at celticmusicpodcast.com
Jim & Judy Wolfe emailed about the Flute/Whistle special idea: "Hey Marc, been listening for many years and one band I discovered on the podcast that fits the bill is Flook. Sarah Allen's flute, and Brian Finnegan's whistle are great examples for you to consider. Keep up the good work."
A few episodes back, I suggested a flute/whistle episode might be in order. So I decided to set that up as our new Patreon Milestone. We are thirty dollars away from a 2-hour Celtic Flute & Whistle special.
Chrissy Willow emailed: "Hey, Marc! I followed your podcasts years ago until Google Listen was retired and lost track of you. I'm so glad to see your podcasts on Google Play and have begun following again! The reason I write is because I'm trying to locate a song you played years ago. It was a ballad of a woman who walks the strand and calls up storms to dash the sailors' ships on the rocks. I've searched all over the place but can't find it, and can't remember enough of the lyrics to help. Thus, I'm hoping you might remember the song. Thank you so much for bringing such wonderful Irish music to my life. Have a lovely Saint Patrick's Day!"