Dec 7, 2017
Get your mind blown with over two hours of Celtic RAWWWWK. We're not holding anything back. You'll enjoy Celtic rock from The Elders, Syr, Jiggy, The Gleasons, Coast, Ryan MacNeil , The Ne'er Duwells, Dom DufF, Screaming Orphans, West of Mabou, The Kilt Lifters, Barleyjuice, The Crazy Rogues, Seagulls are Drunk, Claymore, Emish, Blackstone Cuil, Screeched Inn, House of Hamill, Sons of Malarkey, The Muckers, The Canny Brothers Band, The Bog Hoppers, Paddy's Pig, The Led Farmers, Lenahan, The Tossers, O'Hanlons Horsebox, Kilmaine Saints, Clan Na Gael (with Neil Anderson) , Ockham's Razor, Tuatha Dea. http://celticmusicpodcast.com/
Listen and share this podcast. Download 34 Celtic MP3s for Free at http://bestcelticmusic.net. Subscribe to the Celtic Music Magazine. This is our free newsletter and your guide to the latest Celtic music and podcast news. Remember to support the artists who support this podcast: buy their CDs, download their MP3s, see their shows, and drop them an email to let them know you heard them on the Irish and Celtic Music Podcast.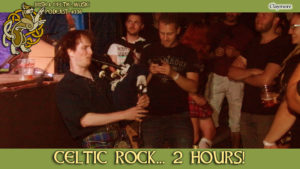 TODAY'S SHOW IS BROUGHT TO YOU BY...
THE CELTIC INVASION OF THE ISLE OF SKYE
You can join me in Scotland in June 2018. Imagine joining a small group of eight Celtic music fans, driving in a van as we explore the Isle of Skye. Some call it one of the most-beautiful islands in the world, with spectacular vistas, gorgeous castles and towns, fairy pools, and magic. We won't see everything. Instead, we will stay in one area, and get to know the region through its history, culture, and legends. Subscribe to the mailing list to join the invasion at http://celticinvasion.com/
IT'S ALSO SPONSORED BY
LISTENERS LIKE YOU!
Imagine a world with no Celtic music. Pretty crappy, right? All you have is boring pop music being shoved down your throats by big record labels. You wouldn't get to experience the incredible music shared each and every week in the Irish & Celtic Music Podcast.
I want to thank the amazing generosity of all of our patrons. But I want to send an extra special thanks to our Celtic Legends: Bryan Brake, Nancie, Hunter Melville, John Bilderback, Kevin Long, Annie Lorkowski, Derek Lineberry, Lynda MacNeil, John Sharkey White II, Theresa Sullivan, Shawn Cali.
These incredibly generous people bring you hours of great Celtic music. You can help celebrate Celtic music and culture and keep this show running every week. Become a Patron of the Podcast a http://patreon.com/celticpodcast
THIS WEEK IN CELTIC MUSIC
0:05 "Hot & Bothered/Dublin Hallway" by The Elders from TRUE
6:14 "Invicta" by Syr from The Winter King
8:59 "Bean Phaidin" by Jiggy from Translate
12:57 "Irish Up" by The Gleasons from Let It Go
16:38 "1884" by Coast from Windmills in the Sky
21:08 "The Pipes Are Calling" by Ryan MacNeil from Shuffle
23:38 "Meet Me Back in Ireland" by The Ne'er Duwells from The Ne'er Duwells
28:34 CELTIC INVASION VACATIONS
29:13 "Roc'h" by Dom DufF from Roc'h
32:24 "Home" by Screaming Orphans from Taproom
35:43 "E Set" by West of Mabou from West of Mabou
39:03 "Green Grow the Rashes" by The Kilt Lifters from Jack in the Green
44:18 "Celtic Girl" by Barleyjuice from The Morning After
47:06 "The Sad Leprechaun" by The Crazy Rogues from Rebels' Shanties
51:29 CELTIC PODCAST NEWS
43:12 "The Ballad of the Jackal" by Seagulls are Drunk from Next Round Is On Us
57:28 "Will Ye Nae Back Again" by Claymore from Claymore
59:58 "Glasses of Beer" by Emish from Sinners Make the Best Saints
1:03:36 PROMO by Gatehouse Well
1:03:42 "Irish Ways & Irish Laws" by Blackstone Cuil from Blackstone Cuil
1:09:35 "The Night Pat Murphy Died" by Screeched Inn from Screeched Inn
1:13:15 "The Pinnacle" by House of Hamill from Wide Awake
1:19:00 PATRONS OF THE PODCAST
1:20:08 "Captain" by Sons of Malarkey from Gulls Lads
1:24:21 "Molly" by The Muckers from The Muckers
1:29:06 "Take Me" by The Canny Brothers Band from The Guinness Situation
1:33:04 "American Irish Soul" by The Bog Hoppers from Top Shelf
1:36:13 "Planxty Claude Duvall" by Paddy's Pig from Rebel Tooth EP
1:39:04 "Thomas Jefferson" by The Led Farmers from Katie
1:42:42 CELTIC FEEDBACK
1:45:10 "Nothin'" by Lenahan from Brand New Bag and The Secret World of Celtic Rock
1:49:44 "Where Ya Been Johnny?" by The Tossers from Agony
1:52:13 "The Fighting Boys of Corofin" by O'Hanlons Horsebox from Songs and Stories of the Border
1:54:43 "2nd & Locust" by Kilmaine Saints from Whiskey Blues & Faded Tattoos
1:57:46 "I Still Believe" by Clan Na Gael (with Neil Anderson) from Rathkeltair & Friends CPR
2:02:01 "Our Lady of Galway Bay" by Ockham's Razor from Job's Comforter
2:07:14 "Whiskey in the Jar" by Tuatha Dea from Kilts and Corsets
The Irish & Celtic Music Podcast was produced by Marc Gunn, The Celtfather. To subscribe, go to iTunes or to our website where you can become a Patron of the Podcast for as little as $1 per episode. Promote Celtic culture through music at http://celticmusicpodcast.com/.
NOTES
Helping you celebrate Celtic culture through music. My name is Marc Gunn. I am a Celtic and Geek musician and podcaster. This podcast is dedicated to the indie Celtic musicians. I want to ask you to support these artists. Share the show with your friends. And find more episodes at celticmusicpodcast.com. You can also support this podcast on Patreon.
Spotify is expanding its list of podcasts and it looks like the Irish & Celtic Music Podcast is now available to stream. This is a great way to listen on your Android devices. Follow the link in the shownotes.
A Celtic Christmas is a compilation I released on the Irish & Celtic Music Podcast several years ago. It features Christmas music by some of the most-popular celtic bands on the show. You can now own the album for 50% off the regular price exclusively on iTunes.
If you enjoy this show and want to support indie Celtic music, become a Patron of the Podcast. Or you can also visit the Irish & Celtic Music Podcast store at bestcelticmusic.net
If you're looking to want to find out more about a particular band that you hear in this show, go to the shownotes at celticmusicpodcast.com and you'll find time stamps for every song featured.
VOTE IN THE CELTIC TOP 20. It's easier than ever to do. Just list the show number, and the name of one or two bands. That's it. You can vote once for each episode help me create next year's Best Celtic music of 2017 episode. http://bestcelticmusic.net/vote/
WANT YOUR FEEDBACK
What are you doing today while listening to the podcast? You can send a written comment along with a picture of what you're doing while listening. Email a voicemail message to celticpodcast@gmail.com
Samantha Humphreys emailed: "Hello, Hello! I've just gotten back from India where I was studying Kundalini yoga and used to being up at about 4 am listening to Indian music. It's now 7:30 am and I'm sitting down to this delicious nutritious plant based meal to do some lovely reading - I switch to some lovely jams for the background and the vibe. And your podcast is my immediate go to!
Thank you for sharing such lovely music, I'm loving Celtic music more and more as it feels so at home to me (I have Celtic roots on my mother's side). I recently found here in Old Town Alexandria VA a LEGIT Irish pub called O'Connells and it's my favorite go to spot for live traditional Irish music. They play in this little nook up front where there are thankfully no distracting TVs. The space in sum is large, 5 rooms, two floors. But the one up front when you first enter is where the live music is. It's small, cozy, warm, intimate. A real Irishman working the bar! My friend and I went one evening without knowing there would be live music and there were only two people at the bar, her and I, and some lovely Irish musicians. It's as if the place was reserved for just her and I. Such a beautiful time her and I shared in silence and in aw of the sounds and energy coming from the little nook! I will definitelyyy be going back there for some lunch and Celtic Music feels an in the mean time I'll be into this podcast regularly- also just downloaded the app (: Thank you, thank you!
Namaste and Blessed Be. Samantha.
Thank you Samantha. Wow! It is beautiful to hear all the different types of people find and fall in love with our music. From India to Ireland and around the globe. Brilliant.
I hope you enjoy the app too. It definitely makes it easier to listen.