Sep 14, 2023
I wouldn't mind getting tangled on the moon listening to Irish & Celtic Music Podcast #627.
The Bookends, Seán Heely, Jocelyn Pettit, Telenn Tri, Karan Casey, Joey Abarta, Boxing Robin, The Langer's Ball, Irishtown Road, Railcar Graffiti, The Fretless, Raúl Sanz, La Nef and Chor Leoni, Jen Midkiff, The Out of Kilters, Jesse Ferguson
GET CELTIC MUSIC NEWS IN YOUR INBOX
The Celtic Music Magazine is a quick and easy way to plug yourself into more great Celtic culture. Subscribe and get 34 Celtic MP3s for Free.
VOTE IN THE CELTIC TOP 20 FOR 2023
This is our way of finding the best songs and artists each year. You can vote for as many songs and tunes that inspire you in each episode. Your vote helps me create next year's Best Celtic music of 2023 episode. Vote Now!
You can also follow our playlists on Spotify and YouTube. These feature the top songs two weeks after the polls open. It also makes it easier for you to add these artists to your own playlists.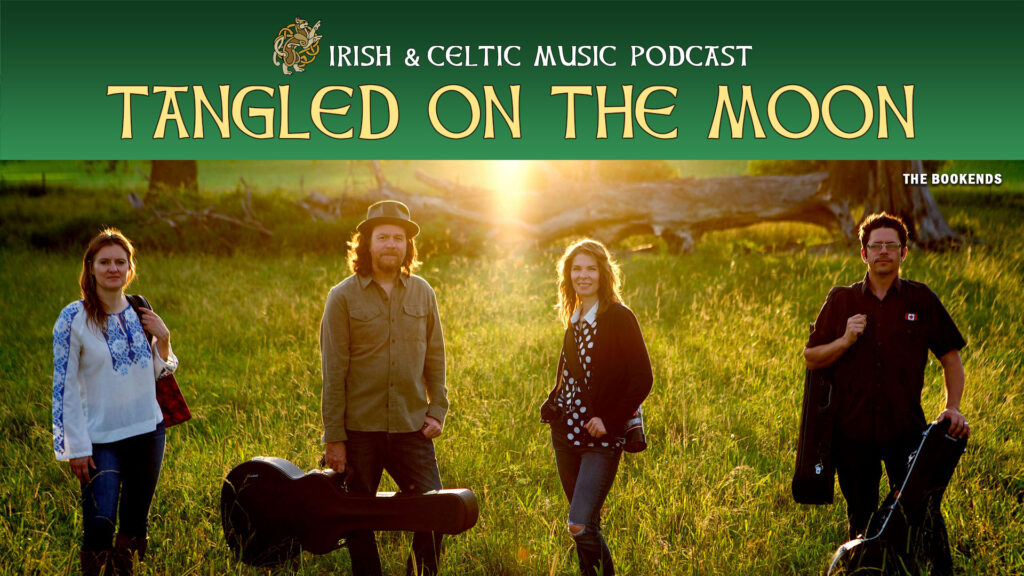 THIS WEEK IN CELTIC MUSIC
0:06 - The Bookends with the Stratford Symphony Orchestra "The Old Grove" from A Celtic Celebration: The Bookends with the Stratford Symphony Orchestra
3:16 - WELCOME
5:48 - Seán Heely "Dr. Midnight, Death, and the 10th Life" from Dramagical
9:46 - Jocelyn Pettit "Never - Ending Road" from Wind Rose
15:12 - Telenn Tri "Sunday Birds" from Macquarie Street
19:27 - Karan Casey "When the Moon Gets Tangled" from Nine Apples of Gold
23:24 - FEEDBACK
27:29 - Joey Abarta "Johnny Allen's/The West Wind/The Boy in the Gap (Reels)" from King of the Blind
32:17 - Boxing Robin "One Autumn Morning" from The View From Here
36:01 - The Langer's Ball "Slides: Going to the Well for Water/The Lonesome Road to Dingle"
from Appetite for Tradition
38:54 - Irishtown Road "That's How It Starts" from On the One Road
41:13 - Railcar Graffiti "Frosty Morn" from Going Across The Sea
43:57 - THANKS
47:09 - The Fretless "Troubled Mind" from Open House
50:14 - Raúl Sanz "Tinta invisible / Sem / Fere" from La espiral del lobo
55:15 - La Nef and Chor Leoni "Shallow Brown" from Shanties! LIVE
58:10 - Jen Midkiff "Candle on the Water" from Collage
1:00:29 - The Out of Kilters "My Lovely Colleen Rua" from Hot Potatoes
1:03:07 - CLOSING
1:04:27 - Jesse Ferguson "High Germany" from The Bard of Cornwall
1:08:08 - CREDITS
The Irish & Celtic Music Podcast was produced by Marc Gunn, The Celtfather and our Patrons on Patreon. The show was edited by Mitchell Petersen with Graphics by Miranda Nelson Designs. Visit our website to follow the show. You'll find links to all of the artists played in this episode.
Todd Wiley is the editor of our Celtic Music Magazine. Subscribe to get 34 Celtic MP3s for Free. Plus, you'll get 7 weekly news items about what's happening with Celtic music and culture online. Best of all, you will connect with your Celtic heritage.
Please tell one friend about this podcast. Word of mouth is the absolute best way to support any creative endeavor.
Finally, remember. Reduce, reuse, recycle, and think about how you can make a positive impact on your environment.
Promote Celtic culture through music at http://celticmusicpodcast.com/.
WELCOME THE IRISH & CELTIC MUSIC PODCAST
* Helping you celebrate Celtic culture through music. I am Marc Gunn. I'm a Celtic musician and podcaster. This podcast is here to build our diverse Celtic community and help the incredible artists who so generously share their music with you. Musicians rely on your support to keep making music. If you hear music you love, please email artists to let them know you heard them on the Irish and Celtic Music Podcast.
You can find a link to all of the artists in the shownotes, along with show times, when you visit our website at celticmusicpodcast.com.
Greetings all, Lot's going on. I just booked the house that we will be staying at on next year's Celtic Invasion of the Isle of Man. The invasion is all booked up. However, there might be a second invasion added in August. So if you're not yet, subscribed at celticinvasion.com, make sure you go ahead and do that.
The Secret World of Celtic Rock compilation CDs that were funded on Kickstarter last month, they have arrived. I hope to do a listening party for that album next week. I'll let you know the details as soon as I have some and when the physical CD is on sale on my Bandcamp page.
I am still waiting for two people who haven't completed the Kickstarter survey to contact me with info. Otherwise, the shirts and tote bags should arrive from my printer by next when I will start mailing stuff out.
If you are a Celtic musician or in a Celtic band, then please submit your band to be played on the podcast. You don't have to send in music or an EPK. Just complete the permission form at 4celts.com.
THANK YOU PATRONS OF THE PODCAST!
Because of Your kind and generous support, this show comes out four times a month. Your generosity funds the creation, promotion and production of the show. It allows us to attract new listeners and to help our community grow.
As a patron, you get music - only episodes before regular listeners, vote in the Celtic Top 20, and you get a private feed to listen to the show. All that for as little as $1 per episode.
A special thanks to our newest Patrons of the Podcast: Erin Ruth, Katrina Donaghue, Sophia Olive, craig bashford, James Newman
HERE IS YOUR THREE STEP PLAN TO SUPPORT THE PODCAST
Go to our Patreon page.
Decide how much you want to pledge every week, $1, $5, $10. Make sure to cap how much you want to spend per month.
Keep listening to the Irish & Celtic Music Podcast to celebrate Celtic culture through music.
You can become a generous Patron of the Podcast on Patreon at SongHenge.com.
TRAVEL WITH CELTIC INVASION VACATIONS
Every year, I take a small group of Celtic music fans on the relaxing adventure of a lifetime. We don't see everything. Instead, we stay in one area. We get to know the region through its culture, history, and legends. You can join us with an auditory and visual adventure through podcasts and videos. Learn more about the invasion at http://celticinvasion.com/
#celticmusic #irishmusic #celticmusicpodcast
I WANT YOUR FEEDBACK
What are you doing today while listening to the podcast? You can send a written comment along with a picture of what you're doing while listening or a picture you took of a band that you saw.
How would you like to introduce an episode of the podcast? It's super easy. Contact me for details.
Email me at celticpodcast@gmail or message me on Facebook.
Francis Leach replied to the Celtic Music Magazine's feedback request: "Marc, Love your shows. Thanks. I Usually work around the house. I especially like to listen while doing yard work." For St Patrick's Day? "Hanging at two of our favorite Irish pubs, drinking Guinness and Jameson, and listening to some great Irish bands. We constantly have Celtic music on in our house and we are planning a trip to Ireland this summer. Our trip three years ago got squashed due to the pandemic."
Travis Senzaki replied: "Hi Marc, thank you for continuing to put out this podcast year after year! This St. Patrick's Day, the podcast is really my only connection to Celtic culture, so I'll be spending the evening listening with my kids. Over the years of listening, I have moved from the US to rural Japan, where there is no other access to my Irish roots. I have to travel to even find Guinness on tap. But thanks to you, my kids have picked up on Celtic music (or "Daddy's car music", as they call it) and even recognize it when some of the common themes find their way into movie or game music. I hope to continue sharing this music and culture with them as they grow older, and your podcast remains my best resource to do so. Thank you!
Thanks again for all you do! I'm looking forward to listening to the St. Patrick's Day episode(s) over a glass, even if I have to pour it from a can. Slainte!"
Sarah Shorter replied: "Good morning Marc. We are enjoying some autumn sunshine down in new zealand. I'm listening with my son (18 months old) and he loves the show.
St Patrick's for us will be attending play centre (a parent run education centre) where we will be making shamrock fairy bread.( green sprinkles on buttered bread cut out with a cookie cutter) quite a conglomeration of celtic and new zealand cultures. We will also be bringing in a play list to share with the kids ( aged 0 to5 ) I'm just putting it together now starting from the best of 2022 and 2023 Playlist.. Kia Ora"