Aug 11, 2022
Is Celtic music good for the environment? Lissa Schneckenburger starts an environmental conversation from fear and denial to empowerment and creativity on this week's Irish & Celtic Music Podcast. Subscribe to hear the story and get 34 Celtic MP3s for free.
Spoil The Dance, ÚLLA, The Kelly Girls, Wolf & Clover, Wolf Loescher, Andreas Transø, Sharon Shannon, McKasson & McDonald, Gerry O'Beirne & Rosie Shipley, Lissa Schneckenburger, Old Man Flanagan's Ghost, Harmundi, Jamison Celtic Rock, Niamh Parsons
GET CELTIC MUSIC NEWS IN YOUR INBOX
The Irish & Celtic Music Magazine is a quick and easy way to plug yourself into more great Celtic culture. Subscribe and get 34 Celtic MP3s for Free.
VOTE IN THE CELTIC TOP 20 FOR 2022
This is our way of finding the best songs and artists each year. You can vote for as many songs and tunes that inspire you in each episode. Your vote helps me create next year's Best Celtic music of 2022 episode. Vote Now!
I hope you enjoy this week's show. If you hear music you love, share the episode.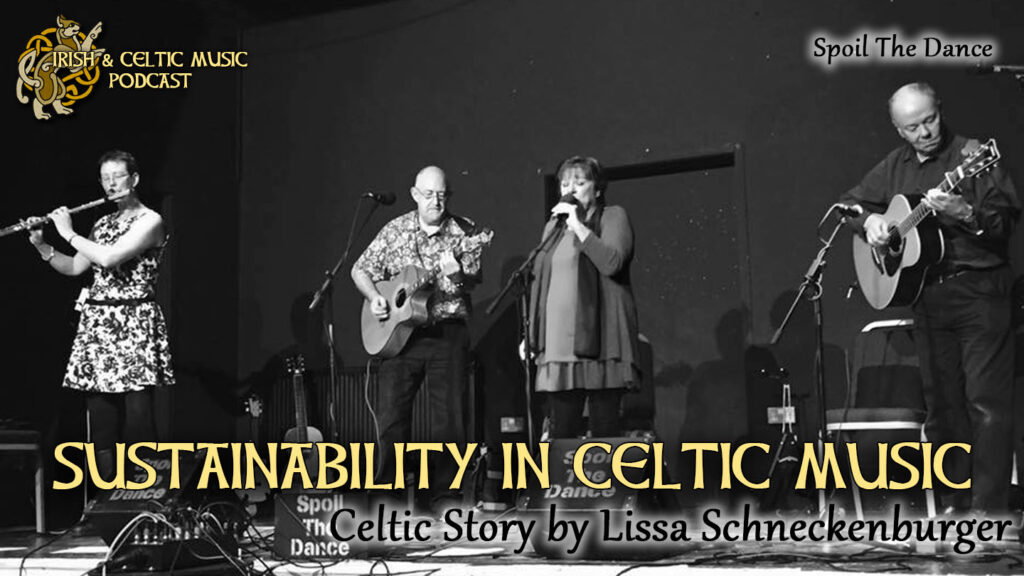 THIS WEEK IN CELTIC MUSIC
0:13 - Spoil The Dance "Jigs : McIntyre's Fancy, Newtown Bridge, Inis Bearachain Jig 2 " from Returning Home
4:04 - WELCOME
4:48 - ÚLLA "Fr. Kelly Set (Reels)" from Ulla
8:51 - The Kelly Girls "Mariners of England" from May You Always
11:49 - Wolf & Clover "Top of Cork Road - First Avenue - The Merry Maiden" from Wolf & Clover
14:24 - Wolf Loescher "Lads Among Heather" from Sheep's Clothing
I wanted to share this song in part because of a new episode on my Pub Songs & Stories podcast. I talk about a song called "Lads in the Shire". The lyrics were inspired by Wolf Loescher's song. Though of course, they are about Lord of the Rings, which is rather timely since a new Lord of the Rings prequel is coming to Prime Video next month.
18:42 - FEEDBACK
21:36 - Andreas Transø "If" from The Earth and Everything in It
24:32 - Sharon Shannon "Pull Out The Stops" from Sacred Earth
27:40 - McKasson & McDonald "Mark the Hard Earth" from Harbour
32:39 - Gerry O'Beirne & Rosie Shipley "Air" from Yesterday I Saw the Earth Beautiful
34:14 - THANKS
36:11 - CELTIC MUSIC STORY
A few weeks back, I was reading Lissa Schneckenburger's email. Lissa is a fantastic Celtic musician from Vermont. She has a great newsletter where she inspires you to practice. In one email, she was talking about Summer Road Trips. She mentioned the Sustainable Touring Arts Coalition on how to make your travel as sustainable as possible. Her friend Laura Cortese toured plastic free. And Lissa did a tour with her husband and son on a bicycle!
I'll let her tell the story
41:28 - Lissa Schneckenburger "The 11th Labor of Hercules" from Thunder in My Arms
44:40 – SUSTAINABILITY
I found Lissa's story extremely inspiring. Obviously, I'm concerned about our carbon impact on the climate which is why I mentioned the Carbon Almanac in a past podcast. Her story got me excited. I went down a rabbit hole looking into sustainability in the music industry. I found a few resources, but not much. So I've been looking into ways that I can make my music career and podcasting career more sustainable.
One of the coolest things that Lissa Schneckenburger's story inspired me to do is to make my own bike gig plans. With any luck, I will announce at least one bike show this Fall.
I'd love your thoughts and feedback. Have you seen any Celtic musicians working hard to support our environment? What did they do? Please email me.
46:21 - Old Man Flanagan's Ghost "May" from Sociable
51:22 - Harmundi "Farewell To Thom" from Um Orvalho Boreal
55:56 - Jamison Celtic Rock "The Most Irish Girl in America" from Heyhowrya
59:07 - CLOSING
59:46 - Niamh Parsons "Green Grass It Grows Bonny" from In My Prime
The Irish & Celtic Music Podcast was produced by Marc Gunn, The Celtfather. The show was edited by Mitchell Petersen with Graphics by Miranda Nelson Designs.
Visit CelticMusicPodcast.com to subscribe to our mailing list and through your favorite podcatcher. You can also follow a Best of this Year Playlist on streaming sites and you'll find links to all of the artists played in this episode.
The show is supported by our Patrons of the Podcast on Patreon. Visit SongHenge.com to get free MP3s, episodes before regular listeners, music-only episodes, and the opportunity to vote for your favorite song in each episode. You'll also get a discount on all merch in our store.
The Irish & Celtic Music Podcast is here to build our diverse Celtic community and help the incredible artists who so generously share their music with you.
Musicians rely on your support so they can keep creating new music. If you heard music you loved, visit the artist website. Buy CDs, digital downloads, shirts, album pins, and other merch. You can follow them on streaming and see their shows. You can support many Celtic musicians on Patreon, just like this podcast. And of course, I always appreciate it when you email artists to let them know you heard them on the Irish and Celtic Music Podcast.
And of course, please tell one friend about this podcast. Word of mouth is the absolute best way to support any creative endeavor.
Promote Celtic culture through music at http://celticmusicpodcast.com/.
WELCOME CELTOPHILE TO CELTIC MUSIC
* Helping you celebrate Celtic culture through music. I am Marc Gunn. I'm a musician and podcaster. I want to introduce you to some amazing Celtic bands and musicians. You can support artists in this show. Buy their music. You will find a link to all of the artists, along with show times and chapters for each song when you visit our website at celticmusicpodcast.com. You can also support this podcast on Patreon.
WHAT'S NEW IN IRISH & CELTIC MUSIC: BEST OF 2022
Two weeks after the episode is launched, I compile the latest Celtic Top 20 votes to update a playlist on Spotify, Amazon Music, and YouTube. These are the results of your voting. You can help these artists out by following the playlists and adding tracks you love to your playlists. Subscribe to our newsletter to find out who was added this week.
Listen on Spotify, Amazon Music, and YouTube.
THANK YOU PATRONS OF THE PODCAST!
There are over 300 amazingly generous people who pledge $1, $5, $10, $25 or more each and every week to support the Irish & Celtic Music Podcast. I am super grateful to each for their generosity. But sometimes, I screw up. I forget to charge for an episode.
That happened this week. The money came in from last month's Patreon pledges. I was $500 short what I normally get each month. As you might imagine, I was a bit shocked. I realized immediately that I didn't charge for one of the episodes last month. That shortfall has a big impact on my life and business.
I emailed my patrons and let them know about the problem. I was flooded with small donations and large ones from people who wanted to help make up that shortfall.
So I want to take a moment to thank each and every Patron of the Podcast who sent in money to help me meet my financial goals for this month. I have a lot of new artist music I am buying this month. So that helps immensely.
If you want to support the podcast with a one-off contribution, I will put a link in the shownotes to where you can donate OR even buy some Celtic podcast t-shirts or other merch.
Again, thank you so much for supporting the show!
Thank you to our newest Patrons of the Podcast: Beth H, Richard N, Sean H
HERE IS YOUR THREE STEP PLAN TO SUPPORT THE PODCAST
Go to SongHenge.com. That takes you to our Patreon page.
Decide how much you want to pledge every week, $1, $5, $10. Make sure to cap how much you want to spend per month.
Keep listening to the Irish & Celtic Music Podcast to celebrate Celtic culture through music.
You can become a generous Patron of the Podcast on Patreon at SongHenge.com.
TRAVEL WITH CELTIC INVASION VACATIONS
Every year, I take a small group of Celtic music fans on the relaxing adventure of a lifetime. We don't see everything. Instead, we stay in one area. We get to know the region through its culture, history, and legends. You can join us with an auditory and visual adventure through podcasts and videos. Learn more about the invasion at http://celticinvasion.com/
#celticmusic #irishmusic #celticmusicpodcast
I WANT YOUR FEEDBACK
What are you doing today while listening to the podcast? You can send a written comment along with a picture of what you're doing while listening.
Email a voicemail message to celticpodcast@gmail.com
Gary R Hook emailed: "Sometimes, I feel like your show saves me. Thanks.
I'm almost always listening while I work, as music affects the non-technical side of my brain. It's always awesome, and while I don't necessarily love everything, there's lots of great stuff in every episode. Love, love, love. Wish I discovered this years ago.
But better late than never. Thanks for all you do."
Jody Raiford emailed a photo: "Hey la!
Today, I'm working on my Senior Design capstone project for my EE at U Mich. I'm making a 3d printer that prints in stainless steel! Trying hard to stay under budget, lol.
Thankfully I have the support of the i3 Detroit hackerspace! Couldn't have come this far without them! (Or without the great tunes, thanks for keeping it rolling)
Jody
P.S. Pardon the messy shop, wasn't planning on a photo opp today, but I can't turn down a plea like that now can I?"