Feb 17, 2022
Let's slow and enjoy a trip to Celtic Land with the Irish & Celtic Music Podcast.
Enda Seery, Friday Frolics, The Makem & Spain Brothers, Brad Reid, Old Blind Dogs, Marc Gunn, Andy Law, Kathy Barwick, Banna De Dhá, Eddie Biggins, Marys Lane, The Kilt Lifters, Ockham's Razor, Tuatha Dea, Sligo Rags
I hope you enjoyed this week's show. If you Heard a song, tune or artist that you loved, I'd like you to share this episode and tag the artist on social either on your page or in a Celtic group you're a part of. Include the show time so they can quickly listen and enjoy.
The Irish & Celtic Music Podcast is here to build our diverse Celtic community and help the incredible artists who so generously share their music with you.
Musicians rely on your support so they can keep creating new music. If music in this show inspired you, you can buy their CDs, digital downloads, shirts, pins, and other merch. You can follow them on streaming and see their shows. More and more Celtic musicians are on Patreon, just like this podcast. And of course, I always appreciate it when you drop artists an email to let them know you heard them on the Irish and Celtic Music Podcast.
How would you like Celtic music news in your inbox? The Irish & Celtic Music Magazine is a quick and easy way to plug yourself into more great Celtic culture. Subscribe and get 34 Celtic MP3s for Free.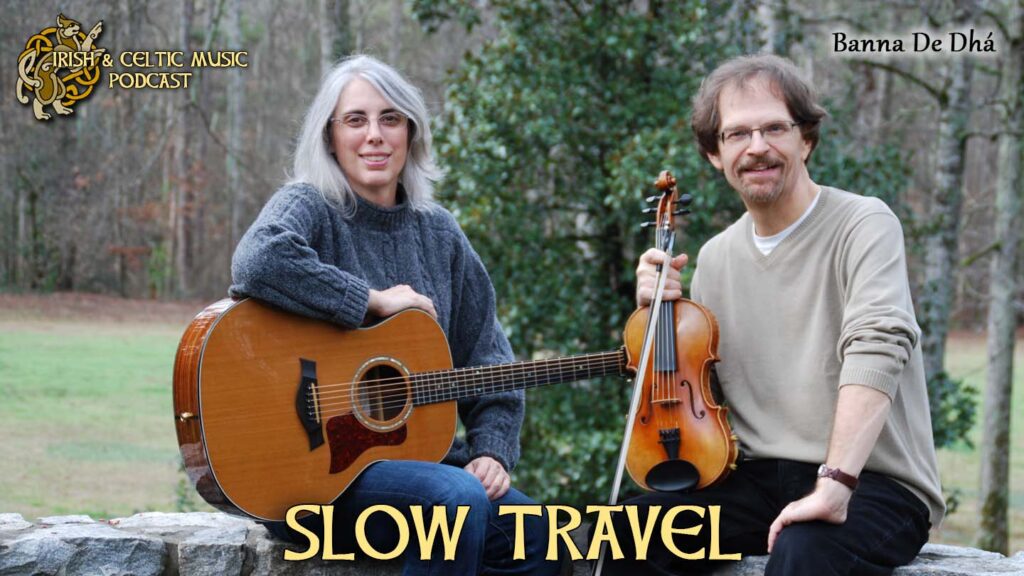 THIS WEEK IN CELTIC MUSIC
0:06 - Enda Seery "Siochain Na Tuaithe, Ralphs Paw slow piece, jig" from Peace of the Countryside
3:26 - WELCOME
5:09 - Friday Frolics "Shiraishi" from Factor 3
9:06 - The Makem & Spain Brothers "Bright Eyed Girl From Keady" from Up the Stairs
12:58 - Brad Reid "Haley's (BMX Remix)" from Single
16:33 - Old Blind Dogs "The Bonnie Earl O Moray" from Four On The Floor
21:15 - FEEDBACK
28:06 - Marc Gunn "Breathing (feat. Jamie Haeuser)" from Selcouth
32:21 - Andy Law & Friends "Tinner's Fancy / Causeway Head / Cornish Squire" from The Long and the Short of It
36:28 - Kathy Barwick "My Native Home" from In My Life
41:34 - Banna De Dhá "Comb Your Hair & Curl It / The White Petticoat / The Black Rogue" from Band of Two
46:31 - Eddie Biggins "Satin and Lace" from Intentionally Left Blank
50:27 - NEWS & THANKS
52:41 - Marys Lane "Another Round" from Wild Unknown
54:54 - The Kilt Lifters "Queen Mary's Escape" from Queen Mary's Escape
58:02 - Ockham's Razor "Madam I'm a Darling" from Job's Comforter
1:00:59 - Tuatha Dea "Loch Lommand" from Kilts and Corsets
1:04:07 - CLOSING
1:05:38 - Sligo Rags "Follow Me Up to Carlew" from Roll Me Down the Mountain
The Irish & Celtic Music Podcast was edited by Mitchell Petersen with Graphics by Miranda Nelson Designs. The show was produced by Marc Gunn, The Celtfather. Subscribe through your favorite podcatcher or on our website where you can become a Patron of the Podcast for as little as $1 per episode. Promote Celtic culture through music at http://celticmusicpodcast.com/.
WELCOME TO CELTIC MUSIC
* Helping you celebrate Celtic culture through music. I am Marc Gunn. I'm a musician and podcaster. I share my love of Irish and Celtic music from around the globe with you. I want to introduce you to some amazing Celtic bands and musicians.
You can find a link to all of the artists, along with show times and chapters for each song when you visit our website at celticmusicpodcast.com. You can also support this podcast on Patreon.
Next Week: The Women of Irish & Celtic Music
I titled this episode "Slow Travel". Today, I got an email from VisitScotland.com. That's a website promoting Scottish tourism. Since I'm leading a Celtic Invasion Vacation to Loch Lomond in Scotland, I've been subscribed and seeing what they have to offer.
Today, they shared an article and video about Slow Travel. That's something that I greatly appreciate and cherish with my own vacations. It's not about seeing everything. It's getting to know an area.
Check out the link in the shownotes. And I highly recommend their newsletter. They seem to be leading the pack when it comes to promoting ecotourism and sustainable travel. Stuff I've slowly thought about. But they're really doing it in Scotland. So kudos!
Let's get on with the show.
VOTE IN THE CELTIC TOP 20 FOR 2022
This is our way of finding the best songs and artists each year. You can vote for as many songs and tunes that inspire you in each episode. Your vote helps me create next year's Best Celtic music of 2022 episode. Vote Now!
It also helps me create the…
IRISH & CELTIC MUSIC: BEST OF 2022 PLAYLIST
Your votes are tabulated two weeks after the episode is released. The most - popular songs are added to TWO playlists. One one Spotify. One on Amazon Music.
I sometimes make errors. So the newest additions to the Playlist are Tuatha de Danann, Doolin', We Banjo 3, Screeched and Marc Gunn
Listen on Spotify and Amazon Music.
BUY SELCOUTH BY MARC GUNN
My new CD is now available. It's called Selcouth. It's an album of almost all original music. There's one traditional tune set and "Loch Lomond," a traditional Scottish song.
The rest of it is a bunch of original songs with Celtic - inspired music. There's a few comedy tracks like "Mingulay Cat Song", "Why Do You Torture Me", "Genetic Counseling Song", and "Kilty Pleasure". There's a new hobbit song inspired by Lord of the Rings and a song I think Wolf Loescher sang on this podcast a year ago. There are four songs inspired by the pop culture TV show, Firefly, but fused with Celtic sounds. The lyrics are definitely relevant to fans of the show, but the stories are about real people finding change.
One of my favorite parts about the album is collaboration with other musicians like Screeched Inn, The Muckers, Jamie Haeuser, Sam Gillogly, Nathan Deese, and Mikey Mason.
It's now on sale in my Bandcamp store. Check out Selcouth now.
THANK YOU PATRONS OF THE PODCAST!
Because of Your kind and generous support, this show comes out at least four times a month. Your generosity funds the creation, promotion and production of the show. It allows us to attract new listeners and to help our community grow.
As a patron, you hear episodes before regular listeners. You can pledge a dollar or more per episode and cap how much you want to spend each month over on Patreon. You can also get music - only episodes and free MP3s when you become a Song Henger.
A super special thanks to our Celtic Legends: Dan mcDade, Carol Baril, Miranda Nelson, Nancie Barnett, Kevin Long, Lynda MacNeil, Annie Lorkowski, Travis Senzaki, Shawn Cali
You can become a generous Patron of the Podcast on Patreon at SongHenge.com.
TRAVEL WITH CELTIC INVASION VACATIONS
Every year, I take a small group of Celtic music fans on the relaxing adventure of a lifetime. We don't see everything. Instead, we stay in one area. We get to know the region through its culture, history, and legends. You can join us with an auditory and visual adventure through podcasts and videos. Learn more about the invasion at http://celticinvasion.com/
#celticmusic #irishmusic #celticmusicpodcast
WANT TO HOST YOUR OWN PODCAST?
I've been publishing the Irish & Celtic Music Podcast since 2005. My host since the beginning has been a great podcast company called Libsyn. I actually left for a couple months with disastrous results. I now host ALL of my podcasts with them. And yes, I have more than the two you hear about on this show.
I'm telling you this because Libsyn launched an affiliate program. I don't do affiliate programs much any more. But if there's one I'm happy to talk about, it's Libsyn. I'll be honest. I don't care as much about the money. So you're welcome to use the affiliate link in the shownotes. But if you sign up with them, you will be happier.
I WANT YOUR FEEDBACK
What are you doing today while listening to the podcast? You can send a written comment along with a picture of what you're doing while listening. What are you doing with your local celtic community?
Email a voicemail message to celticpodcast@gmail.com
Donald Rice emailed: "Dear Marc, First of all, I love your podcast, music, and cats. I just submitted an album from the band I am in - Poitin. We are based in Fargo/Moorhead - Fargo is in ND, Moorhead in MN. They are sister cities across the Red River of the North, which is the river named in the album title - Banks of Red River. What is particularly noteworthy about Banks is that it features Metis music, a tradition which melds Irish, French, and Native sounds and stories. Though we play many Irish tunes and some originals, Metis music has become our special calling card, having played at many festivals and venues including a recent Metis festival at the Old Treaty Crossing in Northern Minnesota. Our music also has been featured at many community and youth orchestra concerts. You can see some of this on videos on our website, which was included in the submission. Thanks so much for considering playing our music on your podcast. Let me know if you have any questions."
Buddy McPeak emailed: "Just found the podcast on pandora. Great music! I'll be listening from now on. Thanks"
Karen H emailed: "Hi Marc, I am a recent Patron. :)
I joined so I can expand my knowledge of and listening experiences with other Celtic Musicians. I have very little of each at the moment.
So, my favorites that I've listened to for years are: Altan, Lunasa, The Gothard Sisters, The Chieftains, and though she is probably a different category, my all time favorite music artist no matter the genre is Enya. I have so much to explore in the Celtic music genre! I appreciate your podcasts."