Oct 13, 2022
Let's sing to the Queen among the heather and listen to a story of Mental Health Awareness from Clare Cunningham on the Irish & Celtic Music Podcast.
Colm Broderick & Patrick Finley, The Flying Toads, The Chivalrous Crickets, Lunasa, Willos' & Massimo Giuntini, Achill Crossing, Outbound Traveler, The Breath, Clare Cunningham, Scythian, Wakefire, The Brazen Heads, Lissa Schneckenburger
VOTE IN THE CELTIC TOP 20 FOR 2022
This is our way of finding the best songs and artists each year. You can vote for as many songs and tunes that inspire you in each episode. Your vote helps me create next year's Best Celtic music of 2022 episode. Vote Now!
GET CELTIC MUSIC NEWS IN YOUR INBOX
The Celtic Music Magazine is a quick and easy way to plug yourself into more great Celtic culture. Subscribe and get 34 Celtic MP3s for Free.
The Irish & Celtic Music Podcast is here to build our diverse Celtic community and help the incredible artists who so generously share their music with you.
Musicians rely on your support so they can keep creating new music. If you heard music you loved, visit the artist website. Buy CDs, digital downloads, shirts, album pins, and other merch. You can follow them on streaming and see their shows. You can support many Celtic musicians on Patreon, just like this podcast. And of course, I always appreciate it when you email artists to let them know you heard them on the Irish and Celtic Music Podcast.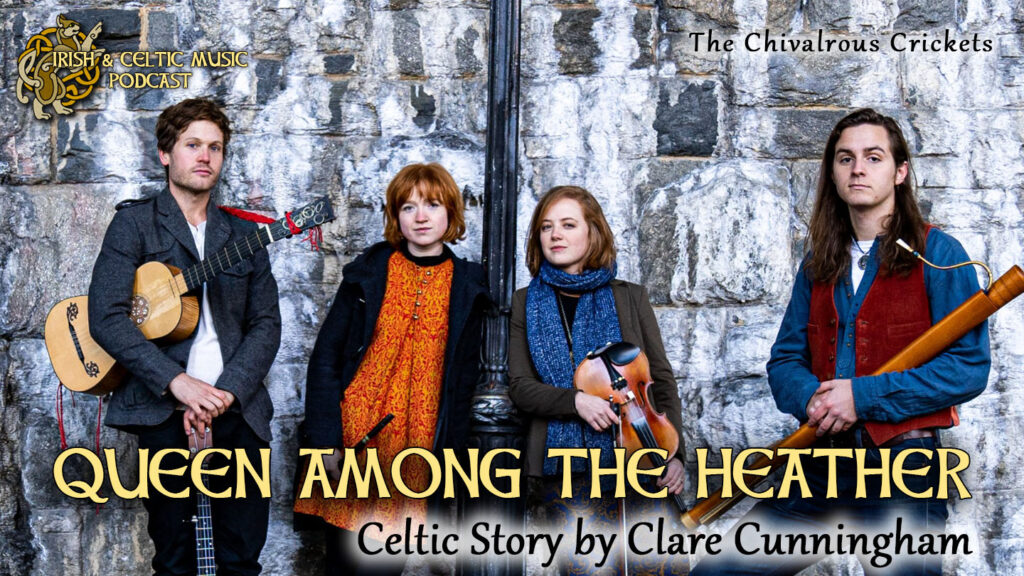 THIS WEEK IN CELTIC MUSIC
0:44 - Colm Broderick & Patrick Finley "Achonry Lasses/Crooked Road to Dublin" from unreleased
2:50 - WELCOME
5:16 - The Flying Toads "Mrs Galvin's" from Warts 'n All
9:41 - The Chivalrous Crickets "Queen Among the Heather" from Pavorreal Sessions
14:34 - Lunasa "Aoibhneas" from The Merry Sisters Of Fate
18:52 - Willos' & Massimo Giuntini "Road to Rome" from From Now On
24:01 - FEEDBACK
26:17 - Achill Crossing "The Galway Shawl" from The Rising of the Moon
32:02 - Outbound Traveler "Ring for a Lady" from Go On and Wander
34:56 - The Breath "Boat Song (Acoustic)" from Only Stories (Let the Cards Fall Revisited)
39:39 - A MENTAL HEALTH AWARENESS
October 2 - 8 was Mental Health Awareness Week. I heard Clare Cunningham perform at the Middle Tennessee Highland Games & Celtic Festival. She shared her story of a song she wrote inspired to help others facing mental health issues.
43:10 - Clare Cunningham "I swear" from MERCY
47:08 - THANKS
48:26 - Scythian "Built These Walls" from Jump at the Sun
52:12 - Wakefire "Lannigan's Ball" from Meaning of Life
55:59 - The Brazen Heads "Sweet Whiskey" from Curse of the Hag
1:00:04 - CLOSING
1:00:37 - Lissa Schneckenburger "Feel Better" from Thunder in My Arms
The Irish & Celtic Music Podcast was produced by Marc Gunn, The Celtfather. The show was edited by Mitchell Petersen with Graphics by Miranda Nelson Designs.
Visit our website to subscribe to the podcast. You'll get access to our Best of this Year Playlist. You'll also find links to all of the artists played in this episode so you can buy from them and help them keep creating new music. And you will better connect with your Celtic heritage.
The Irish & Celtic Music Podcast is here to build our diverse Celtic community and help the incredible artists who so generously share their music with you.
The show is supported by our Patrons of the Podcast on Patreon. Visit SongHenge.com to get bonus podcasts and vote in the Celtic Top 20.
Finally, please tell one friend about this podcast. Word of mouth is the absolute best way to support any creative endeavor.
Promote Celtic culture through music at http://celticmusicpodcast.com/.
WELCOME CELTOPHILE TO CELTIC MUSIC
* Helping you celebrate Celtic culture through music. I am Marc Gunn. I'm a musician and podcaster. You can find a link to all of the artists in the shownotes, along with show times and chapters for each song when you visit our website at celticmusicpodcast.com. You can also support this podcast on Patreon.
Exciting news. I learned this week that the Irish & Celtic Music Podcast won it's fourth Best Music Award in the annual People's Choice Podcast Awards. These awards have been going since 2005. We won in 2009, 2010, 2017, and now in 2022. I'm extremely grateful to everyone who voted for us.
A huge thanks in particular to Mitchell Petersen, who mixes shows each week. Miranda Nelson is our graphics and social media goddess. And Todd Wiley is our Celtic Music Magazine editor. All of them are invaluable to making this show the success it is.
But I also want to thank my Patrons of the Podcast. Thank you for believing in our mission to share Celtic culture through music.
And because of your generosity, 10% of the money you pledge each week goes to Celtic non - profits. We've donated over over $45,000 since I started this podcast.
The Irish & Celtic Music Podcast is a proud sponsor of IrishFest Atlanta.
IrishFest Atlanta offer a weekend of cultural performances, lectures, and workshops in a festive environment appealing to community members of all ages and varying familiarity of all things Irish. Tickets are now on sale for the festival. You can see a list of performance times and workshops on the festival website at IrishFestAtlanta.org.
WHAT'S NEW IN IRISH & CELTIC MUSIC: BEST OF 2022
Two weeks after the episode is launched, I compile the latest Celtic Top 20 votes to update a playlist on Spotify, Amazon Music, and YouTube. These are the results of your voting. You can help these artists out by following the playlists and adding tracks you love to your playlists. Subscribe to our newsletter to find out who was added this week.
Listen on Spotify, Amazon Music, and YouTube.
THANK YOU PATRONS OF THE PODCAST!
Because of Your kind and generous support, this show comes out at least four times a month. Your generosity funds the creation, promotion and production of the show. It allows us to attract new listeners and to help our community grow.
As a patron, you hear episodes before regular listeners, vote in the Celtic Top 20, and a private feed to listen to the show. All that for as little as $1 per episode. You can also get music - only episodes, free MP3s, and stand - alone Celtic Stories as a Song Henger.
A special thanks to our Celtic Legends: Marti Meyers, Brenda, Meghan Walker, Dan mcDade, Carol Baril, Miranda Nelson, Nancie Barnett, Kevin Long, Lynda MacNeil, Annie Lorkowski, Travis Senzaki, Shawn Cali
You can become a generous Patron of the Podcast on Patreon at SongHenge.com.
TRAVEL WITH CELTIC INVASION VACATIONS
Every year, I take a small group of Celtic music fans on the relaxing adventure of a lifetime. We don't see everything. Instead, we stay in one area. We get to know the region through its culture, history, and legends. You can join us with an auditory and visual adventure through podcasts and videos. Learn more about the invasion at http://celticinvasion.com/
#celticmusic #irishmusic #celticmusicpodcast
I WANT YOUR FEEDBACK
What are you doing today while listening to the podcast? You can send a written comment along with a picture of what you're doing while listening.
Email a voicemail message to celticpodcast@gmail.com
Padraic O'Toole commented on Facebook: "I think this episode, number 576, is the best you've ever produced Marc. Thank you for supporting celtic music and musicians."
I had a whole bunch of congrats on Facebook for Best Music Podcast win:
Jana Lapel wrote: "Congratulations!"
Carol Baril: 'This is such awesome news!!! Yeah! Congratulations! Best music podcast out there!!! Way to go Marc! You do so much for the Celtic community!"
Triskele: "Congratulations on the Best Irish Podcast out there!"
Kinnfolk replied: "Congratulations, that's amazing!!! Well deserved as always 🙂"
Mary - Grace Autumn Lee responded: "Congrats!!! Awesome news.
Bob Spellman: "Congratulations Marc, you deserve it for all the hard work you do!!!Z"
Steve Behrens: "Congrats Irish & Celtic Music Podcast"
The McDades "You guys are the best!"