Feb 10, 2022
Nowhere is more sacred than our hearts as we celebrate Celtic culture through music on the Irish & Celtic Music Podcast. The Carroll Sisters, One Street Over, Wolf & Clover, Poitin Band, Vintage Wildflowers, The Rogues, The Dustbunnies, Wooden Legs, Hugh Morrison, Rising Gael, Hearthfire, The Ogham Stones, Hot Griselda, Kilmaine Saints, Duncan McLauchlan I hope you enjoyed this week's show. If you Heard a song, tune or artist that you loved, I'd like you to share this episode and tag the artist on social either on your page or in a Celtic group you're a part of. Include the show time so they can quickly listen and enjoy.
The Irish & Celtic Music Podcast is here to build our diverse Celtic community and help the incredible artists who so generously share their music with you.
Musicians rely on your support so they can keep creating new music. If music in this show inspired you, you can buy their CDs, digital downloads, shirts, pins, and other merch. You can follow them on streaming and see their shows. More and more Celtic musicians are on Patreon, just like this podcast. And of course, I always appreciate it when you drop artists an email to let them know you heard them on the Irish and Celtic Music Podcast.
How would you like Celtic music news in your inbox? The Irish & Celtic Music Magazine is a quick and easy way to plug yourself into more great Celtic culture. Subscribe and get 34 Celtic MP3s for Free.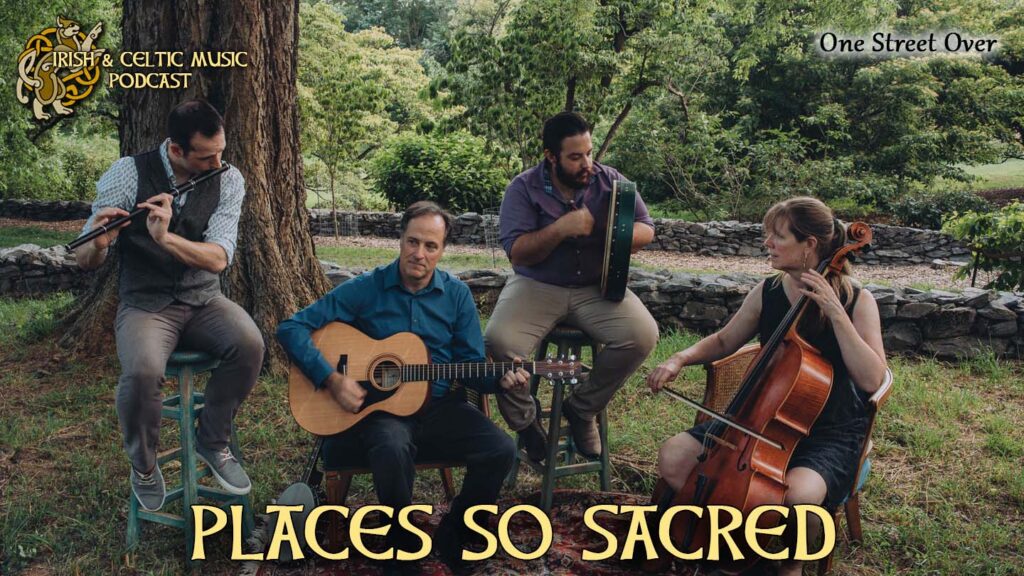 THIS WEEK IN CELTIC MUSIC
0:06 - The Carroll Sisters "Reels For Three Brothers" from Daybreak
4:42 - WELCOME
5:44 - One Street Over "Castle Kelly" from Beyond the Gate
8:28 - Wolf & Clover "The Unquiet Grave" from twelvemonth and a day
13:26 - Poitin Band "Red River Jig" from Banks of Red River
16:35 - Vintage Wildflowers "In My Prime" from Lovely Madness
19:07 - FEEDBACK
22:56 - The Rogues "Hollerin' For Haggis!" from Made In Texas
29:56 - The Dustbunnies "Paddy Lay Back" from What Goes Around
33:35 - Wooden Legs "Billy" from Animali
37:39 - Hugh Morrison "Welcome To Skye/Mary Of Skye" from Under A Texas Skye
41:16 - Rising Gael "Never Know" from One More Day
45:57 - THANKS
48:34 - Hearthfire "A Bad Day (Can Be a Good Story)" from After the Fall
51:28 - The Ogham Stones "Minstrel Boy / Cadence to Arms" from One, Two, Feck You [Explicit]
53:17 - Hot Griselda "Black Molly - Rockall" from Sunbox
57:54 - Kilmaine Saints "The Whiskey's Calling" from Drunken Redemption
1:01:00 - CLOSING
1:03:58 - Duncan McLauchlan "Eilean a' cheo" from A different flag
The Irish & Celtic Music Podcast was edited by Mitchell Petersen with Graphics by Miranda Nelson Designs. The show was produced by Marc Gunn, The Celtfather. Subscribe through your favorite podcatcher or on our website where you can become a Patron of the Podcast for as little as $1 per episode. Promote Celtic culture through music at http://celticmusicpodcast.com/.
WELCOME TO CELTIC MUSIC
* Helping you celebrate Celtic culture through music. I am Marc Gunn. I'm a musician and podcaster. I share my love of Irish and Celtic music from around the globe with you. I want to introduce you to some amazing Celtic bands and musicians.
The artists in this show need your support which you can do by buying their music or telling a friend about the band you found. You can find a link to all of the artists, along with show times and chapters for each song when you visit our website at celticmusicpodcast.com. You can also support this podcast on Patreon.
VOTE IN THE CELTIC TOP 20 FOR 2022
This is our way of finding the best songs and artists each year. You can vote for as many songs and tunes that inspire you in each episode. Your vote helps me create next year's Best Celtic music of 2022 episode. Vote Now!
THANK YOU PATRONS OF THE PODCAST!
Because of Your kind and generous support, this show comes out at least four times a month. Your generosity funds the creation, promotion and production of the show. It allows us to attract new listeners and to help our community grow.
As a patron, you hear episodes before regular listeners. You can pledge a dollar or more per episode and cap how much you want to spend each month over on Patreon. You can also get music - only episodes and free MP3s when you become a Song Henger.
A super special thanks to our Celtic Legends: Dan mcDade, Carol Baril, Miranda Nelson, Nancie Barnett, Kevin Long, Lynda MacNeil, Annie Lorkowski, Travis Senzaki, Shawn Cali
You can become a generous Patron of the Podcast on Patreon at SongHenge.com.
WHAT'S NEW IN IRISH & CELTIC MUSIC: BEST OF 2022
Two weeks after the episode is launched, I compile the latest Celtic Top 20 votes to update a playlist on Spotify and Amazon Music. These are the results of your voting. You can help these artists out by following the playlists and adding tracks you love to your playlists.
The newest band added to the playlist: Tuatha De Dannan
Listen on Spotify and Amazon Music.
NEW CD: SELCOUTH BY MARC GUNN
I have a brand new CD that comes out this Monday. It's called Selcouth, which means, "when everything is strange and different yet you find it marvelous anyway". If you enjoy my music, please follow the link on my website.
TRAVEL WITH CELTIC INVASION VACATIONS
Every year, I take a small group of Celtic music fans on the relaxing adventure of a lifetime. We don't see everything. Instead, we stay in one area. We get to know the region through its culture, history, and legends. You can join us with an auditory and visual adventure through podcasts and videos. Learn more about the invasion at http://celticinvasion.com/
#celticmusic #irishmusic #celticmusicpodcast
I WANT YOUR FEEDBACK
What are you doing today while listening to the podcast? You can send a written comment along with a picture of what you're doing while listening. What are you doing with your local celtic community? Email a voicemail message to celticpodcast@gmail.com
Miranda Nelson commented on the Celtic Top 20 polls: "These polls were a great idea Marc! I love being able to go back to see what songs everyone voted for. I'm excited to see how they turn out through the year as everyone gets a chance to listen (and maybe listen multiple times like do lol)."
Stephen M Romeo emailed: "Mark, in case you have not heard, Clan Gunn will be the honored clan for the Northeast Florida Scottish Games & Festival on February 26 in Green Cove Springs, Florida. I hope to see you there. I play with First Coast Highlanders, the host band for the Games."