Aug 18, 2022
Visit Middle Tennessee Highland Games & Celtic Festival this September on the Irish & Celtic Music Podcast
Nathan Gourley and Laura Feddersen, Flynn Cohen, The Haar, Ogham, Socks in the Frying Pan, Derek Byrne, The Ugly Mugs, Thom Dunn, Jocelyn Pettit & Ellen Gira, Marc Gunn, Barrenhart, The Sternwheelers, Tuatha Dea, The Secret Commonwealth, Flatfoot 56, Kris Colt
VOTE IN THE CELTIC TOP 20 FOR 2022
This is our way of finding the best songs and artists each year. You can vote for as many songs and tunes that inspire you in each episode. Your vote helps me create next year's Best Celtic music of 2022 episode. Vote Now!
GET CELTIC MUSIC NEWS IN YOUR INBOX
The Celtic Music Magazine is a quick and easy way to plug yourself into more great Celtic culture. Subscribe and get 34 Celtic MP3s for Free.
The Irish & Celtic Music Podcast is here to build our diverse Celtic community and help the incredible artists who so generously share their music with you.
Musicians rely on your support so they can keep creating new music. If you heard music you loved, visit the artist website. Buy CDs, digital downloads, shirts, album pins, and other merch. You can follow them on streaming and see their shows. You can support many Celtic musicians on Patreon, just like this podcast. And of course, I always appreciate it when you email artists to let them know you heard them on the Irish and Celtic Music Podcast.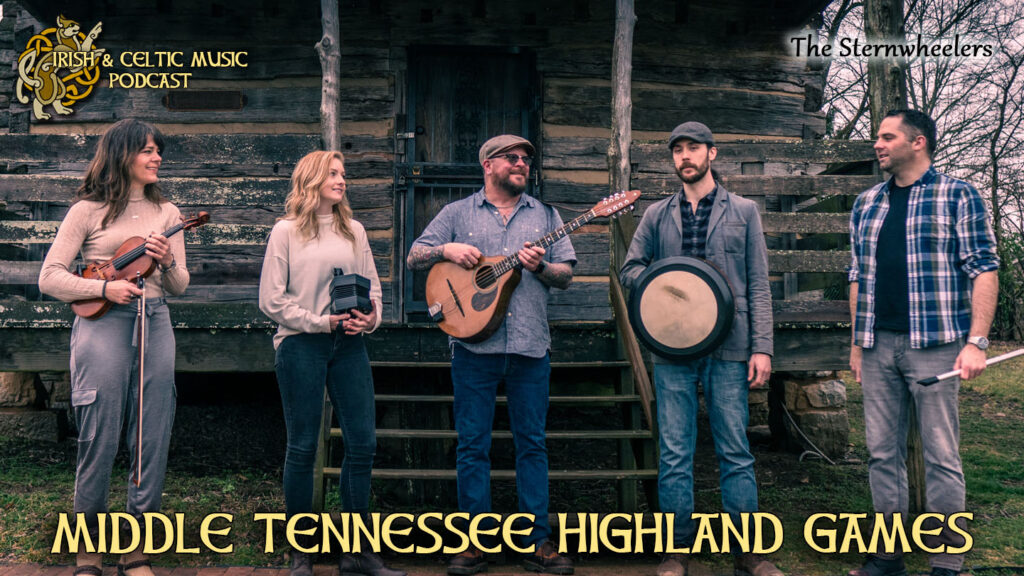 THIS WEEK IN CELTIC MUSIC
00:09 - Nathan Gourley and Laura Feddersen "Pride of Roxbury / Paddy Joe Tighe's / The Road to Town" from Brightly or Darkly
03:44 - WELCOME
05:38 - Flynn Cohen "Hag's Purse / Bryan O'Lynn / Miss McDevitt's Jig" from Dead String Rhythm
10:27 - The Haar "Craigie Hills" from The Haar
16:37 - Ogham "Larry Redican's / The Oak Tree" from The Gold Ring
20:39 - Socks in the Frying Pan "The Rambling Comber" from Return of the Giant Sock Monsters from Outer Space
24:43 - FEEDBACK
27:40 - Derek Byrne "Paddy Lay Back (feat. Paddygrass)" from The Unexpected Voyage
32:32 - The Ugly Mugs "Cherrydiddle / The Musical Priest / The Banshee" from Songs in the Key of Sea
34:33 - Thom Dunn "Muirsheen Durkin" from Forfocséic, Vol. 2: Whiskey & Work
38:09 - Jocelyn Pettit & Ellen Gira "Powder Room Jigs" All It Brings
43:17 - THANKS
45:21 - Marc Gunn "Serenity Valley Waltz" from Selcouth
48:31 - Barrenhart "Fiddle & I" from Celticgrass
51:53 - The Sternwheelers "Vera Rose (Nobody Knows)" from Shuttered EP
55:15 - Tuatha Dea "How I Roll" from Irish Eyes
1:00:00 - The Secret Commonwealth "The Devil That You Know" from Lager & Blood
1:02:28 - Flatfoot 56 "I'll Fly Away" from Toil
1:05:05 - CLOSING
1:06:39 - Kris Colt "The Parting Glass" from Arms of a Stranger
The Irish & Celtic Music Podcast was produced by Marc Gunn, The Celtfather. The show was edited by Mitchell Petersen with Graphics by Miranda Nelson Designs.
Visit our website to subscribe to the podcast and our mailing list. You'll find links to all of the artists played in this episode. You'll get access to our Best of this Year Playlist. And you will better connect with your Celtic heritage.
The show is supported by our Patrons of the Podcast on Patreon. Visit SongHenge.com to get episodes before regular listeners, music - only episodes, and the opportunity to vote for your favorite song in each episode. You'll also get a discount on all merch in our store.
Finally, please tell one friend about this podcast. Word of mouth is the absolute best way to support any creative endeavor.
Promote Celtic culture through music at http://celticmusicpodcast.com/.
WELCOME CELTOPHILE TO CELTIC MUSIC
* Helping you celebrate Celtic culture through music. I am Marc Gunn. I'm a musician and podcaster. The artists in this show need your support. You can buy music you enjoy. You can find a link to all of the artists, along with show times and chapters for each song when you visit our website at celticmusicpodcast.com. You can also support this podcast on Patreon.
First, Lissa Schneckenburger introduced today's show. And of course you can hear her Celtic Music Story on the last episode
I am happy to announce that we were nominated for best music podcast in the podcast awards.
September 10 - 11 is the Middle Tennessee Highland Games & Celtic Festival in Hendersonville, TN. I'm performing there as a guest. But there are a lot of guests. In fact, I will share some of the music of these bands performing there later in the show.
If you want to come join me at the Games, you will find a special link in the shownotes where you can buy a ticket. And no matter what, if you visit me, come ask for a free Irish & Celtic Music Podcast sticker.
WHAT'S NEW IN IRISH & CELTIC MUSIC: BEST OF 2022
Two weeks after the episode is launched, I compile the latest Celtic Top 20 votes to update a playlist on Spotify, Amazon Music, and YouTube. These are the results of your voting. You can help these artists out by following the playlists and adding tracks you love to your playlists. Subscribe to our newsletter to find out who was added this week.
Listen on Spotify, Amazon Music, and YouTube.
THANK YOU PATRONS OF THE PODCAST!
I am still a bit blown away by your generosity last week. Thank you again for helping me with my financial shortfall due to my own creator error.
If you want to support the podcast with a one - off contribution, I will put a link in the shownotes to where you can donate OR even buy some Celtic podcast t - shirts or other merch.
Again, thank you so much for supporting the show!
Thank you to our newest Celtic Legends: Meghan Walker and Brenda.
HERE IS YOUR THREE STEP PLAN TO SUPPORT THE PODCAST
Go to SongHenge.com. That takes you to our Patreon page.
Decide how much you want to pledge every week, $1, $5, $10. Make sure to cap how much you want to spend per month.
Keep listening to the Irish & Celtic Music Podcast to celebrate Celtic culture through music.
You can become a generous Patron of the Podcast on Patreon at SongHenge.com.
TRAVEL WITH CELTIC INVASION VACATIONS
Every year, I take a small group of Celtic music fans on the relaxing adventure of a lifetime. We don't see everything. Instead, we stay in one area. We get to know the region through its culture, history, and legends. You can join us with an auditory and visual adventure through podcasts and videos. Learn more about the invasion at http://celticinvasion.com/
#celticmusic #irishmusic #celticmusicpodcast
I WANT YOUR FEEDBACK
What are you doing today while listening to the podcast? You can send a written comment along with a picture of what you're doing while listening.
Email a voicemail message to celticpodcast@gmail.com
Alexander Randall 5th emailed: "Can't find links. Hello Marc, I love your stuff. I listen every week. Lately I have not been able to find the link. Your e - mail gets longer and longer. The link for the Irish and Celtic Podcast gets lost. When I click I see your smiling face and there are links but they do not seem to take me to music. Sad.
BTE - I just heard a wonderful band called Chivalrous Crickets who do Celtic music. I was particularly struck by a tune they did that was from teh Galacian part of Spain - Celtic!!"
Spoil The Dance posted on a Facebook comment: "What a great honour to be the cover act for this edition."
Lisa Coffey replied to the Over the Hills and Far Away post on Facebook: "It was an amazing episode. My vote goes to Jocelyn's Wind Rose - - Glad to learn about the podcast. Many favorites are featured"
Rey Glunt posted a photo on Facebook: "Maverick and I were listening to the latest episode of the podcast the other day while changing the oil. He's not much help but he loves the music!!!"