Oct 22, 2020
Lost passport? That's what it feels like to me. But you can travel to Ireland and Scotland with the Irish & Celtic Music Podcast.
West of Mabou, Tor, The Ne'er Duwels, Joseph Carmichael, Liz Madden, IIsabeau Corriveau et Les tisseurs de rêves, Wolf & Clover, Orla Fallon, NUA, Brad Tuck, Nick Metcalf, Lexington Field, The Flanks, The Stubby Shillelaghs, Hot Griselda, Jiggy
I hope you enjoyed this week's show. If you did, please share the show with ONE friend.
The Irish & Celtic Music Podcast is here to build our community and help the incredible artists who so generously share their music with you. If you hear music you love, buy the albums, shirts, and songbooks, follow the artists on Spotify, see their shows, and drop them an email to let them know you heard them on the Irish and Celtic Music Podcast.
Remember also to Subscribe to the Celtic Music Magazine. Every week, you will get a few cool bits of Celtic music news. It's a quick and easy way to plug yourself into more great Celtic culture. Plus, you'll get 34 Celtic MP3s for Free, just for signing up today.
VOTE IN THE CELTIC TOP 20
This is our way of finding the best songs and artists each year. Just list the show number, and the name of as many bands in the episode as you like. Your vote helps me create next year's Best Celtic music of 2020 episode. Vote Now!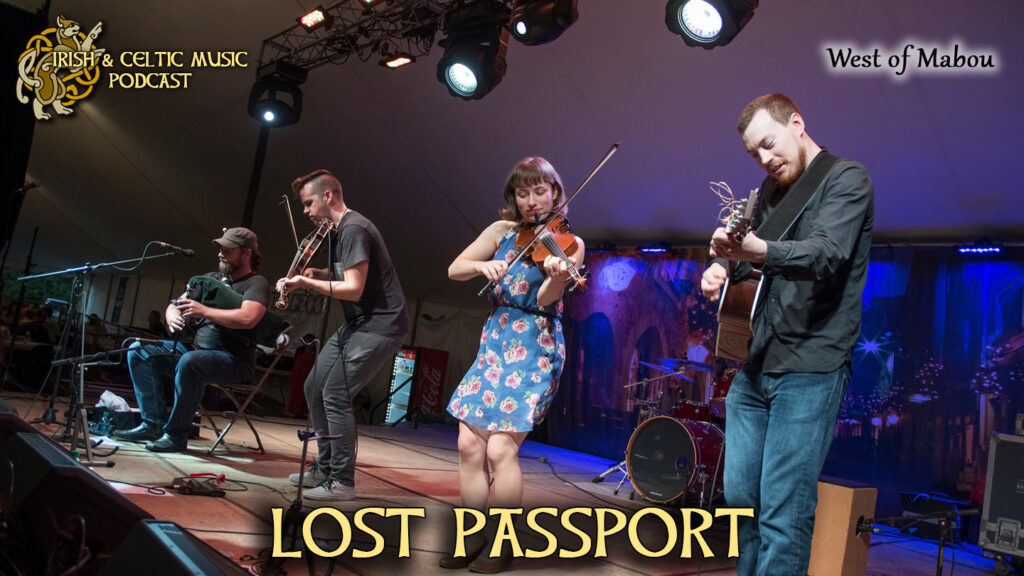 THIS WEEK IN CELTIC MUSIC
0:07 - "The Lost Passport Set" by West of Mabou from The Bridge
3:37 - WELCOME
4:56 - "Alboradas - Alboradas de Rodrigo A. de Santiago e marcha procesional de Adelino Pichel de Sorribas" by Tor from Tor
8:09 - "Saor sinn ó Olc" by The Ne'er Duwels from The Ne'er Duwels
Pronunciation: Say-r Shin o Ul-k
10:01 - "Merrily Kissed The Quaker's Wife" by Joseph Carmichael
13:11 - "Diamonds & Rust" by Liz Madden from Legacy
17:20 - CELTIC FEEDBACK
20:26 - "Blackbird" by IIsabeau Corriveau et Les tisseurs de rêves from Leap of Faith
25:57 - "After the Battle of Aughrim / Eleanor Plunkett (Live)" by Wolf & Clover from Live at the Silvan Sessions
34:09 - "Báidín Fheilimí" by Orla Fallon from Lore
Pronunciation: Baw-deen Vile-a-mid
36:57 - "Flight to Denver" by NUA from FLOW
42:33 - "Mick McGuire" by Brad Tuck from On These Waters
45:28 - CELTIC PODCAST NEWS
46:52 - "Women of Ireland" by Nick Metcalf from Skyline of Skye
52:13 - "Poor Troubled Life" by Lexington Field from Poor Troubled Life
56:18 - "McAlpine's Fusiliers" by The Flanks from In the Kitchen, Vol. 1
59:16 - "The Year with No St. Patrick's Day (feat. Keep Britain Irish)" by The Stubby Shillelaghs from Glass to Mouth
1:01:40 - "Djupavik - Total Sellout" by Hot Griselda from Sunbox
1:06:26 - CLOSING
1:07:37 - "Séamaisín" by Jiggy from Hypernova
Pronunciation: Shay-mush-een
The Irish & Celtic Music Podcast was edited by Mitchell Petersen with Graphics by Miranda Nelson Designs. The show was produced by Marc Gunn, The Celtfather. To subscribe, go to Apple Podcasts or to our website where you can become a Patron of the Podcast for as little as $1 per episode. Promote Celtic culture through music at http://celticmusicpodcast.com/.
WELCOME TO CELTIC MUSIC
* Helping you celebrate Celtic culture through music. My name is Marc Gunn. I am a Celtic musician and podcaster. This show is dedicated to the indie Celtic musicians. Please support these artists. Share the show with your friends. And find more episodes at celticmusicpodcast.com. You can also support this podcast on Patreon.
CELTIC PODCAST NEWS
THANK YOU PATRONS OF THE PODCAST!
Because of Your kind and generous support, this show comes out every week. Your generosity funds the creation, promotion and production of the show. It allows us to attract new listeners and to help our community grow.
As a patron, you get to hear episodes before regular listeners. When we hit a milestone, you get an extra-long episode. You can pledge a dollar or more per episode and cap how much you want to spend each month over on Patreon.
Your contribution also allows us to support the Middle Tennessee Highland Games & Celtic Festival on September 12-13 and the Texas Scottish Festival on October 16-18.
A super special thanks to our newest patrons: Michael K, Lucinda S, Thom Speck, and Jennifer who raised her pledge.
You can become a generous Patron of the Podcast on Patreon at SongHenge.com.
TRAVEL WITH CELTIC INVASION VACATIONS
Every year, I take a small group of Celtic music fans on the relaxing adventure of a lifetime. We don't see everything. Instead, we stay in one area. We get to know the region through its culture, history, and legends. You can join us with an auditory and visual adventure through podcasts and videos. Learn more about the invasion at http://celticinvasion.com/
#celticmusic #irishmusic #celticpodcast
I WANT YOUR FEEDBACK
What are you doing today while listening to the podcast? You can send a written comment along with a picture of what you're doing while listening. Email a voicemail message to celticpodcast@gmail.com
Honey Bunny emailed from Cleveland, TX: "I ran into this on my walk today. Texas gotta love it."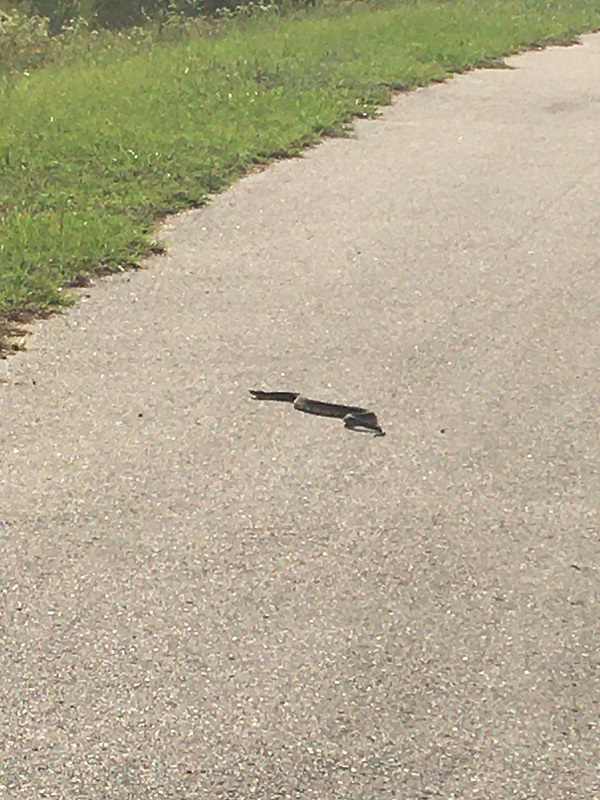 Fred Peterman emailed: "Listening to podcast #5 at this very moment (6AM in South Dakota). When in Atlanta, I listened to Fiona Richie's program on Public Radio. Obviously, no longer in Atlanta. And I believe that your program is "more to my taste".
Steve Miller emailed: "Marc, Listening to "Sunflower #475" right now, going through books in my office and cleaning things up. I have just recently found your podcast and added it to my weekend routine. I heard you mention DragonCon earlier, & I have to ask if you know Thomas Dodd. I booked his old band Trio Nocturna a few times, and I know he was on the dragoncon circuit for quite a while.
Also, have you heard "Celtic Winds" on WNCW before? If not, you should check it out, it's a great 3 hour show on Sunday's from 12-3.
Iechyd da!"