Oct 6, 2022
Jigs & Reels, the Celtic instrumental music of Ireland is on this week's Irish & Celtic Music Podcast.
Lúnasa, Ogham, Mary - Grace Autumn Lee, The Lilies of the Midwest, Willos' & Massimo Giuntini, Bella Issakova & Randy Clepper, The Chieftains, Jocelyn Pettit & Ellen Gira, Anne Roos, David Blonski, Barrenhart, Téada, Highlander Celtic Rock Band Australia, Banshee in the Kitchen, Wakefire, Telenn Tri
VOTE IN THE CELTIC TOP 20 FOR 2022
This is our way of finding the best songs and artists each year. You can vote for as many songs and tunes that inspire you in each episode. Your vote helps me create next year's Best Celtic music of 2022 episode. Vote Now!
GET CELTIC MUSIC NEWS IN YOUR INBOX
The Celtic Music Magazine is a quick and easy way to plug yourself into more great Celtic culture. Subscribe and get 34 Celtic MP3s for Free.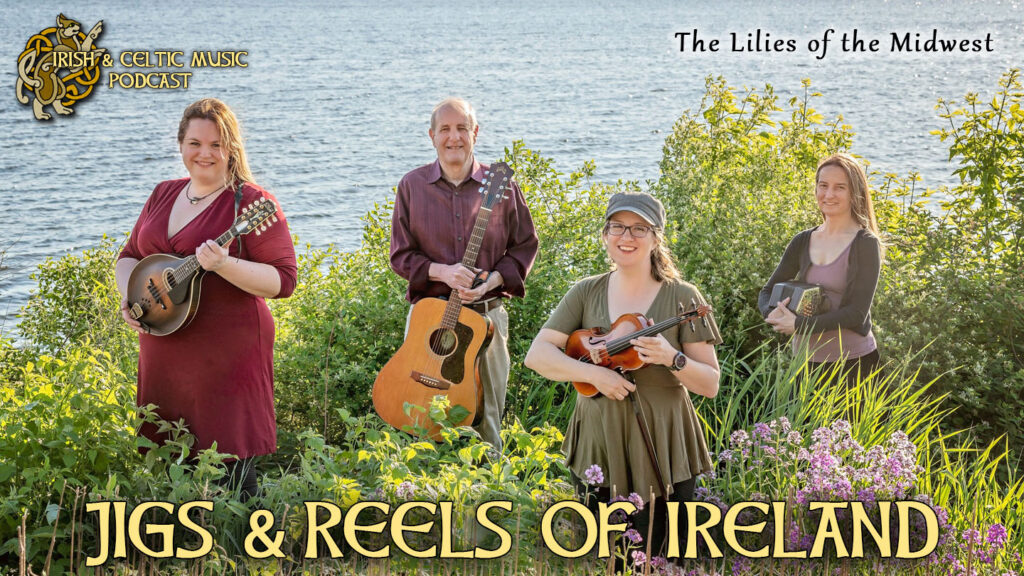 THIS WEEK IN CELTIC MUSIC
0:02 - Intro: Wakefire
0:11 - Lúnasa "Sinead Maire's" from Cas
5:14 - WELCOME
6:34 - Ogham "Johnny Mickey's / Where is the Cat" from The Gold Ring
9:17 - Mary - Grace Autumn Lee "Erin Quinn's: Tyrell's Pass/The Coolinarne Jig/The Thatcher (Jigs)" from Eyre
12:43 - The Lilies of the Midwest "That's Right Too - The Turnpike - Shakin' Down the Acorns" from Flora
16:52 - Willos' & Massimo Giuntini "The Belfort Set" from From Now On
21:37 - FEEDBACK
26:55 - Bella Issakova & Randy Clepper "Blackbird / Jack Rowe / Eanach Mhic Coilin / Carthy's Reel" from Pre - Release
32:36 - The Chieftains "Humours of Carolan" from Bear's Sonic Journals: The Foxhunt - Live In San Francisco 1976
41:27 - Jocelyn Pettit & Ellen Gira "Cumberland Gap" from All It Brings
45:42 - Anne Roos & David Blonski "Lovely is the Dark Blue Sky" from A Winter's Dance
48:39 - Barrenhart "Hector The Hero" from Celtic Grass
53:23 - THANKS
55:15 - Téada "Jigs - The Cauliflower / Tom Busby's / A Tribute to Jim" from Coiscéim Coiligh / As the Days Brighten
58:36 - Highlander Celtic Rock Band Australia "Bung Knee Jigs" from North of the Wall
1:01:50 - Banshee in the Kitchen "Rouge Mouse" from The Last Pint - Not
1:04:58 - Wakefire "Catharsis" from Meaning of Life
1:08:34 - CLOSING
1:09:27 - Telenn Tri "The Rock on the Clyde / Monaghan's" from Macquarie Street
The Irish & Celtic Music Podcast was produced by Marc Gunn, The Celtfather. The show was edited by Mitchell Petersen with Graphics by Miranda Nelson Designs.
Visit our website to subscribe to the podcast. You'll get access to our Best of this Year Playlist. You'll also find links to all of the artists played in this episode so you can buy from them and help them keep creating new music. And you will better connect with your Celtic heritage.
The Irish & Celtic Music Podcast is here to build our diverse Celtic community and help the incredible artists who so generously share their music with you.
The show is supported by our Patrons of the Podcast on Patreon. Visit SongHenge.com to get bonus podcasts and vote in the Celtic Top 20.
Finally, please tell one friend about this podcast. Word of mouth is the absolute best way to support any creative endeavor.
Promote Celtic culture through music at http://celticmusicpodcast.com/.
WELCOME CELTOPHILE TO CELTIC MUSIC
* Helping you celebrate Celtic culture through music. I am Marc Gunn. I'm a musician and podcaster based out of Atlanta, Georgia. You can find a link to all of the artists in the shownotes, along with show times and chapters for each song when you visit our website at celticmusicpodcast.com. If you hear music you love, please email artists to let them know you heard them on the Irish and Celtic Music Podcast.
The podcast is also a proud sponsor of IrishFest Atlanta taking place November 4 - 5, 2022. This is all thanks to the support of our Patrons of the Podcast, I donate 10% of the money earned from patrons to Celtic non - profits.
IrishFest Atlanta promotes the culture of Ireland through the country's traditional music, song, dance, and language. It is a weekend of cultural performances, lectures, and workshops in a festive environment appealing to community members of all ages and varying familiarity of all things Irish.
Tickets are now on sale for the festival. You can see a list of performance times and workshops on the festival website at IrishFestAtlanta.org.
You will hear a couple tracks from artists performing at this year's festival in this show.
WHAT'S NEW IN IRISH & CELTIC MUSIC: BEST OF 2022
Two weeks after the episode is launched, I compile the latest Celtic Top 20 votes to update a playlist on Spotify, Amazon Music, and YouTube. These are the results of your voting. You can help these artists out by following the playlists and adding tracks you love to your playlists. Subscribe to our newsletter to find out who was added this week.
Listen on Spotify, Amazon Music, and YouTube.
THANK YOU PATRONS OF THE PODCAST!
Because of Your kind and generous support, this show comes out at least four times a month. Your generosity funds the creation, promotion and production of the show. It allows us to attract new listeners and to help our community grow.
As a patron, you hear episodes before regular listeners, vote in the Celtic Top 20, and a private feed to listen to the show. All that for as little as $1 per episode. You can also get music - only episodes, free MP3s, and stand - alone Celtic Stories as a Song Henger.
A special thanks to our newest Patrons of the Podcast: John G, Jeanna S, Marti M
HERE IS YOUR THREE STEP PLAN TO SUPPORT THE PODCAST
Go to SongHenge.com. That takes you to our Patreon page.
Decide how much you want to pledge every week, $1, $5, $10. Make sure to cap how much you want to spend per month.
Keep listening to the Irish & Celtic Music Podcast to celebrate Celtic culture through music.
You can become a generous Patron of the Podcast on Patreon at SongHenge.com.
TRAVEL WITH CELTIC INVASION VACATIONS
Every year, I take a small group of Celtic music fans on the relaxing adventure of a lifetime. We don't see everything. Instead, we stay in one area. We get to know the region through its culture, history, and legends. You can join us with an auditory and visual adventure through podcasts and videos. Learn more about the invasion at http://celticinvasion.com/
#celticmusic #irishmusic #celticmusicpodcast
I WANT YOUR FEEDBACK
What are you doing today while listening to the podcast? You can send a written comment along with a picture of what you're doing while listening.
Email a voicemail message to celticpodcast@gmail.com
Bob Shea AKA Nurse Bob emailed: "Hey there. Loving your podcast. I am walking through the fields, around sheep, cows, stone walls, sunshine and Irelands magnificent nature. I'm on the Dingle Way. From Florida, I did the Saint Declan's Way last week and this week it's the Dingle way. Thanks for keeping me company! Thanks again. I am gliding along with your music. Makes the hills easier to horse through."
Kyle Hayes emailed: "I'm very excited that you're going to be at the highland games in TN. I went the first time when I was 12, back in 2001 or so. It's when I got hooked on bagpipes, celtic music etc. I even had plans to join the Nashville pipe band, but didn't have time due to other activies. Now I'm teaching English in Mexico City and found out in May that there are pipe bands here, so I'm taking lessons so I can join them. Surprisingly, the pipe band I'll be joining as large crowds when they perform; there are also a number of celtic bands here as well. Enjoy Tennessee, I wish I could be there!"
Anne Lorkowski posted a photo on Facebook after I posted a picture of me running on the beach. She writes: "What a coincidence, I'm listening to the new episode while running along the beach in Fiji! Oh did I say running? My bad, I'm actually drinking a pina colada during happy hour. Sláinte and Bula! 😊"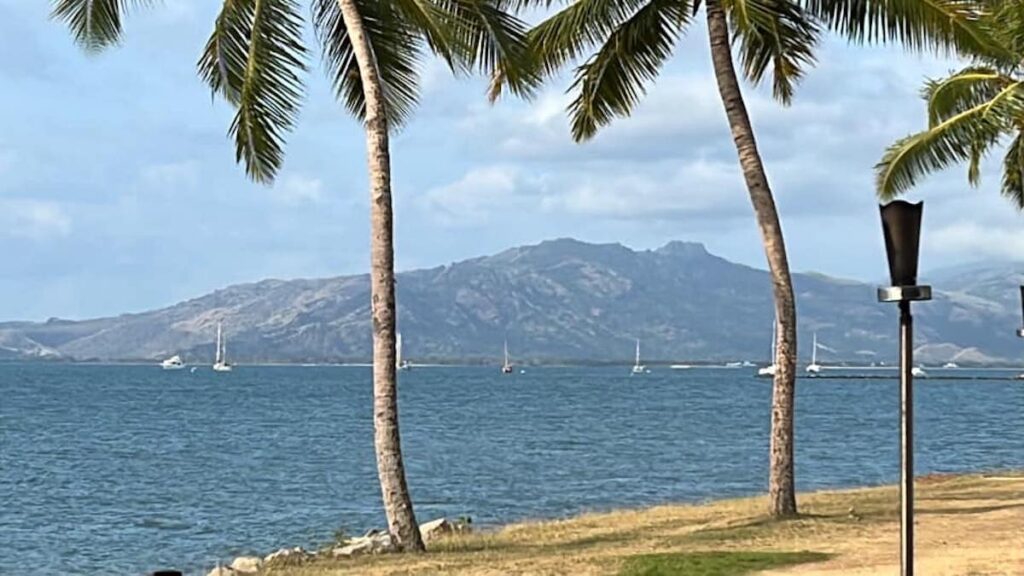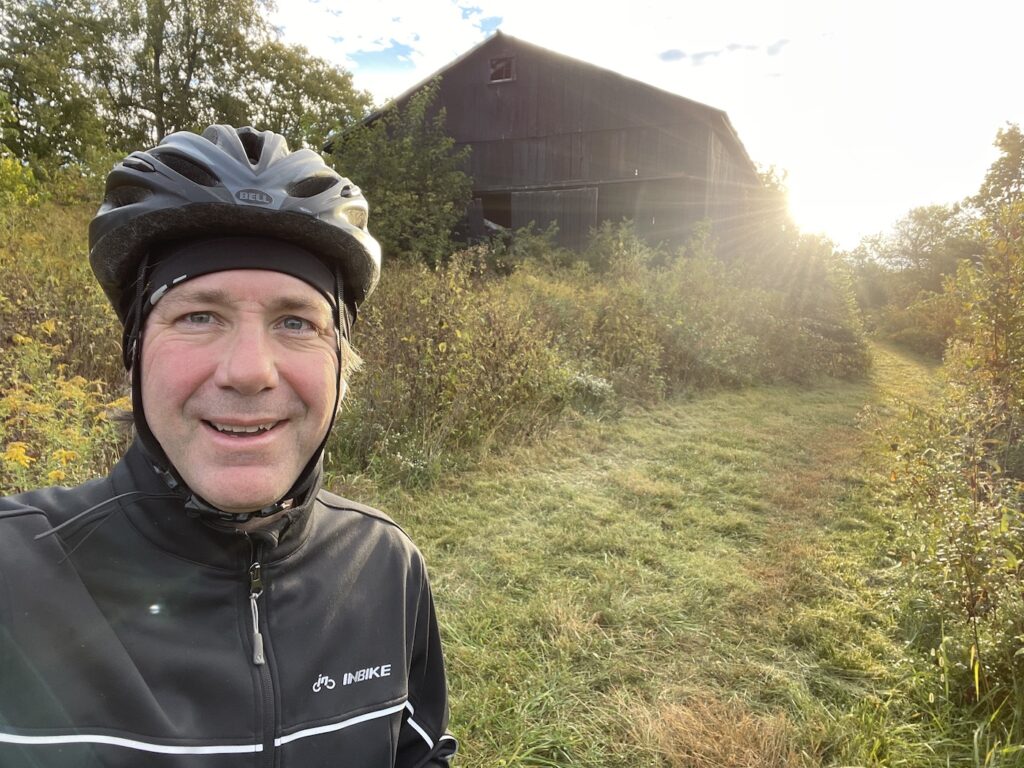 There are a bunch of abandoned barns in Shakertown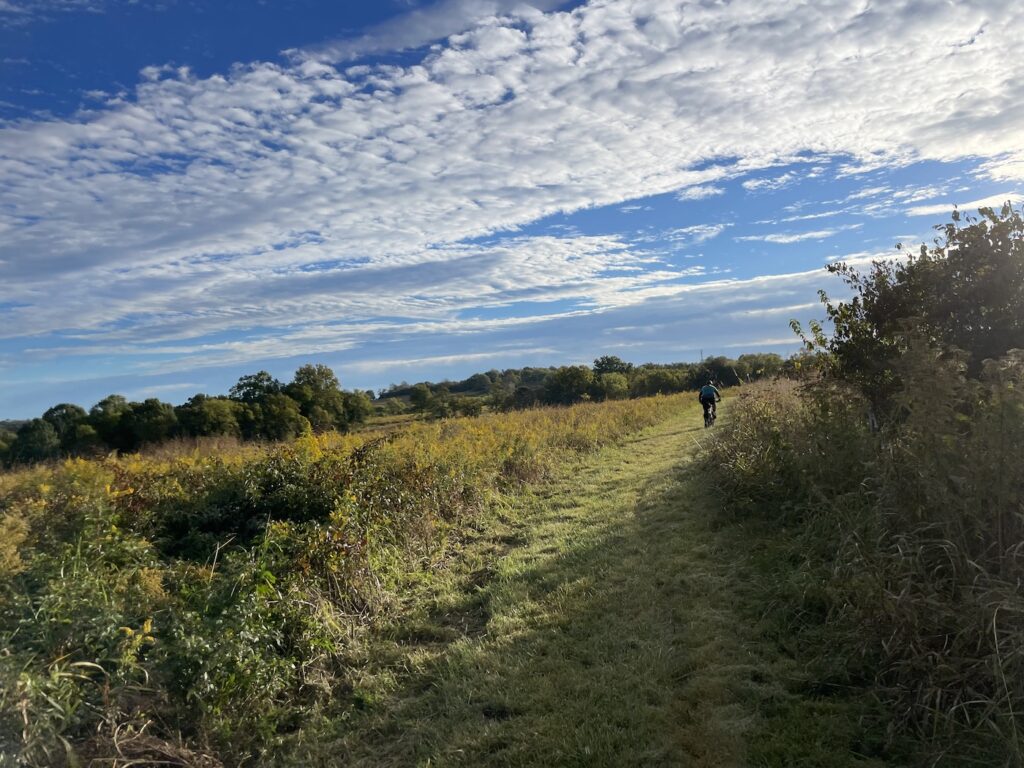 Biking through glorious countryside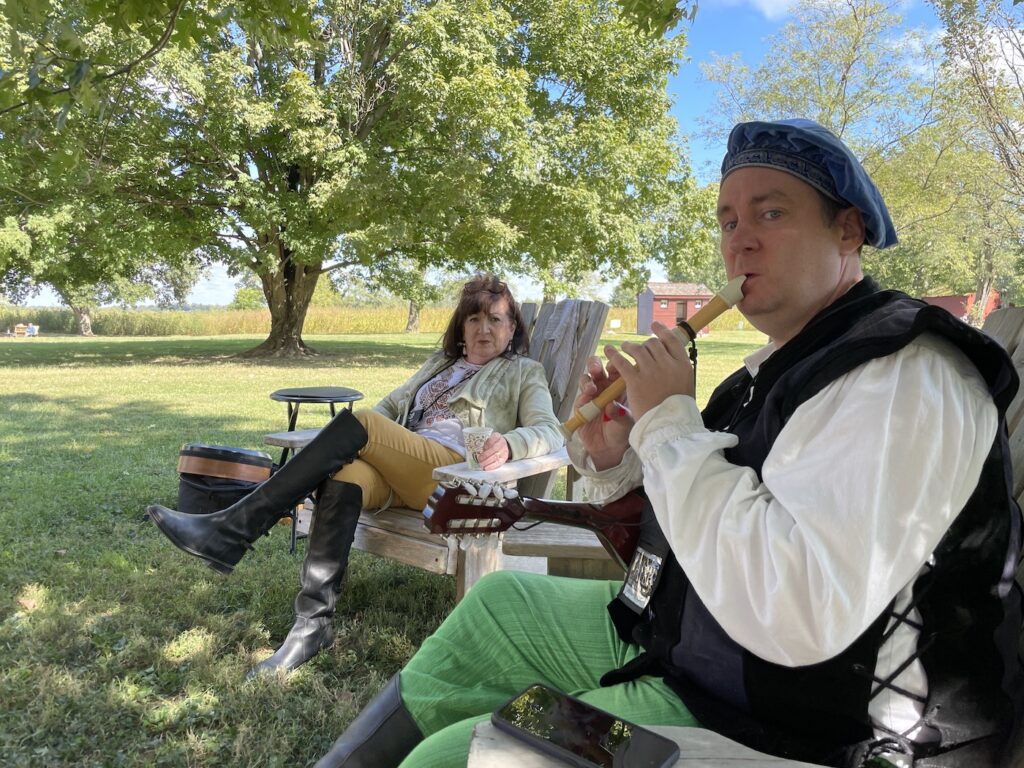 Andrew McKee and Jamie Haeuser