Jul 21, 2022
Did you know you were Irish all along? Listen to more in the Irish & Celtic Music Podcast.
La Nef and Chor Leoni, Mary - Grace Autumn Lee, Enda Reilly, Across The Pond, Socks in the Frying Pan, Niamh Dunne, Telenn Tri, Kevin McKrell, Willos' & Massimo Giuntini, Scythian, Low Lily, The Dreadnoughts, Brad Tuck, Jamison Celtic Rock
GET CELTIC MUSIC NEWS IN YOUR INBOX
The Irish & Celtic Music Magazine is a quick and easy way to plug yourself into more great Celtic culture. Subscribe and get 34 Celtic MP3s for Free.
VOTE IN THE CELTIC TOP 20 FOR 2022
This is our way of finding the best songs and artists each year. You can vote for as many songs and tunes that inspire you in each episode. Your vote helps me create next year's Best Celtic music of 2022 episode. Vote Now!
I hope you enjoy this week's show. If you hear music you love, share the episode. Include the show time so they can quickly listen and enjoy.
The Irish & Celtic Music Podcast is here to build our diverse Celtic community and help the incredible artists who so generously share their music with you.
Musicians rely on your support so they can keep creating new music. If you heard music you loved, visit the artist website. Buy CDs, digital downloads, shirts, album pins, and other merch. You can follow them on streaming and see their shows. You can support many Celtic musicians on Patreon, just like this podcast. And of course, I always appreciate it when you email artists to let them know you heard them on the Irish and Celtic Music Podcast.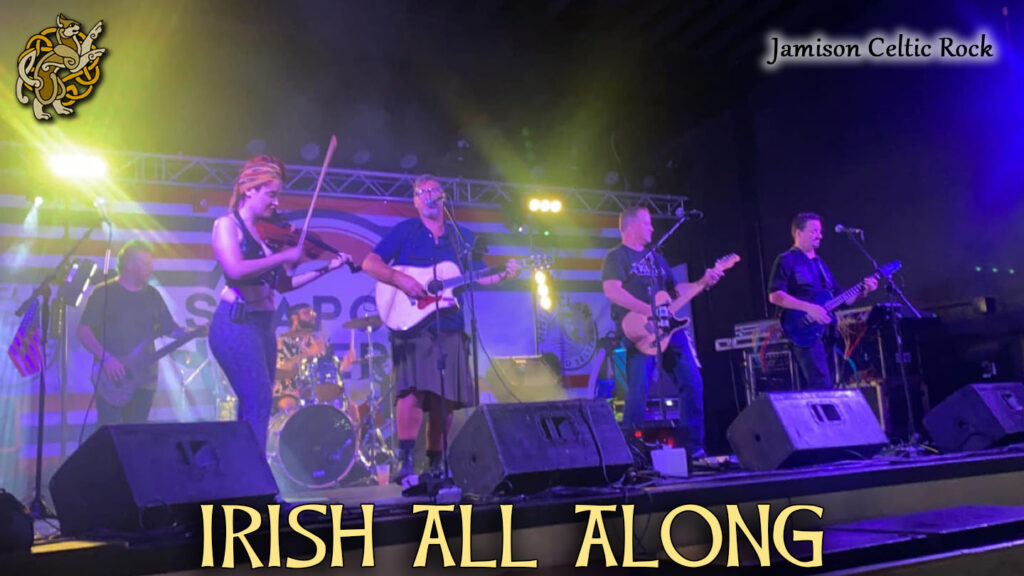 THIS WEEK IN CELTIC MUSIC
0:09 - La Nef and Chor Leoni "Out On The Ocean" from Shanties! LIVE
3:40 - WELCOME
4:50 - Mary - Grace Autumn Lee "Return to Brooklyn: Muireann's Jig/Trip to London (Jigs)" from Eyre
8:50 - Enda Reilly "All Along The Wild Atlantic Way" from Whisperings
12:30 - Across The Pond "Merry Blacksmith / Sally Gardens" from Little Beggarman
16:25 - Socks in the Frying Pan "The King's Shilling" from Return of the Giant Sock Monsters from Outer Space
20:38 - FEEDBACK
24:51 - Niamh Dunne "Ballyneety's Walls" from Portraits
28:10 - Telenn Tri "Breton / Pedon war pont e naoned" from Macquarie Street
32:26 - Kevin McKrell "Dublin Town" from In Quarantine
36:22 - Willos' & Massimo Giuntini "Scatter the Mud" from From Now On
42:37 - THANKS
44:27 - Scythian "Dead Army" from American Shanty
49:19 - Low Lily "SOVAY" from 10,000 Days Like These
52:02 - The Dreadnoughts "Battleford 1885" from Roll and Go
54:10 - Brad Tuck "Irish All Along" from Stages
58:06 - CLOSING
59:51 - Jamison Celtic Rock "Through Hills for Water" from Hafaguone
The Irish & Celtic Music Podcast was edited by Mitchell Petersen with Graphics by Miranda Nelson Designs. The show was produced by Marc Gunn, The Celtfather. Subscribe through your favorite podcatcher or on our website where you can become a Patron of the Podcast for as little as $1 per episode. Promote Celtic culture through music at http://celticmusicpodcast.com/.
WELCOME CELTOPHILES TO CELTIC MUSIC
* Helping you celebrate Celtic culture through music. I am Marc Gunn. I'm a musician and podcaster. I'm gonna introduce you to some amazing Celtic bands and musicians.
Please remember. The artists in this show need your support. Buy something from them. You can find a link to all of the artists, along with show times and chapters for each song when you visit our website at celticmusicpodcast.com. You can also support this podcast on Patreon.
Show into by The Dead Irish.
HAVE YOU EVER THOUGHT ABOUT STARTING YOUR OWN PODCAST?
Podcasting is a fun way to share a message and spread ideas. I've hosted my podcasts with Libsyn since I started podcasting in 2005. It's the best place to host your podcast. Why not share your love of Celtic music and culture.
Sign up through my link and you can support this podcast as well.
If you decide to sign up, please email me. I'll send you some hints on how to make a successful podcast from the start.
TRAVEL WITH CELTIC INVASION VACATIONS
Every year, I take a small group of Celtic music fans on the relaxing adventure of a lifetime. We don't see everything. Instead, we stay in one area. We get to know the region through its culture, history, and legends. You can join us with an auditory and visual adventure through podcasts and videos. Learn more about the invasion at http://celticinvasion.com/
WHAT'S NEW IN IRISH & CELTIC MUSIC: BEST OF 2022
Two weeks after the episode is launched, I compile the latest Celtic Top 20 votes to update a playlist on Spotify, Amazon Music, and YouTube. These are the results of your voting. You can help these artists out by following the playlists and adding tracks you love to your playlists. Subscribe to our newsletter to find out who was added this week.
Listen on Spotify, Amazon Music, and YouTube.
THANK YOU PATRONS OF THE PODCAST!
Because of Your kind and generous support, this show comes out at least four times a month. Your generosity funds the creation, promotion and production of the show. It allows us to attract new listeners and to help our community grow.
As a patron, you hear episodes before regular listeners. You get to vote in the Celtic Top 20, and you get a private feed to listen to the show. Song Hengers can also enjoy music - only episodes, free MP3s, and stand - alone Celtic Stories when you become a Song Henger. Plus, I'm planning a bonus Best of Episode that's coming out soon, exclusively to Patrons.
A special thanks to our newest Patrons of the Podcast: Anna M, Happy Rain, and of our newest amazing Celtic Legend, Meghan Walker
HERE IS YOUR THREE STEP PLAN TO SUPPORT THE PODCAST
Go to SongHenge.com. That takes you to our Patreon page.
Decide how much you want to pledge every week, $1, $5, $10. Make sure to cap how much you want to spend per month.
Keep listening to the Irish & Celtic Music Podcast to celebrate Celtic culture through music.
You can become a generous Patron of the Podcast on Patreon at SongHenge.com.
#celticmusic #irishmusic #celticmusicpodcast
I WANT YOUR FEEDBACK
What are you doing today while listening to the podcast? You can send a written comment along with a picture of what you're doing while listening.
Email a voicemail message to celticpodcast@gmail.com
Michael Finlay emailed a photo with a great story: "Hi Marc, so while I was listening to the podcast my kid ran inside telling me that our neighbor had come looking for help. She had found a kitten in the engine compartment of her truck. A tiny, terrified, little thing we figured was about 7 weeks old. The neighbor couldn't keep her (allergies), so we took her in. On the way to her doctor's appointment I played the show, hoping to calm her down. It did not work. Aside from a minor ear infection, and being a bit thin for her age, she was given a clean bill of health. I now have a new baby, little Minka. And thank the gods, she's finally putting on some weight. And I think she likes the show, since when I was cooking recently she tried to climb up my leg. But really that was either your playlist or the bacon. Any way, your work has been the soundtrack for the arrival of a new bundle of joy into my life. I will try to send a picture of sweet Minka."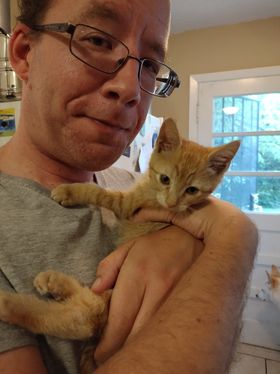 Stephen Dunford emailed: "Happy July/ End of Pride Month. Hi Marc, Thank you for a great show, Love the music and love the vibe. Listening to your podcast got me through the pandemic with a smile on my face. Ha
What am I doing today? Well... I am listening to your podcast while working from home.
I started listening to your podcast while I was working in the office in a different career in fashion, as mentioned before your podcast helped me sort some things out about what I truly enjoy in music and life. Music gives life - if you get my drift. Since then I switched careers in UX design which allows me to work remotely where I can listen to your music freely around the house wherever I want.
Anyhow, my hubby and I are going to Ireland, Scotland, and England for our delayed honeymoon at the end of August. We are calling it "Discovering our roots". Since I am of English Irish descent and he is American of Scottish/ mixed descent. We can't wait.
Needless to say, I will be on the lookout for local music, but in the meantime, we will be listening to your podcast along the winding roads of our ancestors. Take care and thanks for your podcast."
Woodland Folk emailed photos of Courting and TREES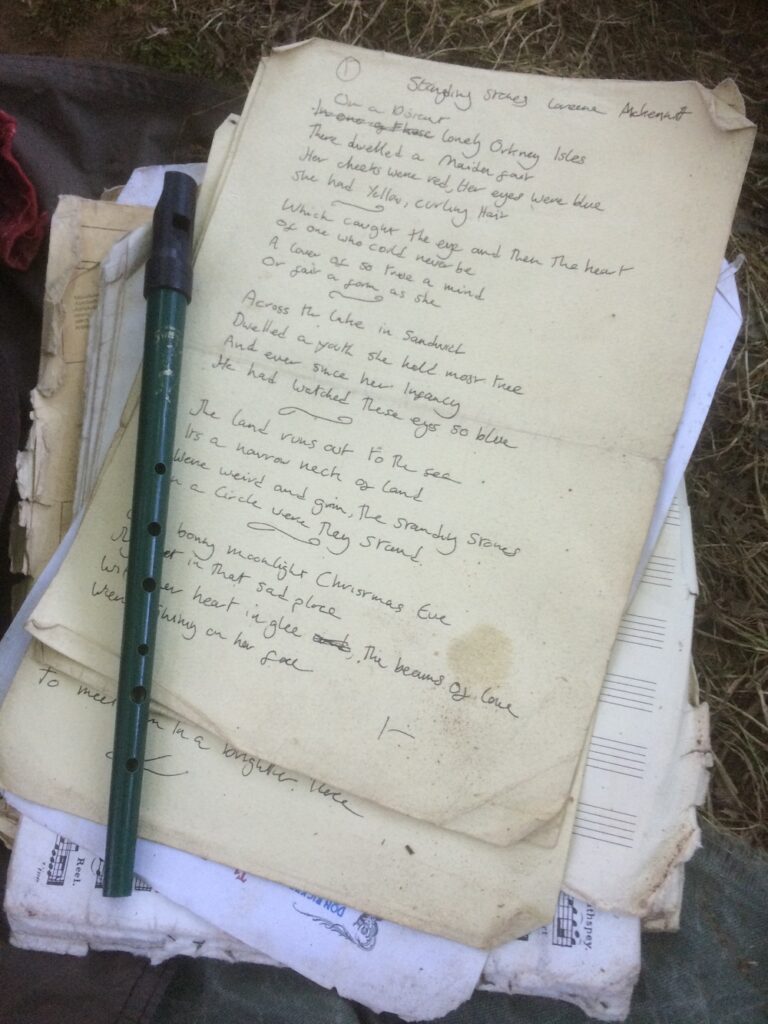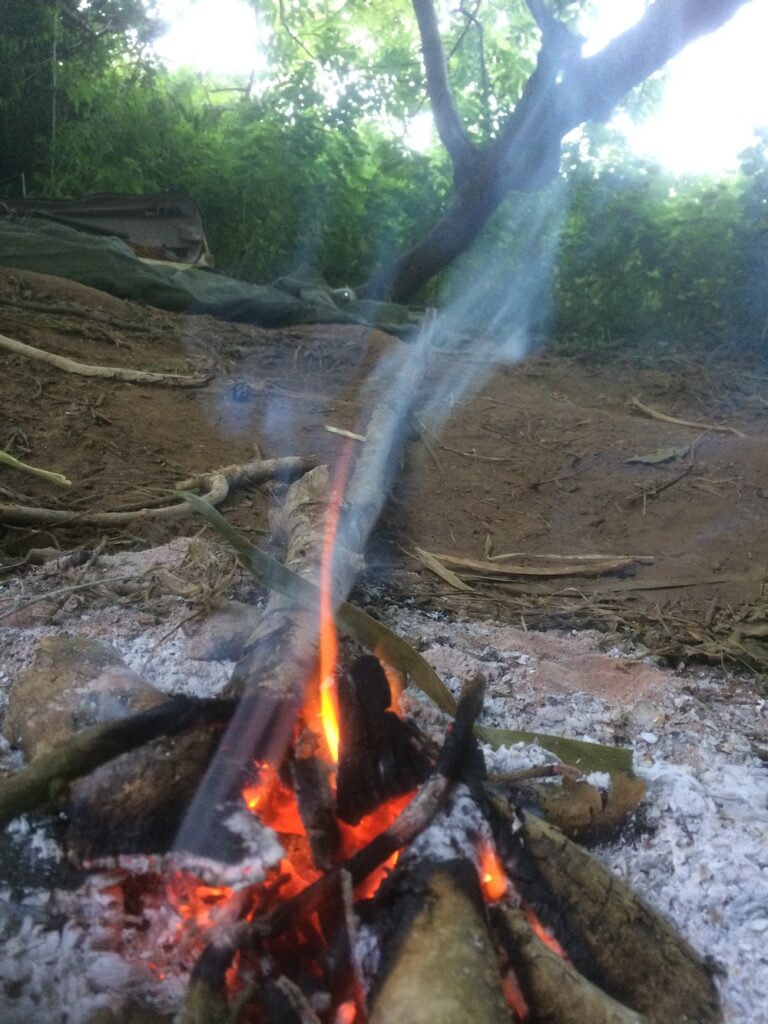 And finally, here's a run I did while listening to the Irish & Celtic Music Podcast, on my way to Indianapolis.