Apr 22, 2021
Instrumental Celtic music to fight climate change and bring health and prosperity back to our planet.
Laughing Jack, Liesel Wilson, TEYR, Doolin', Eira, Aerialists, Nick Metcalf, Fir Arda, The Munster Men, Tiffany Schaefer, Band O'Brothers, Philleann, The Guinness Brothers, Drumspyder, Turf Fire Liars, Poor Man's Gambit
I hope you enjoyed this week's show. If you did, please share the show on social or with a friend.
The Irish & Celtic Music Podcast is here to build our diverse Celtic community and help the incredible artists who so generously share their music with you. If you hear music you love, buy the albums, shirts, and songbooks, follow the artists on streaming, see their shows, and drop them an email to let them know you heard them on the Irish and Celtic Music Podcast.
Every week, you can get Celtic music news in your inbox. The Celtic Music Magazine is a quick and easy way to plug yourself into more great Celtic culture. Subscribe and get 34 Celtic MP3s for Free.
VOTE IN THE CELTIC TOP 20
This is our way of finding the best songs and artists each year. Just list the show number, and the name of as many bands in the episode as you like. Your vote helps me create next year's Best Celtic music of 2021 episode. Vote Now!
THIS WEEK IN CELTIC MUSIC
0:04 - Laughing Jack "Barndance & Reel (Live)" from Live at the Indy Folk Series
4:11 - WELCOME
5:06 - Liesel Wilson "Trip to Pakistan / Scollay's" from The Path
8:16 - TEYR "Little Giants" from Estren
13:30 - Doolin' "Mary's Jigs" from Doolin'
17:54 - Eira "Munlochy Bridge / Merry Maid's Wedding / The Swallow's Tail" from Eira
21:37 - FEEDBACK
25:18 - Aerialists "Dear Sienna" from Dear Sienna
29:21 - Nick Metcalf "At the Gates (feat. Zac Léger & Caitríona Lagan)" from Out of the Ashes
33:18 - Fir Arda "Carolan's Concerto" from Carolan's Receipt for Drinking
35:07 - The Munster Men "John's lane / In the hay / Redbreast's tweet" from Tasting The Waters
39:22 - Tiffany Schaefer "Road to Lisdoonvarna / Morrison's" from Tara's Halls
41:37 - THANKS
42:44 - Band O'Brothers "The Andrew T. Polka" from Band O'Brothers
45:03 - Philleann "Darkling Wood" from The Wandering Stream
47:58 - The Guinness Brothers "The Moving Cloud (Live)" from Live Craic
51:37 - Drumspyder "Our Ain Bonny Laddie" from Calls from the Wood
55:29 - Turf Fire Liars "Reel Set" from Long Memories Short Fuses
59:03 - CLOSING
1:00:07 - Poor Man's Gambit "The Sweetness of Mary" from Land of Sunshine
The Irish & Celtic Music Podcast was edited by Mitchell Petersen with Graphics by Miranda Nelson Designs. The show was produced by Marc Gunn, The Celtfather. Subscribe to your favorite podcatcher through our website where you can become a Patron of the Podcast for as little as $1 per episode. Promote Celtic culture through music at http://celticmusicpodcast.com/.
WELCOME TO CELTIC MUSIC
* Helping you celebrate Celtic culture through music. My name is Marc Gunn. I am a Celtic musician and podcaster. This show is dedicated to the indie Celtic musicians. Please support these artists. Share the show with your friends. And find more episodes at celticmusicpodcast.com. You can also support this podcast on Patreon.
THANK YOU PATRONS OF THE PODCAST!
Because of Your kind and generous support, this show comes out every week. Your generosity funds the creation, promotion and production of the show. It allows us to attract new listeners and to help our community grow.
As a patron, you get to hear episodes before regular listeners. When we hit a milestone, you get an extra-long episode. You can pledge a dollar or more per episode and cap how much you want to spend each month over on Patreon.
A super special thanks to our newest patrons: Mary Lynn D, Tom D, Dave H, Dave Howard Coons, Thomas B, Chris S
You can become a generous Patron of the Podcast on Patreon at SongHenge.com.
TRAVEL WITH CELTIC INVASION VACATIONS
Every year, I take a small group of Celtic music fans on the relaxing adventure of a lifetime. We don't see everything. Instead, we stay in one area. We get to know the region through its culture, history, and legends. You can join us with an auditory and visual adventure through podcasts and videos. Learn more about the invasion at http://celticinvasion.com/
#celticmusic #irishmusic #celticpodcast
I WANT YOUR FEEDBACK
What are you doing today while listening to the podcast? You can send a written comment along with a picture of what you're doing while listening. Email a voicemail message to celticpodcast@gmail.com
Alexander Randall 5th emailed: "Dear Marc, I am loving #500. I've been with you since around 300 and I think you are doing a great job of introducing me to wonderful bands and songs.
More rollicking jigs and reels.
I work with words while I listen. So I love the instrumentals the most. Once upon a time you did an ALL INSTRUMENTAL show... Loved it.
Have you ever found David Clausen from a band called Celtic Stone. He is in Austin TX but does not respond to email."
Donna DeMilo emailed a photo: "Congratulations on your 500th Mark !! I LOVE CLOVER'S REVENGE!! Slainte!!"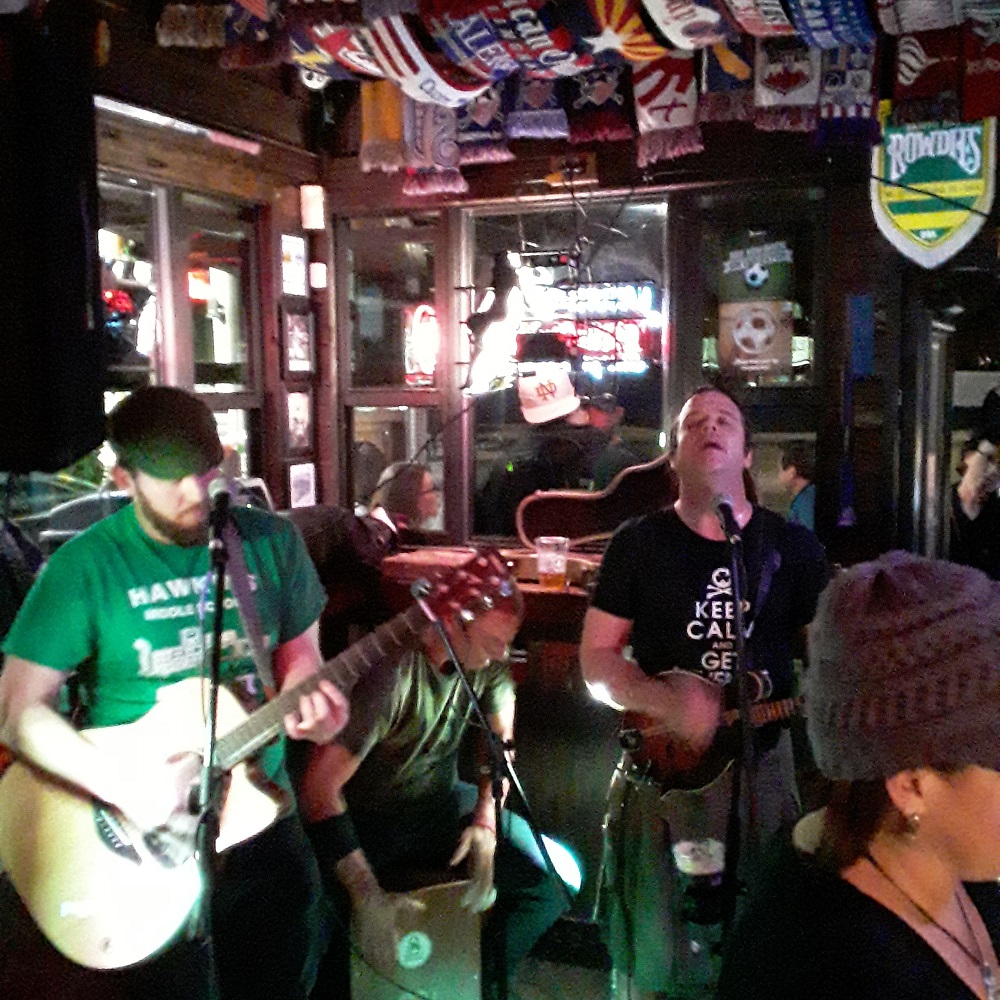 Sean Malloy emailed: "Hi Marc, Thank you so much for buying our Band O'Brothers album from Bandcamp! I'm so pleased to imagine you listening to some of our songs after we've spent so many glad hours listening to yours!! I'm working on putting the promised song stories together for you - I'll send something your way within a couple days. Thanks again, and sláinte!!!! Sean"
Dillon Dise from Westfield, NY emailed a photo from 498: "I've been listening to the podcast for a couple years, but haven't yet emailed a picture of what I'm doing while listening, so here ya go. I prune vineyards through the winter in the rain, sun, wind and snow. This season I have already cut back over 6,000 individual vines. As the Celtic Spring comes on strong the smell of life is in the air, the snow is melting and the ice breaking up. At the top of the hill I look out onto Lake Erie, so the Sea Shanties episode was most appropriate in getting me excited to be back out on the water. Thanks for all the great tunes!"