Sep 23, 2021
Let's light a fire in the kitchen with the Irish & Celtic Music Podcast.
Adam Young, Harmundi, Muireann Nic Amhlaoibh, Matt & Shannon Heaton, Christine Collister, Achill Crossing, Jen Midkiff, Jesse Ferguson, Steel Clover, Kris Colt & the Black Rose Band, Bang On The Ear, The Langer's Ball, Blaggards, Ockham's Razor, The Gothard Sisters
I hope you enjoyed this week's show. If you did, please share the show on social or with a friend.
The Irish & Celtic Music Podcast is here to build our diverse Celtic community and help the incredible artists who so generously share their music with you. If you hear music you love, buy the albums, shirts, and songbooks, follow the artists on streaming, see their shows, and drop them an email to let them know you heard them on the Irish and Celtic Music Podcast.
Every week, you can get Celtic music news in your inbox. The Celtic Music Magazine is a quick and easy way to plug yourself into more great Celtic culture. Subscribe and get 34 Celtic MP3s for Free.
VOTE IN THE CELTIC TOP 20
This is our way of finding the best songs and artists each year. Just list the show number, and the name of as many bands in the episode as you like. Your vote helps me create next year's Best Celtic music of 2021 episode. Vote Now!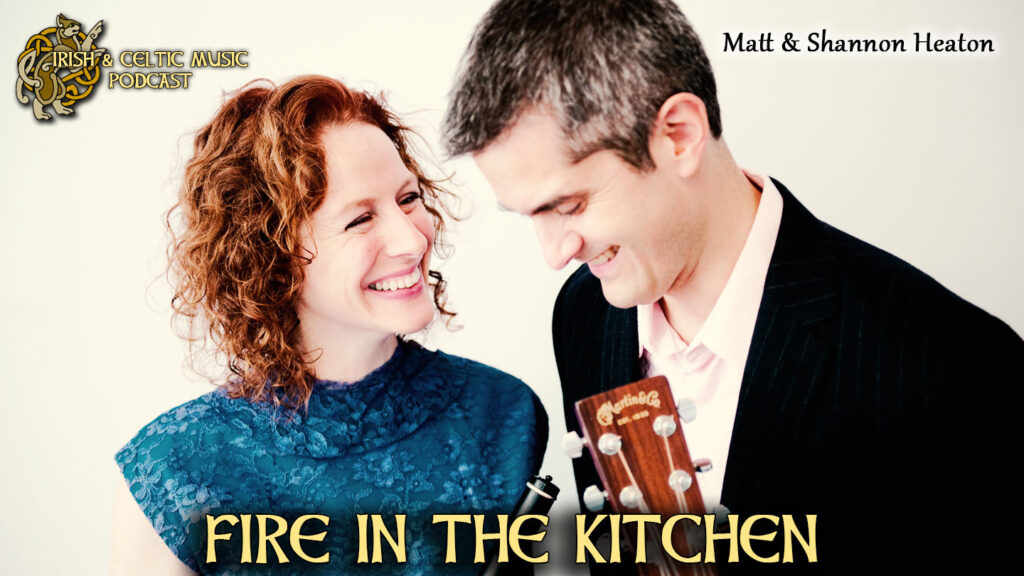 THIS WEEK IN CELTIC MUSIC
0:05 - Adam Young "Fuller's Bridge" from Yearbook
6:07 - WELCOME
6:42 - Harmundi "Jump At The Morrison" from Um Orvalho Boreal
11:25 - Muireann Nic Amhlaoibh "The Bay Of Biscay" from Neadú
15:36 - Matt & Shannon Heaton "Belle of the South Shore & Jennifer & Don's" from Blue Skies Above
19:32 - Christine Collister "The Lake Isle of Innisfree" from I Am of Ireland / Yeats in Song
22:08 - FEEDBACK
23:30 - Achill Crossing "Courting in the Kitchen" from The Rising of the Moon
26:38 - Jen Midkiff "Long Time Comin' (feat. Amy McNally & Debbie Gates)" from All in Good Time
31:03 - Jesse Ferguson "Paddy Doyle's Boots" from Sea Shanties
32:22 - Steel Clover "The Crofters of Scotland" from Finding Your Way
35:21 - Kris Colt & the Black Rose Band "Charmed" from Charmed
37:58 - THANKS
39:07 - Bang On The Ear "Donald MacGillivray" from Tales From The Glen
41:36 - The Langer's Ball "The Little Vagabond" from The Devil or the Barrel
44:43 - Blaggards "Spancil Hill" from BLAGMATIC
49:28 - Ockham's Razor "Fire in the Kitchen" from Secrets and Silence
53:54 - CLOSING
54:50 - The Gothard Sisters "Long Road" from Dragonfly
The Irish & Celtic Music Podcast was edited by Mitchell Petersen with Graphics by Miranda Nelson Designs. The show was produced by Marc Gunn, The Celtfather. Subscribe through your favorite podcatcher or on our website where you can become a Patron of the Podcast for as little as $1 per episode. Promote Celtic culture through music at http://celticmusicpodcast.com/.
WELCOME TO CELTIC MUSIC
* Helping you celebrate Celtic culture through music. I am Marc Gunn. I'm a Celtic musician and podcaster. This show is dedicated to the independent Celtic musicians. Please support these artists. Share the show with your friends. And find more episodes at celticmusicpodcast.com. You can also support this podcast on Patreon.
THANK YOU PATRONS OF THE PODCAST!
Because of Your kind and generous support, this show comes out at least four times a month. Your generosity funds the creation, promotion and production of the show. It allows us to attract new listeners and to help our community grow.
As a patron, you get to hear episodes before regular listeners. When we hit a milestone, you get an extra-long episode. You can pledge a dollar or more per episode and cap how much you want to spend each month over on Patreon. And if you pledge $5 or more per episode, you'll also get the all new music-only episodes. I introduce the show, play non-stop music for nearly an hour, and then close the show. Plus, you'll get access to hundreds of free MP3 downloads.
A super special thanks to our newest patrons: Virginia E, Emma B
You can become a generous Patron of the Podcast on Patreon at SongHenge.com.
TRAVEL WITH CELTIC INVASION VACATIONS
Every year, I take a small group of Celtic music fans on the relaxing adventure of a lifetime. We don't see everything. Instead, we stay in one area. We get to know the region through its culture, history, and legends. You can join us with an auditory and visual adventure through podcasts and videos. Learn more about the invasion at http://celticinvasion.com/
#celticmusic #irishmusic #celticpodcast
I WANT YOUR FEEDBACK
What are you doing today while listening to the podcast? You can send a written comment along with a picture of what you're doing while listening. Email a voicemail message to celticpodcast@gmail.com
Liz Murphy emailed: "I recently discovered your podcasts and it has raised my morale enormously. I recently broke my leg seriously, recently, and am stuck, alone, in a rehab clinic for weeks. Your lovely music is so beautiful that I am transported to Ireland instantly, the home of my gorgeous husband. Keep up the good work. You are loved!"
Peter Bengtson emailed: "Enjoyed listening to 6 hours of your podcasts Saturday. I spent that time flying from Phoenix to Honolulu. I could listen to your podcasts stored on my phone.
The SiriusXM symphony hall concerts I listened to don't stay on the phone.
I'll be on a commercial birding tour for 12 days. I'll be too busy to listen to music then.
I'll catch up when I'm back home."