Jan 16, 2020
Search inside yourself with the Celtic Tree of Life. Let's make the world a better place with Celtic culture and the Irish & Celtic Music Podcast.
Seldom Sober, We Banjo 3, Marc Gunn, The Gatehouse Well, McKasson & McDonald, Crepuscule, Alexander James Adams, An lar, Heather Dale, Kennedy's Kitchen, Ockham's Razor, Ballinloch, Battlelegs, Rebels and Sinners, Onde
I hope you enjoyed this week's show. If you did, please share the show with ONE friend.
The Irish & Celtic Music Podcast is here to build our community and help the incredible artists who so generously share their music with you. If you hear music you love, buy the albums, shirts, and songbooks, follow the artists on Spotify, see their shows, and drop them an email to let them know you heard them on the Irish and Celtic Music Podcast.
Remember also to Subscribe to the Celtic Music Magazine. Every week, you will get a few cool bits of Celtic music news. It's a quick and easy way to plug yourself into more great Celtic culture. Plus, you'll get 34 Celtic MP3s for Free, just for signing up today.
VOTE IN THE CELTIC TOP 20
This is our way of finding the best songs and artists each year. Just list the show number, and the name of as many bands in the episode as you like. Your vote helps me create next year's Best Celtic music of 2020 episode. Vote Now!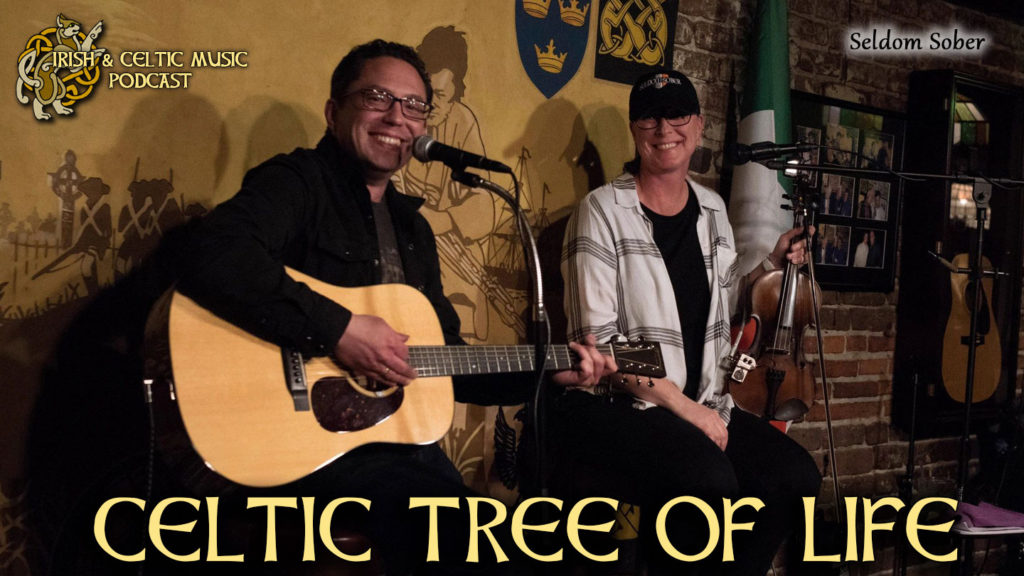 THIS WEEK IN CELTIC MUSIC
0:04 - "Jigs: Geese in the Bog / The Wandering Minstrel / The Coleraine" by Seldom Sober from Six Months in Confession
3:49 - WELCOME
5:17 - "Crann Na Beatha (Tree of Life)" by We Banjo 3 from String Theory
8:26 - "Loch Tay Boat Song" by Marc Gunn from Scottish Songs of Drinking & Rebellion
12:37 - "Tree Gap Set" by The Gatehouse Well from Bring You Ashore
16:18 - "Mark the Hard Earth" by McKasson & McDonald from Harbour
21:17 - CELTIC FEEDBACK
27:53 - "Lilting Music - Tree Set" by Crepuscule from Shades of Music
31:42 - "He of the Sidhe" by Alexander James Adams from Balance of Nature
38:01 - "No Land's Man" by An lar from Deception
43:39 - "Hawthorn Tree" by Heather Dale from Avalon
47:15 - "The Umbrella Reel, Two Days To Go, Down The Broom" by Kennedy's Kitchen from The Whiskey of Truth
52:03 - CELTIC PODCAST NEWS
55:43 - "Lark in the Morning" by Ockham's Razor from Songs from Potter's Field
1:01:06 - "The Intervention Set" by Ballinloch from Rise Up!
1:03:52 - "Greenland Whale Fisheries" by Battlelegs from Save the Humans
1:06:20 - "Mother Tree" by Rebels and Sinners from Day's Just Begun
1:10:40 - CLOSING
1:11:57 - "After the Storm" by Onde from Maelstrom
The Irish & Celtic Music Podcast was edited by Mitchell Petersen with Graphics by Miranda Nelson Designs. The show was produced by Marc Gunn, The Celtfather. To subscribe, go to Apple Podcasts or to our website where you can become a Patron of the Podcast for as little as $1 per episode. Promote Celtic culture through music at http://celticmusicpodcast.com/.
CELTIC PODCAST NEWS
* Helping you celebrate Celtic culture through music. My name is Marc Gunn. I am a Celtic musician and podcaster. This show is dedicated to the indie Celtic musicians. Please support these artists. Share the show with your friends. And find more episodes at celticmusicpodcast.com. You can also support this podcast on Patreon.
There are Australian bushfires, oil spills, erratic temperature changes, earthquakes, hurricanes, the list goes on and on. Life on our planet is in a delicate balance. The Celts knew this. That's why trees were so important to Celtic culture.
It doesn't matter if you don't believe all the scientific evidence that points to human-made Climate Change. What is important is stewardship of our planet. We need to take care of it.
So in 2020, I want to draw attention to our hurting planet and how we can do just that. That's why our latest shirt and sticker design includes the Celtic Tree of Life.
I'll be honest. I don't have specifics as to what we can do. But if you have suggestions, please email me.
The 2020 Sainted Celtic Collection is now online. This is a very special package I put together each year to pay for the production of the podcast, but also to give you a way to promote the show.
You'll get a t-shirt, a couple pint glasses, a bunch of stickers, our Victims of Irish Music compilation CD and my latest CDs with the Brobdingnagian Bards. Plus, this year, you'll also get a digital copy of my Irish Drinking Songs for Cat Lovers album.
It's all one insanely low price. And the offer is good until February 3, 2020. Head on over to MageRecords.com to support the podcast today.
CELTIC PODCAST NETWORK
This is not the Celtic podcast out there. I'm sure you already know that. But you may not what other Celtic podcasts there are online. That's the reasons I share new episodes of other Celtic podcasts every week in the Celtic Music Magazine. This is one of the benefits of subscribing and reading. You'll learn about other great shows you might enjoy.
What shows? Well, let me share a few.
Erin's Isle is published by Erin Breen, an Emmy award-winning journalist, columnist and writer for television, radio and print who has put 25 years of experience to work honing a true talent for storytelling. Her podcast is internationally known and has become part of the inflight entertainment on Aer Lingus flights to and from Ireland. She explores the out of the way adventures you could easily miss if she weren't one step ahead of you.
Irish Music Stories is published by Shannon Heaton. She plays Irish flute and sings. She LOVEs Irish music and dance, and related Celtic traditions. This show is her way of sharing the rich inspiration that the global 'trad' community has given to her, with the stories behind the music.
After a long hiatus, Celtic Roots Radio is back. Raymond McCullough in Downpatrick, Co. Down, Northern Ireland whet's yer appetite with Celtic, folk, folk/rock, Appalachian, Breton, bluegrass, Scottish, Irish, Cajun, Cape Breton, singer/songwriter – if its Celtic, roots or acoustic music you want, you'll find it there (plus a wee drop a' Norn Iron craic!). The show is once again publishing new episodes.
You can find links to ALL of these podcasts and more at MageNetwork.com. That's where I publish links to all of my shows and posts links to other Celtic podcasts to share with you in the Celtic Music Magazine.
TRAVEL WITH CELTIC INVASION VACATIONS
Every year, I take a small group of Celtic music fans on the relaxing adventure of a lifetime. We don't see everything. Instead, we stay in one area. We get to know the region through its culture, history, and legends. You can join us with an auditory and visual adventure through podcasts and videos. Learn more about the invasion at http://celticinvasion.com/
I still have space in 2020 for the Celtic Invasion of Italy. It's gonna be monumental. You don't want to miss it!
THANK YOU PATRONS OF THE PODCAST!
Because of Your kind and generous support, this show comes out every week. You can pledge a dollar or more per episode and cap how much you want to spend each month over on Patreon.
Your generosity funds the creation, promotion and production of the show. It allows us to attract new listeners and to help our community grow. Plus, you get to hear episodes before regular listeners. When we hit a milestone, you get an extra-long episode.
I want to thank our newest Patrons of the Podcast: Samantha M, Christine M, Robyn
You can become a generous Patron of the Podcast at http://patreon.com/celticpodcast.
I WANT YOUR FEEDBACK
What are you doing today while listening to the podcast? You can send a written comment along with a picture of what you're doing while listening. Email a voicemail message to celticpodcast@gmail.com
Heidi Murphy emailed a photo: "I'm listening to this while editing my book. Lovely Celtic Christmas music!
I noticed the other day that you had Round the House on. They're so cool. I've jammed with them before (I play tin whistle and bodhran) and they're delightful.
I recently went to the World Highland Games in Tucson, AZ. It was so lovely to watch them toss the caber and hammer. They broke a record in something I don't know the name of. It's a 2 stone bail of hay trussed up in canvas they toss with a pitchfork. I'd love to know what that's called. I was off listening to music and eating haggis and a scone when they announced that name.
Here's a pic of me hiking home from Muckross Abbey after a long day of exploring in the rain. Slainte"
Marshall Blosser emailed: "Hey Celtfather,
In searching for Newfoundland Celtic artists it dawned on me that you had a 2 hour special on Canadian Celtic music back in 2016. Episode 254 specifically from April 7, 2016. That episode gave me several artists to look up. For me specifically, The Rolling Kings, and The Ennis Sisters. As well as a few others from neighboring provinces.
My own on-line research found several other artists although I am not sure how many are still active. Listing the ones I can find on either Amazon or CDBaby first: The Irish Descendants, Celtic Connection, Shanneyganook, The Flummies, and Great Big Sea.
I know Great Big Sea isn't an active group any more but it's members, specifically Alan Doyle, Sean McCann and Murray Foster have continued to record music.
There is one band I want to get some recordings of but I can't find any information on is Greeley's Reel. They've been playing the local St John's pubs for 10 years.
As I visit the pubs I will make sure to try and connect any Irish/Celtic bands I find to your submission page. I am also kicking around the idea of starting a podcast of local artists for Newfoundland to help get them some more exposure. Any advise on how you started would be awesome. Looking forward to sending you many new artists"
Tim Sommer in Middleton, ID emailed: "Hi Marc, I love your podcast and wanted to support it and was signing up for the $5 per month contribution and I just briefly saw the window to select that.... when what do you know...I was signed up for the $5 per episode. Couldn't figure out how to change that number so am asking for your help to change it.
Yes, I do think you are worth $5 an episode but if my wife starts seeing the monthly amount for that instead of the $5 per month, she'll be using her serious face and posture, asking me what I thought I was doing.
It could impact my entire Irish and Scottish music habit. It's like knowing how many beers you can drink at the session before you are in serious trouble."