Jan 30, 2020
Italy too has a vast Celtic heritage. We're gonna explore a tiny sampling of music from Celtic Italy on the Irish & Celtic Music Podcast.
FIMM, Franco Bordoni, Willos', Deep Green Light, Poitin, Don Grieve, Francesca Romana Fabris, Mishaped Pearls, Seamus Kennedy, Oisin McAuley, Kyn, MaterDea, Connemara Stone Company, HEXPEROS, Doug Folkins
I hope you enjoyed this week's show. If you did, please share the show with ONE friend.
The Irish & Celtic Music Podcast is here to build our community and help the incredible artists who so generously share their music with you. If you hear music you love, buy the albums, shirts, and songbooks, follow the artists on Spotify, see their shows, and drop them an email to let them know you heard them on the Irish and Celtic Music Podcast.
Remember also to Subscribe to the Celtic Music Magazine. Every week, you will get a few cool bits of Celtic music news. It's a quick and easy way to plug yourself into more great Celtic culture. Plus, you'll get 34 Celtic MP3s for Free, just for signing up today.
VOTE IN THE CELTIC TOP 20
This is our way of finding the best songs and artists each year. Just list the show number, and the name of as many bands in the episode as you like. Your vote helps me create next year's Best Celtic music of 2020 episode. Vote Now!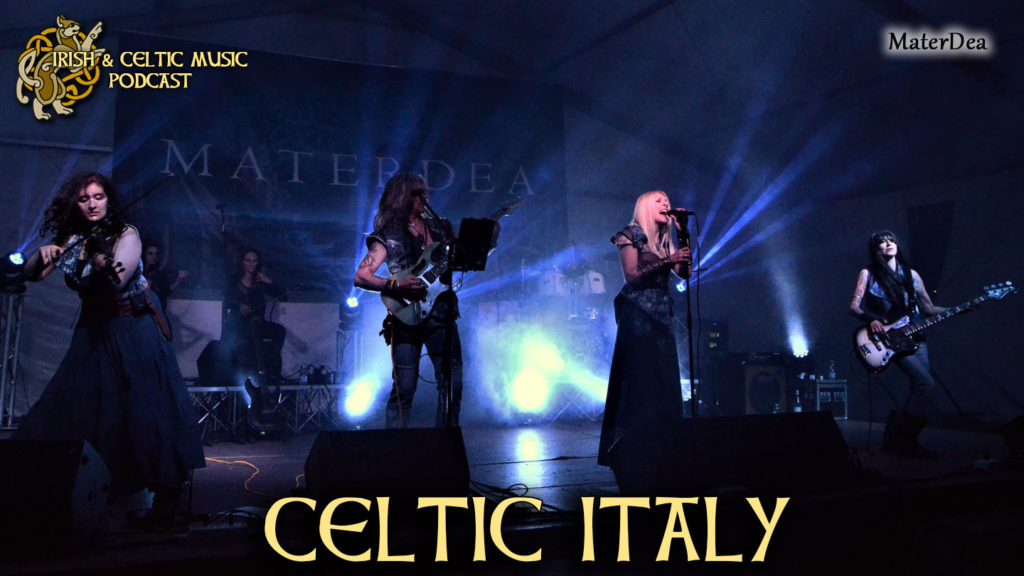 THIS WEEK IN CELTIC MUSIC
0:04 - "November Reel - Wedding reel - Joe Tam's reel" by FIMM from Roiboos e Disappunti and Irish Celtic Music
7:32 - WELCOME
9:49 - "Saddle The Pony / When Sick Is The Tea You Want" by Franco Bordoni from Urgente
(Rome, Italy)
13:01 - "Factory Girl" by Willos' from 4th
(Belfast - Ireland & Siena - Italy)
15:41 - "The Destitution" by Deep Green Light from L'uomo del caffè
(Cava de' Tirreni/Salerno - Italy)
20:29 - "The Jolly Beggarman" by Poitin czech from Simple Pleasures
23:08 - CELTIC FEEDBACK
25:13 - "Ye Jacobites By Name" by Don Grieve from A Drop o' the Best
28:52 - "Everlasting dream" by Francesca Romana Fabris from Close to You
(Rome - Italy)
33:14 - "Wind of the Air" by Mishaped Pearls from Le Puy en Velay
36:22 - "Farewell To Sicily" by Seamus Kennedy from Favorite Selections
39:44 - "Souvenir Of Venice (Hornpipe)/ Belle Of The Stage (Clog)" by Oisin McAuley from Far From the Hills of Donegal
43:15 - CELTIC PODCAST NEWS
45:28 - "Sang Til Jomfru Maria" by Kyn from Earendel
(Germany, Italy, Switzerland)
47:40 - "Lady of Inverness" by MaterDea from Satyricon
(Torino - Italy)
52:52 - "Boys from the Ruhr" by Connemara Stone Company from Back Home
56:36 - "Aine's Ballad" by HEXPEROS from Lost in the Great Sea
(Vasto, Chieti - Italy)
1:01:49 - CLOSING
1:03:21 - "Streets of Rome" by Doug Folkins from Another Last Call
The Irish & Celtic Music Podcast was edited by Mitchell Petersen with Graphics by Miranda Nelson Designs. The show was produced by Marc Gunn, The Celtfather. To subscribe, go to Apple Podcasts or to our website where you can become a Patron of the Podcast for as little as $1 per episode. Promote Celtic culture through music at http://celticmusicpodcast.com/.
CELTIC PODCAST NEWS
* Helping you celebrate Celtic culture through music. My name is Marc Gunn. I am a Celtic musician and podcaster. This show is dedicated to the indie Celtic musicians. Please support these artists. Share the show with your friends. And find more episodes at celticmusicpodcast.com. You can also support this podcast on Patreon.
TRAVEL WITH CELTIC INVASION VACATIONS
Every year, I take a small group of Celtic music fans on the relaxing adventure of a lifetime. We don't see everything. Instead, we stay in one area. We get to know the region through its culture, history, and legends. You can join us with an auditory and visual adventure through podcasts and videos. Learn more about the invasion at http://celticinvasion.com/
I still have space in 2020 for the Celtic Invasion of Italy. It's gonna be monumental. You don't want to miss it!
THANK YOU PATRONS OF THE PODCAST!
Because of Your kind and generous support, this show comes out every week. You can pledge a dollar or more per episode and cap how much you want to spend each month over on Patreon.
Your generosity funds the creation, promotion and production of the show. It allows us to attract new listeners and to help our community grow. Plus, you get to hear episodes before regular listeners. When we hit a milestone, you get an extra-long episode. We are super close to getting a two-hour instrumental special.
I want to thank our newest Patrons of the Podcast as well as though who increased their patronage donation: Kouroth, JD
You can become a generous Patron of the Podcast at http://patreon.com/celticpodcast.
I WANT YOUR FEEDBACK
What are you doing today while listening to the podcast? You can send a written comment along with a picture of what you're doing while listening. Email a voicemail message to celticpodcast@gmail.com
Didier Marchal messaged me on Facebook: "I'm a long-time listener based in Strasbourg, France. Every week I do enjoy the great show while working: I'm restoring ancient books and the music you kindly offer us is the second thing I need for having a wonderful day. I sent a few pictures of one book from the XVIth (Bible from the year 1598) I'm working on while listening. Many thanks again for this superb show!"
Audrey Sanroman emailed on Facebook: "Hello from Mexico City! Today I was listening to the podcast while fia is hung my Jack O'Lantern. Here's a pic of my multi-cultural altar. Sláinte and Oíche Shamhna! ?????? Happy Halloween and Feliz Dia de Muertos. You rock!"
Jonathan Smith emailed photos: "Hey Marc, Love your podcast. I'm in a curling club here near Washington, DC and I often listen to episodes as I make my way around the Beltway to and from the club. Great way to stay in the curling spirit!"