Jul 27, 2023
No need to go 10,000 miles away to find great Irish & Celtic Music Podcast #616 with a Celtic Story by Erin Ruth.
Seán Heely, Lúnasa, Wolf Loescher, Brad Reid, Dan Milner, Scottish Fish, Brobdingnagian Bards, Bonnie Rideout, Alex Sturbaum, Erin Ruth, The Electrics, Blaggards, Paisley Close, Screaming Orphans, Kennedy's Kitchen
GET CELTIC MUSIC NEWS IN YOUR INBOX
The Celtic Music Magazine is a quick and easy way to plug yourself into more great Celtic culture. Subscribe and get 34 Celtic MP3s for Free.
SUPPORT CELTIC CULTURE THROUGH KICKSTARTER
We launched a brand new campaign on Kickstarter. The goal is to fund a new Album Pin for The Secret World of Celtic Rock. This is a compilation CD we originally released in 2005 featuring some of the best Celtic Rock of the time. And the album is timeless.
You can own an enamel pin with this year's beautiful Celtic Earth Knotwork. Or you can own a physical copy of the CD. Plus there are many more rewards.
Go celticmusic.org/celticrock that'll take you straight over to our Kickstarter page where you can support Celtic culture through music.
VOTE IN THE CELTIC TOP 20 FOR 2023
This is our way of finding the best songs and artists each year. You can vote for as many songs and tunes that inspire you in each episode. Your vote helps me create next year's Best Celtic music of 2023 episode. Vote Now!
Two weeks after the episode is launched, I compile your votes to update a playlist on Spotify and YouTube. These are the results of your voting. You can help these artists out by following the playlists and adding tracks you love to your playlists. Follow us on Facebook to find out who is added each week.
Listen on Spotify and YouTube.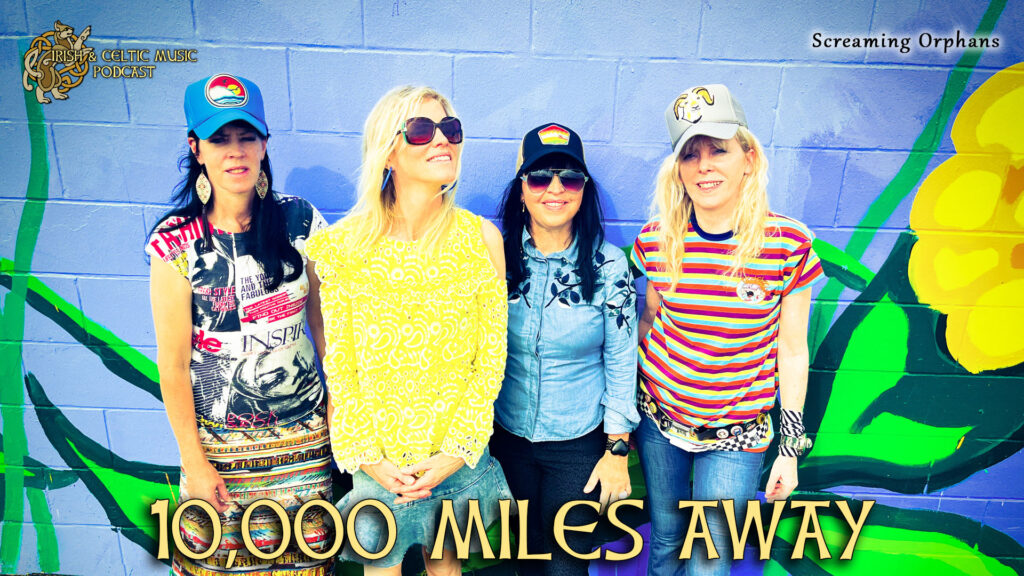 THIS WEEK IN CELTIC MUSIC
0:08 - Seán Heely "Journey through Strathmore (An MSR)" from Dramagical
5:59 - WELCOME
7:04 - Lúnasa "Leckan Mor" from Sé
11:20 - Wolf Loescher "American Tune" from Single
14:46 - Brad Reid "Road to Harrington" from New Scotland
18:20 - Dan Milner "Ten Thousand Miles Away" from Irish Pirate Ballads and Other Songs of the Sea
21:52 - FEEDBACK
24:48 - Scottish Fish "Miss Bromley's" from Upscale
28:54 - Brobdingnagian Bards "Rocky Road To Dublin" from Songs of Ireland
31:51 - Bonnie Rideout "Macdonald of the Isles Set" from Scottish Reflections
35:14 - Alex Sturbaum "Gulls Of Invergordon" from River Run Wide
38:42 - Erin Ruth Story
42:52 - Erin Ruth "Miles Away" from Live performance
45:53 - THANKS
48:10 - The Electrics "The Grass Is Greener" from The Secret World of Celtic Rock and Reel, Folk'n'Rock'n'Roll
51:29 - Blaggards "Moonshiner" from BLAGMATIC
54:30 - Paisley Close "Sovay - Halting March" from The Secret World of Celtic Rock from All On A Day
58:57 - Screaming Orphans "Home to Donegal" from Paper Daisies
1:02:15 - CLOSING
1:03:50 - Kennedy's Kitchen "The Swallow's Tail Reel/The Sailor's Bonnet/Over The Moor To Maggie" from The Birds Upon The Trees
1:08:12 - CREDITS
The Irish & Celtic Music Podcast was produced by Marc Gunn, The Celtfather and our Patrons on Patreon. The show was edited by Mitchell Petersen with Graphics by Miranda Nelson Designs. Visit our website to subscribe to the show. You'll find links to all of the artists played in this episode.
Todd Wiley is the editor of the Celtic Music Magazine. Subscribe to get 34 Celtic MP3s for Free. Plus, you'll get 7 weekly news items about what's happening with Celtic music and culture online. Best of all, you will connect with your Celtic heritage.
Finally, please tell one friend about this podcast. Word of mouth is the absolute best way to support any creative endeavor.
Promote Celtic culture through music at http://celticmusicpodcast.com/.
WELCOME CELTOPHILE TO CELTIC MUSIC
* Helping you celebrate Celtic culture through music. I am Marc Gunn. I'm a musician and podcaster out of Atlanta, Georgia. This Podcast is here to build our diverse Celtic community and help the incredible artists who so generously share their music with you. If you hear music you love, please email artists to let them know you heard them on the Irish and Celtic Music Podcast.
You can find a link to all of the artists in the shownotes, along with show times, when you visit our website at celticmusicpodcast.com.
THANK YOU PATRONS OF THE PODCAST!
Because of Your kind and generous support, this show comes out at least four times a month. Your generosity funds the creation, promotion, and production of the show. It allows us to attract new listeners and to help our community grow.
As a patron, you get music - only episodes before regular listeners, vote in the Celtic Top 20, and you get a private feed to listen to the show. All that for as little as $1 per episode.
I always appreciate folks who support us on Patreon. But this week, I want to ask you to support us on Kickstarter. Make a one - time pledge of any amount. You'll get Irish & Celtic Music Podcast swag, plus you'll help us hit our goal.
As a special thanks, I have some Podcast Mini episodes that will come out as the campaign rolls out over the next two weeks. Please enjoy this flashback music and maybe even share the episodes to help share your love of Celtic culture through music.
Click here to make a pledge now!
HERE IS YOUR THREE STEP PLAN TO SUPPORT THE PODCAST
Go to our Patreon page.
Decide how much you want to pledge every week, $1, $5, $10. Make sure to cap how much you want to spend per month.
Keep listening to the Irish & Celtic Music Podcast to celebrate Celtic culture through music.
You can become a generous Patron of the Podcast on Patreon at SongHenge.com.
TRAVEL WITH CELTIC INVASION VACATIONS
Every year, I take a small group of Celtic music fans on the relaxing adventure of a lifetime. We don't see everything. Instead, we stay in one area. We get to know the region through its culture, history, and legends. You can join us with an auditory and visual adventure through podcasts and videos.
In 2023, we're going on a Celtic Invasion of County Mayo in Ireland. We're gonna explore the area and get to know Grace O'Malley, the Pirate Queen. Learn more about the invasion at http://celticinvasion.com/
#celticmusic #irishmusic #celticmusicpodcast
I WANT YOUR FEEDBACK
What are you doing today while listening to the podcast? You can send a written comment along with a picture of what you're doing while listening. Or how about a picture you took of a band that you saw.
Email me at celticpodcast@gmail, message me on Facebook, or contact me through Mastodon @celtfather@c.im.
Bruce Thompson replied to the Celtic Music Magazine from Columbus, Ohio: "Hello Marc, Thank you for curating Celtic and Irish music for us with your podcast every week. My wife and I listen to your podcast every time we're in the car. And I listen at work.
On St. Patty's Day we usually go to a good Irish bar for some Guinness and shepherd's pie and sometimes Bangers and Mash, depending on when we get there. A few years ago we were lucky enough to go to Great Britain, Ireland and Scotland; a great 10 day vacation.
Last week (Saturday) was our Dublin, Ohio's St. Patricks Day parade and we always go to the Dublin Irish Festival in August. Our favorite bands are Gaelic Storm, We Banjo 3 and Eileen Ivers. It was a thrill to be there and listen to these amazing musicians. The Dublin Irish Festival is ALWAYS a great time!
Thanks again for sharing your musical talent, and creating such a wonderful listening experience! Slainte to you too, Marc!"
William Fisher emailed: "Usually I'm working on the computer listening to your podcast but I download to a portable player so I can listen in the car or whenever... For St Padraig's Day, The Irish social group I belong to is part of a day - long celebration in William's Park, St Petersburg FL. with music, food and games : - )"
Rebekah Hedstrom replied to the Celtic Music Magazine: "Usually driving while listening. We are going to have a quiet St Paddy's day this year. Corned beef and staying at home. :0)"
Brian McReynolds sent you a message on Patreon: "Just got the shirt I ordered and the bonus shirt. Thank you. I love them both. I think I will wear the new one tomorrow and the 2016 shirt Friday. Oh, and an early happy birthday to you. 😁"
Dennis McCarthy emailed some St Patrick's Day photos. He wrote: "Hope that you like these."