Aug 16, 2018
With school back in session, I thought the students listening might enjoy some instrumental Celtic music for studying. Less talk, more music from The Here & Now, The Fretless, The Rowan Tree, Moonrakers, Spencer & Beane, Across the Pond, David Pedrick, Tom Eure, Atlantic Wave, The Gothard Sisters, Wicked Tinkers, Heavy Blarney, Serious Kitchen, Susan Toman, Poitin, West of Eden. http://celticmusicpodcast.com/
Do me a favor share this podcast. Subscribe to the Celtic Music Magazine. This is our free newsletter and your guide to the latest Celtic music and podcast news. Download 34 Celtic MP3s for Free.
One of the things I love about the Celts is our generosity. We give with kindness and without expectation to the people and causes we believe in. Remember to support the artists who support this podcast: buy their albums, shirts, and songbooks, follow them on Spotify, see their shows, and drop them an email to let them know you heard them on the Irish and Celtic Music Podcast.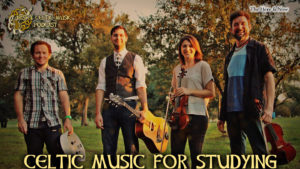 THIS WEEK IN CELTIC MUSIC
"Chicago Chicago" by The Here & Now from The Winding Stair
"Forked Deer" by The Fretless from The Fretless
"Neidges Awarra" by The Rowan Tree from The Rowan Tree
"Les Poules Houpees/Fine Run" by Moonrakers from Bird on the Wing
"The Flower of the Forest" by Spencer & Beane from Amhrain Saoil
CELTIC FEEDBACK
"Banks of Spey/Brenda Stubbert's" by Across the Pond from Kid on the Mountain
"Carolan's Draught" by David Pedrick from Wintertide EP
"The Path Home" by Tom Eure from The Coin, The Prayer, The Crow
"Garret Scary's" by Atlantic Wave from Craic'd
"Willow's Waltz" by Gothard Sisters from Story Girl
CELTIC PODCAST NEWS
"Radar Love" by Wicked Tinkers from Hammered
"Blue Harvest" by Heavy Blarney from From Bog to Swamp
"Escargot" by Serious Kitchen from"Tig"
"Cooley's Reel/Merry Blacksmith" by Susan Toman from Emerald Shores
"Emily" by Poitin from Bofiguifluki
"The Scilly Set" by West of Eden from Safe Crossing
The Irish & Celtic Music Podcast was produced by Marc Gunn, The Celtfather. To subscribe, go to Apple Podcasts or to our website where you can become a Patron of the Podcast for as little as $1 per episode. Promote Celtic culture through music at http://celticmusicpodcast.com/.
CELTIC PODCAST NEWS
* Helping you celebrate Celtic culture through music. My name is Marc Gunn. I am a Celtic and Geek musician and podcaster. This show is dedicated to the indie Celtic musicians. I want to ask you to support these artists. Share the show with your friends. And find more episodes at celticmusicpodcast.com. You can also support this podcast on Patreon.
TRAVEL WITH CELTIC INVASION VACATIONS
Every year, I take a small group of Celtic music fans on the relaxing adventure of a lifetime. We don't see everything. Instead, we stay in one area. We get to know the region through it's culture, history, and legends. You can join us with an auditory and visual adventure through podcasts and videos.
2019 is the Celtic Invasion of Star Wars. 2020 is the Origins of Celtic Invasions. You can find out more about these two exciting trips. Join the invasion at http://celticinvasion.com/
THANK YOU PATRONS OF THE PODCAST!
The Irish & Celtic Music Podcast is supported by listeners like you. Your generous pledge helps pay for the production and promotion of the podcast and its artists, as well as my time in producing it. Patrons get episodes before regular listeners, discounts on merch, and when we hit a milestone, you get a two-hour special. Our next milestone will bring 2-hours of Celtic flute and whistle music to your ears. We are still $19 away from the next goal.
Special thanks to our newest Patrons: Richard Boyce, John Fiala, Neil, Joe Mahoney, Thomas Burns, Michael Conners, Darby O'Flannery, Thomas Jordan.
You can become a generous Patron of the Podcast at http://patreon.com/celticpodcast
VOTE IN THE CELTIC TOP 20
It's easier than ever to do. Just list the show number, and the name of one or two bands. That's it. You can vote once for each episode help me create next year's Best Celtic music of 2018 episode. http://bestcelticmusic.net/vote/
I WANT YOUR FEEDBACK
What are you doing today while listening to the podcast? You can send a written comment along with a picture of what you're doing while listening. Email a voicemail message to celticpodcast@gmail.com
Margaret Sneddon emailed a photo on Facebook: "Have a fabulous trip. We're enjoying a podcast on our boat, "Isle of Skye" Living the life and loving your music."
John Evans emailed a photo on Facebook: "Walking through sprinklers in 98°f weather in Grand Island Nebraska listening to episode 360 looking forward to the Greeley Irish Festival in mid September. I got our tickets already!"