The Irish & Celtic Music Podcast is an award-winning free Celtic radio show of independent Irish & Celtic music.  The show won "Best Podsafe Music" in 2009 and 2010 in the People's Choice Podcast Awards.  It is one of the Top 40 music podcasts on iTunes and receives over 20,000 downloads of each show.  It is hosted by Marc Gunn, known as The Celtfather for his incredible network of promotion for Celtic music.
Each hour-long show features a mix of indie Celtic music with a variety of styles from traditional Celtic tunes, Irish drinking songs, Scottish folk songs, bagpipes, music from Ireland, Scotland, Canada, Australia, the United States, and around the world. As a podcast, you can listen to or download at your leisure.  It is also syndicated on a number of internet and terrestrial radio stations.
We are changing your world with Celtic music!
Contact Us
I am continually overwhelmed by how much everyone loves this show. It makes me feel like the many awards we've won are well-earned, and I'm doing a good job. This show is all about you and our united Celtic heritage. So thank you for joining me on this great journey to share the incredible music of the Celts.
How to Contact the Podcast
The show is an overwhelming success. So much so, I have trouble keeping up with all the emails. But I REALLY WANT TO HEAR FROM YOU. So I migrated all of the conversations about the show to our facebook page.
Post On Facebook
If you have a question, a comment, have a band suggestion, or just want to share your passion for Celtic music please, please post on the podcast facebook wall or message me there.
Post in the Shownotes
If you have a comment about our latest show, you can also post in our shownotes. I try and respond to every comment there. Come chat with me there.
Call Our Voicemail
Want to share your thoughts on the show? We have a voicemail number. Try to keep your call about a minute long, but don't sweat it. Just share your thoughts, comments, and questions. But please forgive me if you don't make it on to the show. Instead, post on facebook too if you really want an answer.
Call 678-CELT-POD.
That's 678-235-8763
Frequently Asked Questions and Comments
You should play…
I need permission from every artist that I play on the podcast. If there's an artist you love who hasn't appeared on the podcast before, please email them and ask them to submit their music to the show.
How do artists submit to the podcast?
If you are in a band or know a band that you want to hear on this podcast, please tell them to go to 4celts.com
Another Way to Contact Me
While I prefer you to contact me through facebook, If you need to reach me directly, you can alwats email me directly at music [at] celticmusicpodcast.com
About Marc Gunn, The Celtfather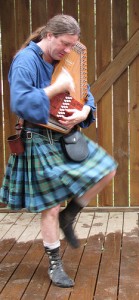 "[he] has the ability to generate many moods, both with his lyrics and the music. From thought provoking to jubilant" (Sixty Seven Music)
Nicknamed "The Celtfather", Marc Gunn is a champion of indie Celtic music. He quit his day job in 2005 to pursue music full-time. He got involved in podcasting during his downtime. His Irish & Celtic Music Podcast is one of the top 20 music podcasts on iTunes. It was voted the #1 Best Podsafe Music Podcast in the People's Choice Podcast Awards in 2009 and 2010. His Celtic Music Magazine is published monthly and goes out to over 20,000 subscribers. He has given away over 20,000,000 MP3s since he began his Celtic music career.
Irish drinking songs and science fiction. Nowhere else but from the bizarre imagination of Marc Gunn would those elements be so neatly integrated. It's like a satirical jam session between The Clancy Brothers and Weird Al Yankovic featuring Celtic-style songs about hobbits, cats, kilts, Firefly, Star Wars, Star Trek, plus, Gunn's rockin' acoustic renditions of traditional Scottish and Irish songs.
Marc Gunn was there at the beginning of the indie music revolution. While other bands fought to sign to a record label, Gunn started Mage Records to promote his music in the DIY fashion. Mage Records focues on indie Celtic and folk music, the traditional and the twisted. He has released over fifty albums on his Mage Records label since its inception in 1997.
Marc Gunn combines his love of travel with his love a music. Every year, he hosts Celtic Invasion Vacations which are different from standard vacation tours. They are not about "what you can see". Instead they are about "what you experience." Gunn believes that it is the people around you who ultimately make a vacation great. He finds one single location abroad and gathers like-minded vacationers to experience his motto, "Good food, good drink, good company". In 2013, he will take Celtic music lovers on a Celtic Invasion of the Highlands of Scotland.
Contact me: music [at] celticmusicpodcast.com
Support the Artists
The first and best way to support the podcast is to support the artists who donate their music to be heard on my show. Many of them sell their CDs on CD Baby, Amazon, or iTunes. Buy a CD.
What Are Folks Saying?
"With more than a dozen albums under his belt and the highly sucessful the Irish & Celtic Music Podcast, it is easy to see why Marc Gunn is one of the highest regarded names among the Celtic Music scene" – Phil Duckworth, Paddy Rock Radio and Grinning Beggar's Paddy Rock Podcast
Sponsor the Irish & Celtic Music Podcast
Do you want your message, website, business heard by over 30,000 people with every show your business is featured? Do you want to enjoy the goodwill of Irish, Scottish and other Celtic cultural groups. The Irish & Celtic Music Podcast is a great way to reach a targeted audience of Celtic music enthusiasts.
Important Facts about ICMP
#1 downloaded Celtic Podcast online
Won Best Podsafe Music Podcast in the 2009 and 2010 Podcast Awards in 2009
Regularly one of the Top 40 music podcast on iTunes
Receives over 30,000 downloads of each show
The podcast was downloaded over 8.5 million times while hosted on libsyn.com
Syndicated on three terrestrial and eight internet radio stations, at the end of 2012
Sponsors are mentioned at the beginning of the show
Hosted by award-winning Celtic musician, Marc Gunn
Marc Gunn also hosts Celtic Christmas Podcast, Pub Songs Podcast and co-hosts Renaissance Festival Podcast
Marc Gunn was nicknamed "The Celtfather" by The Signal Podcast and "The Godfather of Celtic Music Online" for his overwhelming support of independent Celtic music.
Receives 20,000 downloads per episode within two weeks of going live.
Shows in March receive well over 40,000 downloads.
Statistics – Where Is the Show Downloaded?
United States    55.53%
Portugal    13.15%
Germany    4.18%
United Kingdom    3.06%
Canada    2.97%
Japan    2.20%
Spain    1.52%
France    1.50%
China    1.46%
Italy    1.41%
Rest of the World    13.02%
When You Become a MAJOR SPONSOR
Receives a sponsor ad at the beginning of each show
Receives a "remember to support our sponsor" at the end of the show
Receive a 250×250 pixel banner ad on the ICMP and CelticMP3s.com websites for the life of your advertisement
Receive a link in each show you sponsor
Receives a sponsor ad in our monthly Celtic Music Magazine
Is guaranteed at minimum of 15,000 downloads from each show that is sponsored. If the show does not receive that many, your money will be refunded. If you earn more than that, it's a free bonus for you.
There's only one Major Sponsor for each show
Supports Celtic music and culture around the world!
If you are interested in becoming a sponsor, please contact me. Sponsorships start at $3000 per episode, but get cheaper with more episodes sponsored.
My listeners want to hear what you have to offer.
Please contact me at music@celticmusicpodcast.com with Sponsor ICMP in the subject if you want to support your Celtic culture!
Syndication
The Irish & Celtic Music Podcast is played on several terrestrial and  internet radio stations. We are happy to offer a free license for you too to share the show on your station.
If you're interested in syndicating our show, please drop us a line. Let's work together to share great indie Celtic music.
Terrestrial Radio
Internet Radio
Other Venues Where You Can Find My Music
Testimonials
Comments About the Podcast
Wanted to tell you that I really enjoy your podcast. I grew up in the Boston area in a large IRISH family listerning to irish music every weekend,with nothing else was played.I also had my Da make copies on tapes which he would send to me in S.C. were I was Station with the army. But now I'm working a job were I'm doing third shift and listening to your podcast makes work alot easier. So kept up the good work and when I can afford it I'll join your fan club. SLAINTE
–Tygh
Just wanted to say I've been listening for over a year now; you've been my college soundtrack as of 27 I began to make a go of it. So it's now over a year later, and I finally got around to getting all the back archives downloaded! 😉 I'm up to 24, and I'm saving the Christmas ones for wearing out in December, along with the Celtic Christmas Podcast.
I have to say that so far my favorite episodes are #65 and #63: 63 gave me Sonic Impulse "Shimara Shuffle" and Skully's "Molly Malone;" those and Sligo Rag's "The Whiskey Never Lies" are only second to the gift of Ceann, both of which I first heard in #65. Every time I find "Almost Irish" in an earlier episode I get an internal YAY! XD and turn it up. I'm very glad I got to know and love the music of Ceann because of the Irish & Celtic Music Podcast- I was heartbroken when you announced Patrick Halloran's passing… I was walking home and had to stop and rewind- I just couldn't believe it.
— Rachel McDonnell-Mojica
Love, LOVE your podcast.  Makes for the absolutely best city sidewalk tromping soundtrack.  Many thanks, keep up the excellent work please!
–Jane Bird
Hi Marc! I recently spent two weeks backpacking through the beautiful highlands of Scotland, and I took several episodes of your great podcast along on my journey. As I walked through the striking mountains and moors, the jolly tunes from your show made my 40 pound backpack feel much lighter! The trip was a life-changing event, and thanks to the music on the podcast I felt I was really able to touch the spirit of the land! Thanks for all your hard work, and keep the great shows coming!
— Adam from Baton Rouge
Hey Marc, Thanks so much for the podcast. I recently returned from the Spanish Peaks Celtic Festival in La Veta, CO, where I got the opportunity to listen to, meet, and take classes with Ed Miller, Robbie O'Connel, the Old Blind Dogs, and a host of others in a weekend filled with music, learning, and FUN!  I wanted to thank you, because it was your podcast which got me interested in Celtic music in the first place, and I have since been inspired to learn to play the harp.  I am now building my third harp, and am looking forward to playing many tunes on it as my skill improves.  And all of this started with your podcast.  Thanks again, and keep up the good work!
–Dana B.
I just subscribed to the cast and am working on listening to all the episodes. I found the podcast while looking for Irish music on itunes.  I love all kinds of music but Irish and Celtic music just speaks to me.  I am partially Irish.  I'm not sure how much though I work 12 hours a day, 5 days a week, and your podcast keeps me hoppin' through my shifts. I would definitely like to hear more Potcheen music, preferably either "Steel Blue Sea" or "Drunken Sailor".  Any way, love the show.  Keep them coming I will definitely be listening.
– Christopher H.
Thank you very much for producing the Irish and Celtic Music Podcast. I have been listening to the podcast for several years now. I discovered the podcast while searching around the iTunes store for Irish/Celtic music podcasts. Your podcast caught my attention due to the high quality of work you put into your podcast. It gives me the feeling that I am listening to a radio station, but with fewer commercials (and only commercials I want to hear like the ones for Celtic Invasion Vacations). I hope to be listening to your podcast for many years to come!
– John Wall
"Wow! The Loathsome Worm and the Mackerel of the Sea is a wonderful and weird song. You should put on more from that guy… (if you haven't already)" – Jesse Weinstein
"Just a quick note to say thanks for the Irish & Celtic Music Podcast. Originally from Dublin but been living in Sydney Australia for 14 years, playing your podcast always reminds of home and lots of emotions but usually good. Also makes me proud of my Celtic Heritage! Can't believe I only found it last week. Sláinte chugat" – Tony McHugh
"I have listened to The Irish and Celtic Music podcast for a year and a half. I have bought a few CDs and plan to buy more. Your podcast helped me in my college speech class. Our impromptu speech was pass/fail. If you failed that speech, you failed the class. I was very nervous about such an important presentation. At the beginning of the semester we wrote down a list of our interests. Naturally The Irish and Celtic Podcast was high on my list. When the day came for my speech I was handed a slip of paper that read 'Marc Gunn's Irish and Celtic Music Podcast'. My jitters were lifted. I knew I could speak confidently and fluently about my favorite podcast! I gave the speech about the Celtic Music Diaspora, Celtic artists who live outside of Ireland like The Brobdingnagian Bards, Heather Dale, and Paisley Close, and about all the different instruments that are incorporated into Celtic rock, like the autoharp. I got an A for the speech and an A for the class. Thank you Marc! You made my big speech a breeze. Thank you for the gift of your podcast!" – Kate Scherer, Ohio
"Anyway, I have a song request, Could I hear a rendition of Robert Burns' classic, "Scots Wae Hae". I love Burns' Dialect of english. My being an Irish Studies major, I like to take in as much celtic-based language stuff as I can. Thanks a bunch, and keep up the good work!"
– Byron of New Scotland
"Dia duit! I was scrounging around on the 'net this past week, looking for some Celtic music (I'm Scots-Irish, you see, and need my music "fix" every once in a while) rather than listen to every song in my iTunes library for the umpteenth time… and guess what I found! What a great variety of music, from old traditional Gaelic songs to Celtic Revival to even a few unique styles of Irish rock. Gotta thank you for providing this service! Keep it going!!!" – Mike Sinclair
"Hey Marc, Thanks for the great music! I work at a bed and breakfast in Colorado and play your podcasts when I'm preparing and serving breakfast for the guests. Many of them have commented on the music and have said that the morning music helps get their day off to a great start. Thanks for providing a great podcast."
-David Jordan, Manitou Springs, CO
"Here is a big fan from Germany. I love your podcast. Wonderful so wonderful. My favourites are Traditional Music. I have all the podcast in my MP3 Stick,do my work on nightshift,and hear alltime,great.
Here in Opladen i hear Irish Folk at the Guinness Stand, Beerfestival, biggest in the World in August. The Band Celtic Confusion play here with Gerry Doyle, Shane Mc Dermot and others. Come to visit us and have a Guinness together 🙂 All the best" – Michael Dornbusch
Wall of Celtic Music Saints
The Irish & Celtic Music Podcast would not survive without the generosity of people just like you.  You love the free Celtic music.  You love the message of helping independent Celtic musicians rise above the corporations that smother or exploit great cultural music.  You make a difference to these bands and to this podcast.
I'm proud to honor my Celtic Music Saints for helping making this happen.
If you would like to become a Sainted Member of this podcast, please join Song Henge today.  Help me change the way you hear Celtic music.
Special Thanks to…
Celtic Superstars
Annual Sainted Patrons Song Henger
Diane Hubbard, New York
Jim Grefig Crugers, New York
Didier Perroud, Switzerland
Michael Bortowski, Arkansas
Christopher J. DeWitt, Philadelphia
Angus Thompson, Washington
Jason Denen, Minnesota
Angela Hughes, Georgia
Muriel C., Nebraska
Nancie Barnett
Erik White
Lifetime Celtic Music Saints
Tony Bretherton, Australia
Jeff Harrison, Kansas
Susann Nutter, New Mexico

Isabell D., Germany

BodhranBob, Colorado

Stephen O'Donnell, Ireland

Karen Carothers, Maryland

Cindy Rogers, Oklahoma

Karen Wilson, Oregon

Wolfgang K., Wiesbaden, Germany

Terry Allan Hall, Republic O' Tejas

Katie D, Maine

Kevin Mihalik, Florida

Gip Plaster, Texas

Jim Callahan "Irish Ukulele", Illinois

Erin Nix, Washington

Adrian von Allmen, Switzerland

Joel Schonbrunn, California

Susan Hamrick, North Carolina

John Johnson, Iowa

TomFoolery, County Cannon, Tennessee

Lisa Tate, USA

Alan Guanella, Wisconsin

Keith, THE Keith, Indiana

Bob Mooney, Canada

Ken Hintz, Virginia

Erin R., Colorado

Delwood's Barbecue LLC, North Carolina

Chris CII, France

Charles Beers, California

Bob Stoeckig, Nevada

Laura Simpson, California

filkferengi, Georgia

Gita T., California

Matt N. Pittsburgh, Pennsylvania

Larry Rosenblum, California

John Considine, Ag State

Tom Smith, Massachusetts

Jeff Boice, Indiana

John S White, II ,Tennessee

Alan G.

Gerry in Oz

Kimberly K: New Mexico

Noel P, California

I. Martin, Nebraska

Tammy Glover, Alabama

Travis Senzaki, Japan

Chris Duck, Washington State

Al Walsh, Wyoming
Kelly H, Maryland
Brian Kavanaugh, Nebraska
Waylon J., Washington
Michael Johnson, Arizona
Dawn Medford, "German Leprechaun", O' Wisconsin
Bill Bartgen, Chicago, Illinois
Ryan M., Manitoba
M. Gail P., Louisiana
Craig "Aldwyn" Wallerstein, Chicagoland
John M, Wisconsin
W. T. Shammas, USA
Graeme M., New Zealand
Laura Simpson, California

Margaret C., Pennsylvania

Terry M., Montana

Brian B., North Carolina

Dave G, Canada

Michael Goodman, New Jersey
Laura Cummings, Iowa
Join Song Henge as a Sainted Member.  I'll add your name to the Wall of Celtic Music Saints.